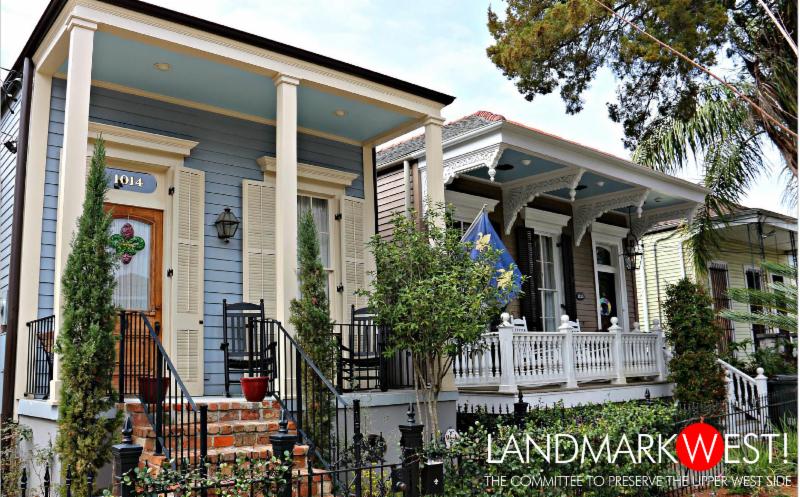 Please join LANDMARK WEST! as we remember Hurricane Katrina (2005)
and celebrate 10 years of steady urban regeneration
in the historic city of New Orleans.
Wednesday, September 9, 6:30PM
A Book Talk by Roberta Brandes Gratz*
award-winning journalist, urban critic and author of the newly released
We're Still Here Ya Bastards: How the People of New Orleans Rebuilt Their City
Book Culture on Columbus**
450 Columbus Avenue (between 81st & 82nd Streets)
Tickets $15 ($10 for members of LW!)
RSVP – space is limited
landmarkwest@landmarkwest.org or (212) 496-8110
or reserve online through Eventbrite
Talk followed by book signing and reception
Books available for purchase from Book Culture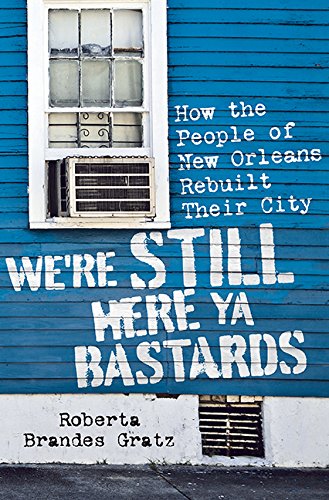 On August 29, 2005, an ill wind swept across New Orleans. Her name was Katrina.
So begins RBG's riveting account of a historic city's near-destruction and, against all odds, rebirth. "Cities are never lacking in wise, energetic, passionate, and dedicated citizens who know how to rebuild their communities. New Orleans has more than its share of such citizens. They are the ones most responsible for their city's recovery."

What others are saying:

"Gratz provides a moving chronicle of the efforts of a real people to rebuild their battered city in the fact of bad engineering, cynical politicians, incompetent bureaucrats and greedy developers…This book is an absolute must read for anyone who cares about the future of our communities and nation."
– Richard Florida, author of The Rise of the Creative Class and professor at NYU
"In this powerful book, Roberta Brandes Gratz turns her deep understanding of the work of Jane Jacobs into an astonishing account of how imaginative community activists like Jacobs emerge and grow in the wake of a disaster like Katrina. In virtually every domain of urban life-in housing, health care, education, economic development, and environmental protection-she discovers New Orleanians… A masterpiece of reportage and analysis!"
– Richard Rabinowitz, Phd, President, American History Workshop
*ABOUT ROBERTA BRANDES GRATZ
A Greenwich Villager by birth; a world traveler, lecturer and writer by profession; and an Upper West Sider by choice, Roberta Brandes Gratz began her preservation journey as a copy girl and went on to pen an award-winning-and game-changing series of articles probing the city's then-nascent landmarks process for the New York Post in 1973. Her coverage led directly to strengthening the Landmarks Law and set the stage for protecting more than 25,000 places covered by the Law in the years since. With Jane Jacobs, she founded The Center for the Living City. As a member of the Landmarks Preservation Commission from 2003 to 2010, and right on till today, Roberta is an outspoken defender of the New York's historic neighborhoods, including her own beloved West Side. She splits her time between New York and New Orleans. (for more about Roberta, visit www.robertabrandesgratz.com)

**ABOUT BOOK CULTURE
"As Upper West Siders, we want to start turning the tide right here in our own community, on a current trend that sees independent bookstores – and the power of choice that comes along with them – disappearing at an alarming rate. As New Yorkers, we want to do our part to make sure that our city's rich history and reputation for being home to writers, publishing houses, editors, and bookstores, remains intact – as does our city's position as the literary capital of the world." (excerpted from www.bookculture.com)