As the city grapples with budget cuts—Mayor Adams asked agencies to find an additional 4% in cost savings beyond previously proposed budget cuts—the Parks Department will need to further alter the design of their nearly $90M plan to redesign the 79th Street Boat Basin (Full Presentation Linked) in order to keep the Federal Emergency Management Agency (FEMA)'s $28.3M contribution to the project.
FEMA issued a letter identifying the proposed two-story boat house redesign as having an adverse impact. In such cases, the applicant (in this case, Parks) will be asked to look for an alternative or to undertake actions to avoid or mitigate the impact (i.e., reduce the footprint, lower the height, change the materials, plant trees, etc.).
In FEMA's own words:
FEMA determined that the construction of the two-story dock house elevated on pilings at the 79th Street Boat Basin would obstruct clear views to the Hudson River from the Riverside Park and Drive Historic District and therefore, would be an Adverse Effect to Historic Properties.
These comments initiate a Section 106 review which occurs when historic properties or resources are at risk or under threat by proposed work. This means they must consider the public's views on historic preservation issues…which is where you come in!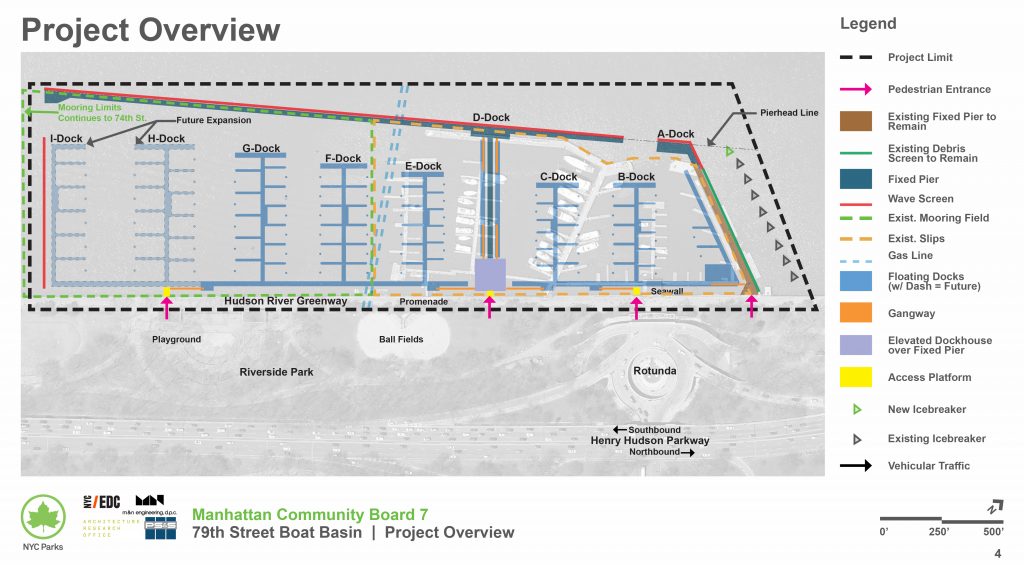 Share your comments: WRITE CB7 and email FEMA about your objections in response to these proposed Adverse Effects by April 27!
You are welcome to comment on anything you deem important about how this proposal will impact your enjoyment of the park, how this proposal challenges the aesthetics of the Scenic Landmark, how this proposal will cut access to Hudson River (except for the 75 new boat owners who will dock here), how this will turn a local boat basin into a full-fledged marina etc.
These comments will help inform the inevitable mitigation plan.
FEMA's position is clear. While they do not comment on ecological issues or concerns of aquaculture in their letter, they do acknowledge that this basin, adjacent to the National Register of Historic Places-listed Riverside Park and Drive Historic District as well as the NYC LPC Scenic Landmark of Riverside Park, will be impeded through the obstructed view corridors blocking the Hudson River from those in the Park.
How big is it?
The existing one-story boathouse is 835 square feet with an overall size of 1,505, including the deck. The proposed one is 4,070 square feet (nearly five times larger!) with an overall size of 4,763, including the deck.
Why the increase?
Parks believes the existing wooden boathouse, damaged during Superstorm Sandy, is outdated and needs to be more storm-resilient with rising tides and climate change. The current boathouse relies on septic tanks, whereas the proposed replacement would tie into the NYC Sewer System. While these goals sound reasonable, they instigate a suite of upgrades that require the structure to comply with modern-day codes and regulations such as the Americans with Disabilities Act (ADA), Occupational Safety and Health Administration (OSHA) regulations, "potty parity" and equity issues. In tandem, there is an ever-expanding program with educational spaces, enhanced amenities, and new spaces to accommodate the staff and the boaters themselves—who will increase as the number of slips balloons 65% from 116 to 191, and the slips themselves are enlarged.
So WRITE CB7 about your objection in response to these proposed Adverse Effects, email FEMA, enjoy western sunset views from the Park while you can, and mark your calendar for CB7's Full Board Meeting on Tuesday, May 2nd, where their RESOLUTION (linked) will be voted on.