Your neighborhood needs you!
As reported in our recent blog post, a new restaurant operator has applied to the Landmarks Preservation Commission (LPC) to demolish the
sculpted

mural

at 240 Columbus Avenue (formerly home to Victor's Cafe)
. This cultural artifact — a reminder of the area's once-thriving Cuban population — tells the important story of our neighborhood's layered history.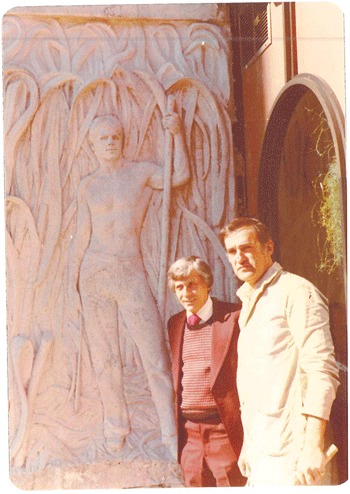 Victor del Corral, owner of Victor's Cafe (left) with
sculptor Arturo Martin (right), via NYTimes.
After learning about this issue in our most recent email, a concerned neighbor decided to register his support with the LPC, submitting the following via email (with a "cc" to LW!):
Please preserve the mural of the soon-ish to be opened Café Tallulah. As a long-time Upper West Side resident not only do I have fond memories of Victor's, but I believe the mural is part of the neighborhood's architectural heritage and a reminder of a moment in Upper West Side history

, when Victor's Cafe was a popular destination for countless New Yorkers.
~ Sam S.
The LPC has not yet voted. Before it does, the 11-member Commission needs to know that we, the community, value the Victor's Cafe mural as a historical marker. Follow Sam's lead; send in your email today!
The LPC did not vote on the proposal last Tuesday for two reasons: (1) there was not a quorum of six Commissioners present, the required
minimum
number to permit a vote, and (2) the Commissioners in attendance directed the applicant and the LPC staff to dig deeper into the history of the

mural

.
LW! is on the case, too! Stay tuned for more updates.