By Claudie Benjamin and Andra Moss
Born in St. Louis Missouri in 1884, Sara Teasdale lived a sheltered life, but from a young age was committed to writing lyric poetry. She was also determined to one day live in New York City.
Deciding to marry St. Louis businessman Ernest Filsinger (whom Louis Untermeyer would describe as "a little like the head-usher in a funeral parlor"), she turned away a number of other suitors, including the poet Vachel Lindsay, seeming to choose stability and a comfortable life over shared artistic passions. Lindsay nonetheless continued to love her until the end of his life.
Sara Teasdale did, indeed, make it to New York City, arriving in 1916 with her husband, where they made their first home in The Beresford at 81st Street and Central Park West. Poetry flourished in this era on the Upper West Side. Teasdale wrote of attending salons in the UWS apartment of Jessie Rittenhouse, a founder of the Poetry Society of America, in the company of many of the most notable poets of the time.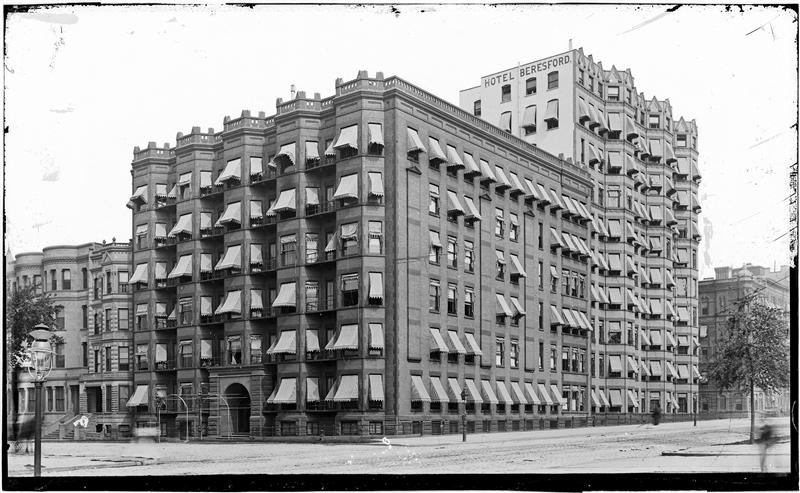 The original Hotel Beresford on Central Park West and 81st Street, built in 1889, where Sara Teasdale lived. It was replaced in 1929 with the current building, also called The Beresford. (Photo: c. 1900 Museum of the City of New York, George P. Hall)
Ambitious, seeking recognition, Sara Teasdale accomplished many artistic goals. But, perhaps because she was unlucky in love, or made poor choices, she was forever lonely, wishing she could be better loved.
Her romantic style produced the collection, Love Songs, which was awarded the 1918 Columbia Poetry Prize (now Pulitzer). It was a popular, as well as critical, success and Teasdale became well known for her delicate, new Romanticism works.
Teasdale divorced Mr. Filsinger quietly in 1928 (even he did not realize it was coming) and moved to the
Hotel Bonta-Narragansett
on Broadway at West 94th Street (per ad, "Especially suited to ladies traveling alone"). She also lived in the Martha Washington Hotel for Women, a subject of LW's most recent public program, "Women Only Buildings" (
view video
).
After her death in 1933, poetry styles changed and Teasdale's work was largely forgotten. However, William Drake, author of The First Wave: Women Poets in America, 1915-1945 writes:
"Sara Teasdale's work occupies a unique place in the history of American poetry and the changing fortunes of women in modern life. Out of the large band of women publishing poetry before World War I, she was the first to rise to a level of professional competence and national popularity comparable to that of men. She broke new ground for women poets in her particular devotion to what she called "song": a musical poetry based on directness, simplicity, and emotional intensity."
Barter
Life has loveliness to sell,
All beautiful and splendid things,
Blue waves whitened on a cliff,
Soaring fire that sways and sings,
And children's faces looking up
Holding wonder like a cup.
Life has loveliness to sell,
Music like a curve of gold,
Scent of pine trees in the rain,
Eyes that love you, arms that hold,
And for your spirit's still delight,
Holy thoughts that star the night.
Spend all you have for loveliness,
Buy it and never count the cost;
For one white singing hour of peace
Count many a year of strife well lost,
And for a breath of ecstasy
Give all you have been, or could be.
~Sara Teasdale (1884 – 1933)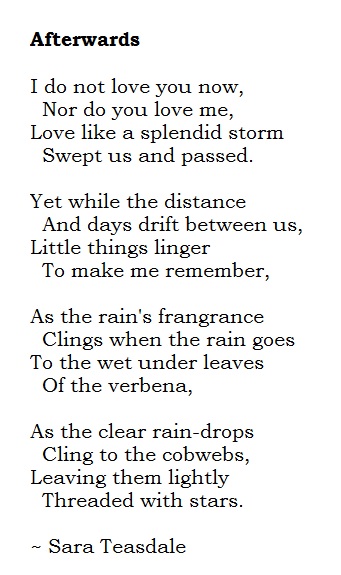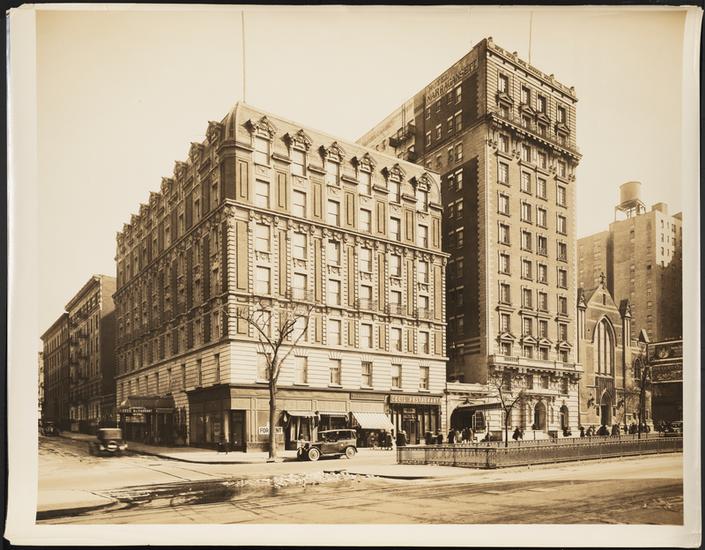 Hotel Bonta-Narraganset c. 1924 (Museum of the City of New York/ Wurts Bros.)
The Hotel Bonta-Narragansett on Broadway between 93rd and 94th Streets was created in 1914 when Arthur Bonta combined two hotels, the Severance (above left) built in 1900 and designed by architects Neville & Bagge, and the Narragansett, built in 1902 and designed by George Hill. They were joined by creating an entrance in the gap between them, which explains the small shop there today. Also, the current Van Gogh Apartments at 210 W. 94th Street (former Severance/Bonta building) has its entrance there, rather than on Broadway, because the Hotel Severance originally had a liquor license, requiring its entrance to be 200 feet from the nearest house of worship, the Church of the Advent. Mr. Bonta, however, choose to give up the saloon license and open his hotel for "temperance people". The Hotel Bonta-Narragansett was sold in foreclosure in 1941 and the two buildings redivided.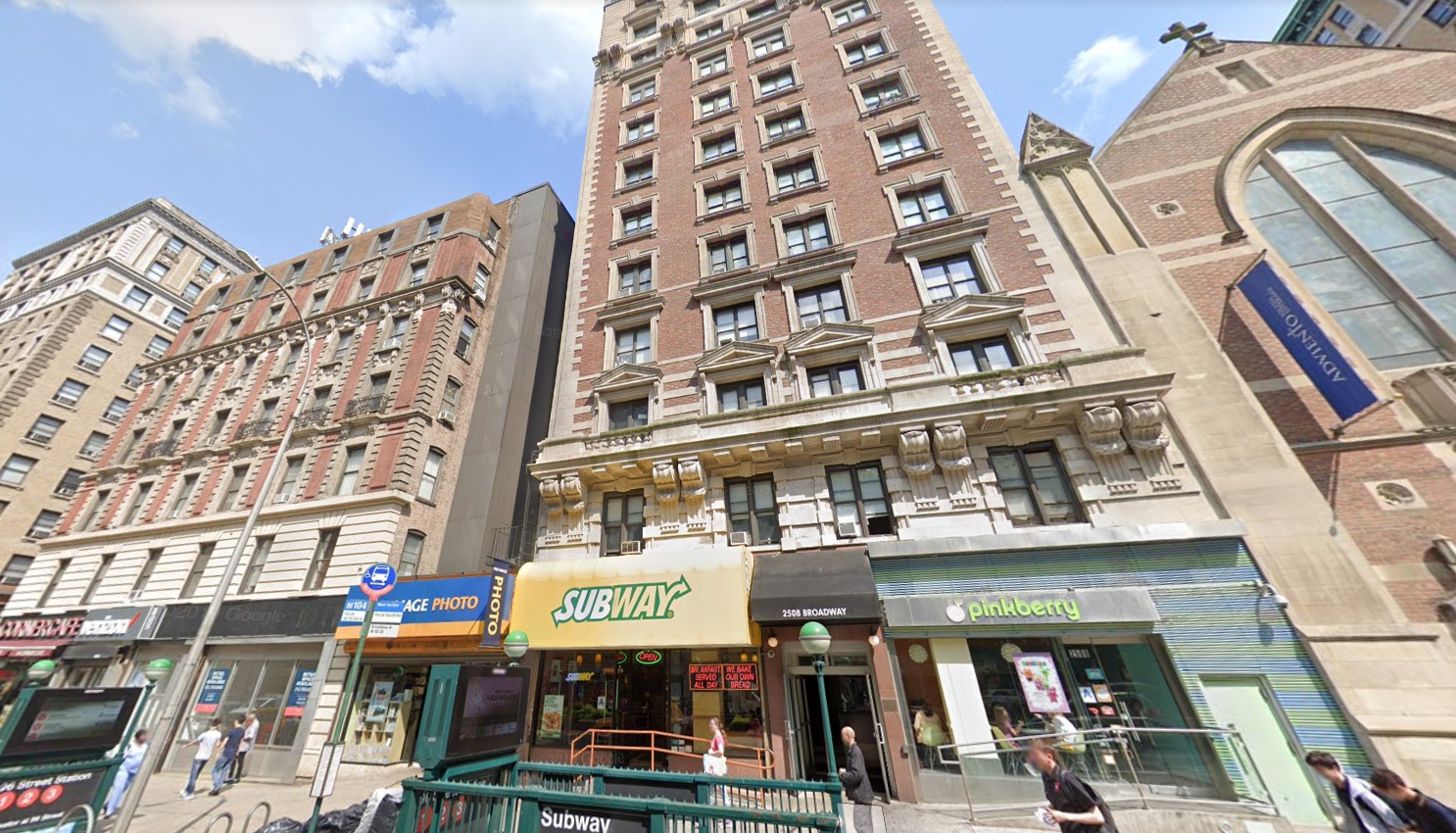 The buildings today on Broadway between 93rd/94th Streets