by Claudie Benjamin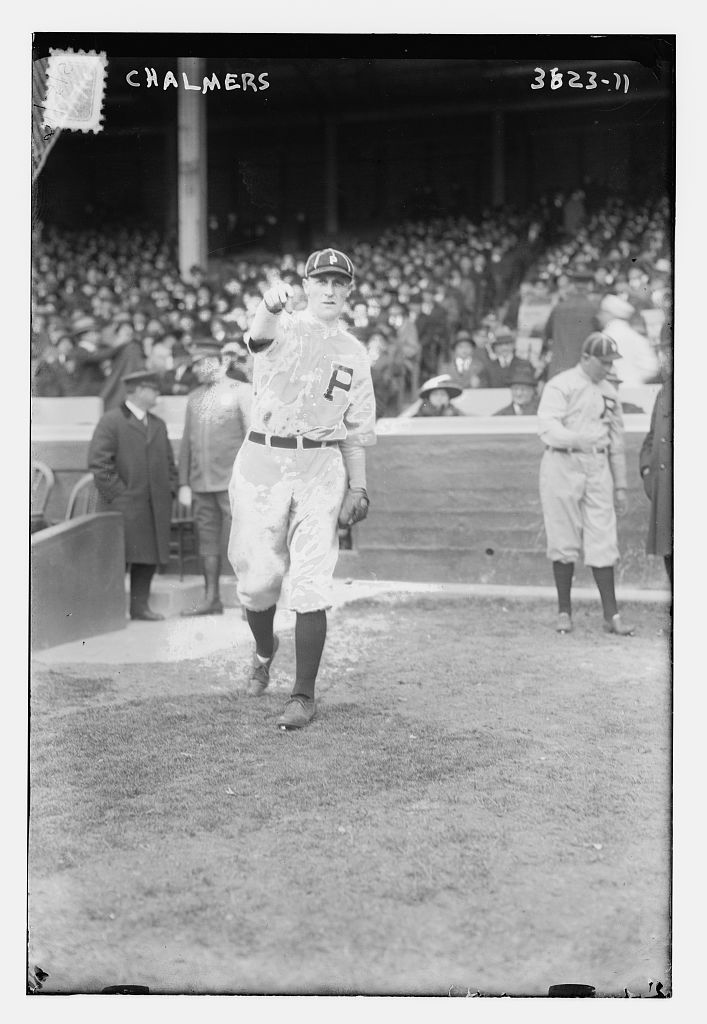 It's autumn and baseball thoughts are turning to playoffs, wild cards and an eventual World Series. Did you know that the Upper West Side has its own local baseball star–a starting pitcher in the World Series? True, it was a few years back…
George "Dut" Chalmers arrived in New York City in 1888 at the age of two from Scotland with his parents and two older brothers. The family settled on the Upper West Side and Chalmer's father, George Chalmers, Sr. worked as a carpenter. Young George attended PS 166 on West 89th Street between Columbus and Amsterdam Avenues through the 8th grade, when he left to help support his family. He found jobs first as a bellboy and then messenger at the luxurious McKim, Mead & White-designed Hotel Imperial on Broadway and 32nd Street–a long walk or a relatively quick, 5-cent 9th Avenue el-ride from the UWS. Later, he was a receiving clerk at Manhattan Warehouse and Storage Company on 7th Avenue between 52nd and 53rd Streets.
According to baseball historian William Lamb, The 1905 New York State Census places 17-year-old George without employment and living with his parents in an apartment house at 39 W. 98th Street. By 1910, the family relocated to an apartment at 27 W. 98th Street.
It was said that Chalmers learned baseball playing on the sandlots of his UWS neighborhood. As a teenager he not only played for love of the sport, but also to earn some income. Although biking was all the rage, he chose not to compete in bicycle racing for fear that an accident might damage his pitching (right) arm.
Baseball took him uptown, probably via the elevated line, to the Bradford Field Club in Upper Manhattan near the Polo Grounds. He played for other local teams including the Hobokans and the Englewood Field Club. Pitching also drew him to Red Hook, in Dutchess County, and Danbury, Connecticut. Persevering through a number of false starts, in 1909 'Duc' Chalmers achieved some success pitching for the Scranton Miners in the New York State League.
His contract sold to the Philadelphia Phillies, he was slated to hit the majors in 1910. At this point Chalmers was widely described in sports media as being a very promising player. His star was rising; it was even reported that a $7000 offer to release him to the Detroit Tigers was rejected. Increasingly, however, his promise was overshadowed by the glow of fellow Major League rookie and future Hall of Famer Grover Alexander's growing reputation.
A turning point in George Chalmer's career came as a result of shoulder injuries he sustained while playing an exhibition game in Cuba in 1911. Despite extensive treatments and top pitching specialists, his arm was never the same. He did manage a short comeback, however, in Fall 1915 when he helped carry his team, the Phillies, into the World Series against the Boston Red Sox.
By 1917, Chalmers recognized that his professional pitching days were over and said goodbye to fellow players who had always appreciated him. His career major league record was 29 wins and 41 losses with an ERA of 3.41. Chalmers and his wife Elizabeth, a Brooklyn bookkeeper, had married in November, 1916 at the Scotch Presbyterian Church at 96th Street and Central Park West, and George still gave his address as 27 W. 98th Street when he registered for the WWI military draft in May 1917.
A few years and two children later, the couple moved to the Bronx, where they lived until George passed away in 1960. A scrapbook with photos of his exuberant baseball days was later shared with researchers by a great niece.
Remarkably, in the 21st century the name of George "Dut" Chalmers of the Upper West Side has taken on new life — not along the Hudson, but in Scotland. In 2018, the Aberdeen Granite City Oilers Baseball Club opened a new home field. They named it for the first European-born pitcher to start a Series game: George Chalmers, the UWS baseball player who started World Series Game 4 for Philadelphia against Boston on October 12, 1915.