A fairy tale comes to life within the dreaming spires
of the Fourth Universalist Society Landmark
Presenting
The Princess Bride
directed by Erin Bigelow
Dinner and a Live Theater Performance
October 30 & 31
and
November 6 & 7
Dinner:  
7PM
, Performance:
8PM
(Performance only tickets available)
Fourth Universalist Church*
160 Central Park West at 76th Street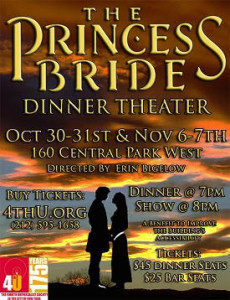 $45 for dinner and performance
Proceeds go to improving accessibility at the Fourth Universalist Society landmark!
"The Princess Bride" Dinner Theater Performance is a hilariously classic tale of love and adventure as the beautiful Buttercup, engaged to the odious Prince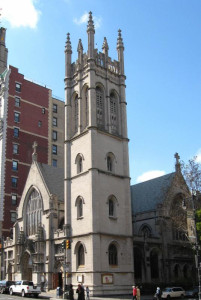 Humperdinck, is kidnapped and held against her will in order to start a war.  It is up to Westley (her childhood beau, now returned as the Dread Pirate Roberts) to save her!  On the way he meets a thief and his hired helpers, an accomplished swordsman and a huge, super strong giant, bothof whom become Westley's companions in his quest.
All of Erin Bigelow's productions come together on a zero budget.  She begs, borrows and pleads for favors from industry friends and all actors work for free!  This performance is a benefit to improve accessibility to the Fourth Universalist Building.
*A designated landmark within both the Central Park West-76 Street Historic District and the Upper West Side/Central Park West Historic District.  The Fourth Universalist Society church was designed in late English Gothic style by William A. Potter in 1896.  It features a tower modeled after that in Magdalen College at Oxford University in England.  Its interior includes an altar by Louis Comfort Tiffany and a relief sculpture by Augustus St. Gaudens. Fourth Universalist is "one of the few buildings to break from Central Park West's prevailing Classicism.  A rare archaeological design in English Perpendicular Gothic," according to architect and historian Robert A. M. Stern (author of New York 1900).