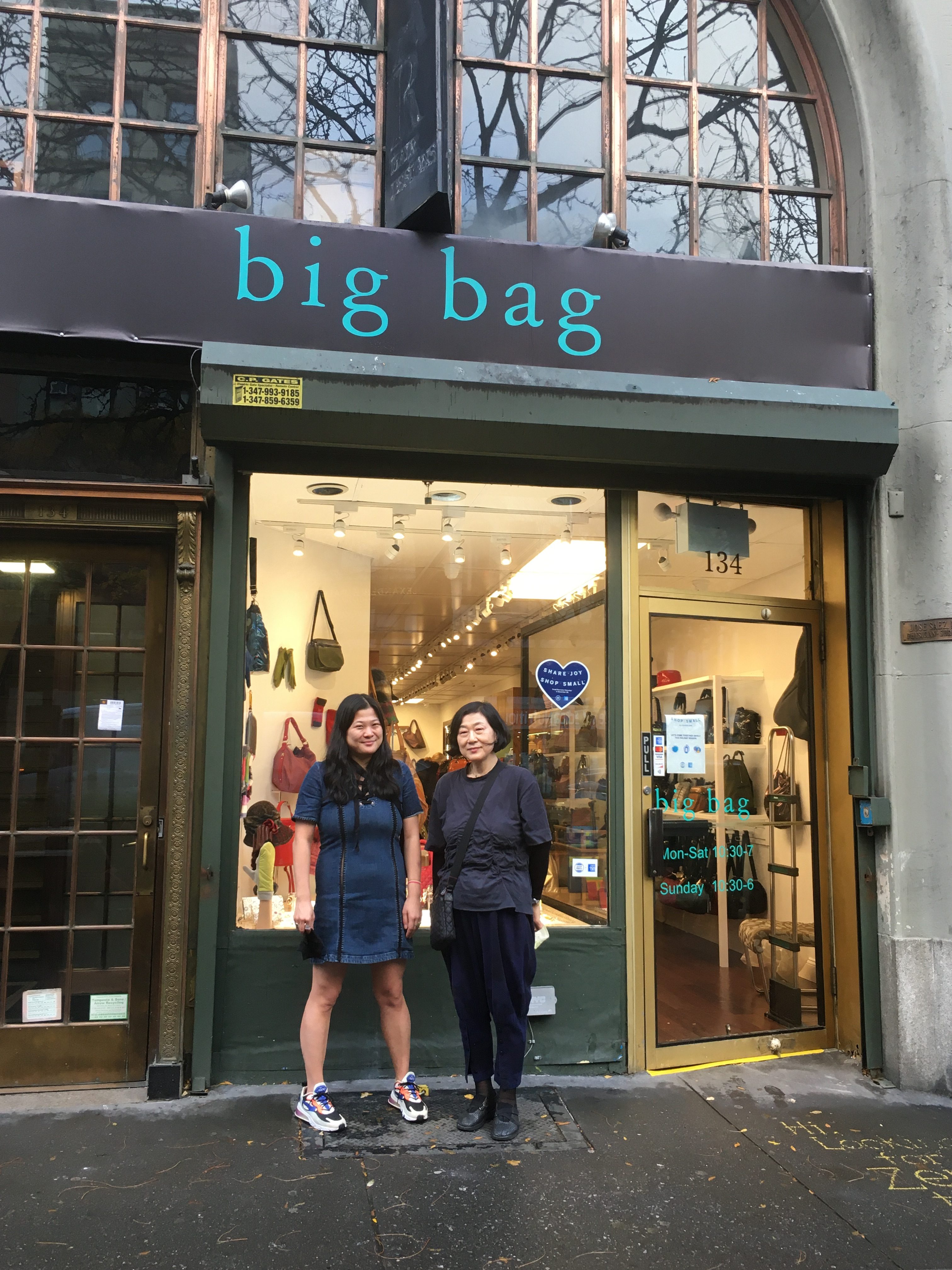 Seung Min Lee's enthusiasm for work and for life in general is hugely refreshing to anyone who speaks with her. It is not surprising to hear her say that she gains energy from interacting with customers. For 10+ years Seung has been partners in business with Sang Lan Lee, her mother, in the retail shop
Big Bag
at 134 W. 72nd Street. The two clearly appreciate each other. Sang says her daughter used to be her assistant. "Now, I'm her assistant!" she laughs. "My mother has much better taste than me," insists Seung.
Seung is an artist who paints in oils as well as a performance artist. "It's always a bumpy, hard-to-pay-bills road for an artist," she says. So, partnering in a retail business has provided some reliability. When Seung and her mother went into business together, their first shop was on West 72nd Street just a few steps east of Amsterdam Avenue. Its windows were discreetly elegant, highlighting delicate jewelry and handbags. Also featured was deluxe luggage. But, luggage is no longer sold at the shop's brand new 134 West 72nd St. location across the street. "People don't really buy luggage in stores anymore," says Seung. She explains that it's much easier to choose travel bags online and have them delivered.
The new store was designed by the mother-daughter team to be brighter and lighter when approached from the street – irresistibly inviting. The white interior with smooth, amber-colored floors sets off the merchandise to best advantage. Handbags made from wonderfully colored and textured leathers and cloth are displayed artistically. Whether an utterly simple design or complex construction, each is appealing in its own way. Seung said the bags, as well as the jewelry, have been carefully curated. Some items were acquired in France, Italy and Japan. Others are from local sources such as the MZ Wallace brand created by two Upper West Side women who still live in the neighborhood.
Both mother and daughter were born in Korea, but Seung was raised in New York. She's lived in many parts of the city, though never on the Upper West Side, a neighborhood she knows well and loves. "All my ex's have lived here," she says.
Seung is more than pleased with the beauty of the building that houses Big Bag's new location. In general she thinks of 72nd Street as a community, describing it as a "Main Street" where many people enjoy shopping. In this Covid period, as before, people like to shop where interactions seem personal. "Some people worry when my mom has a day off and others ask if everything's OK with me, if I'm out of the store." As an artist and performer, Seung also enjoys working in a neighborhood where she frequently interacts with others in the arts.
Even if the shop is called Big Bag, there are many other items to consider. "This is the gift-giving time of the year, and we have many small, cute, sweet, light and bright gift items." These include purses, wallets and gloves and, naturally, jewelry . "We are finding that in this difficult time, people are focused on their families…and giving them nice gifts," says Seung. "And, we're here for that." ~ Claudie Benjamin