12 Commissioners decide the fate of what gets landmarked and preserved for the future and what changes are allowed – yet all but one are serving on expired terms. 
UPDATE! Executive Director Sarah Carroll has been tapped to become the next LPC Chair.  A Committee Hearing was held on Thursday, September 20th.  Confirmation by the City Council was confirmed on Wednesday, September 26th. 
The New York City Landmarks Preservation Commission is the smallest of the City's Agencies, yet is the "largest municipal preservation agency in the nation".  Its ~80 person staff stretches across several departments: Research, Preservation, Enforcement, Archaeology, and Environmental Review. The Chair of the Commission is appointed by the mayor.  The remainder of the Commission is an assembly of representatives from each of the five boroughs as well as a Planner, an Historian, a Realtor and Architects.  The current commission:
Sarah Carroll, Chair;  Confirmed Wednesday, September 26, 2018
Fred Bland, Vice Chair; Term expired June 28, 2016
** On Tuesday, May 29th, Fred Bland was elevated to Vice Chair and served as interim Chair **
Adi Shamir Baron, Historian; Term expired June 28, 2016
Diana Chapin; Term expired June 28, 2015
Michael Devonshire; Term expired June 28, 2012
Wellington Z. Chen, Architect; Term expired June 28, 2017
Michael Goldblum, Architect; Term expired June 28, 2014
John Gustafsson; Term expired June 28, 2017
Jeanne Lutfy, Realtor; Term expired June 28, 2017
Kim Vauss, Architect; Term expired June 28, 2017
Anne Holford-Smith, Architect; Term ends June 28, 2019
Previously:
Meenakshi Srinivasan, Chair & Planner; Term expired June 28, 2016-Resigning as of June 1, 2018
Among legacy projects from the Srinivasan era are a revamp to the rules which the Commission operates according to.  After much push back, although changes to the rules are continuing for consideration, but there WILL BE a second public hearing on the proposed changes–this is all thanks to joint advocacy efforts!  Details on the latest proposed changes HERE, with FULL TEXT HERE.  It is also hopefully a harbinger of a new era of leadership–on wherein the public again has a voice.  Stay tuned to our blog for updates on the future hearing and changes in store.
Read LW! blog posts for more history & news on the Landmarks Preservation Commission.
UPDATE FROM THE FIELDAs reported by Mei Tuggle, LW! intern and NYU studentYesterday, the Landmarks Preservation Commission (LPC) reviewed 150 West 77th Street's application to construct a rear yard addition and to alter its basement entrance. LANDMARK WEST!'s...
read more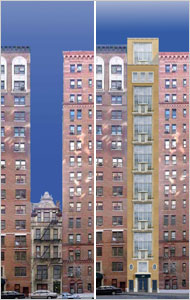 The Board of Standards and Appeals (BSA) ruled yesterday that in fact no, there will not be a sliver building rising at 330 West 86th Street anytime soon. As reported in the West Side Independent, the BSA stops a 17-story building from being erected on a 20...
read more
Contact Information
Sean Khorsandi
Executive Director
LANDMARK WEST!
LandmarkWest@LandmarkWest.org
45 West 67th Street New York, NY 10023
212-496-8110
Be a Part of the Fight...