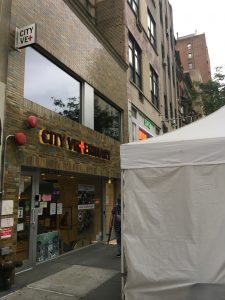 By Claudie Benjamin
Nicole Rector has a degree in business and has spent the last 13 years of her professional life as CFO of City Veterinary Care at 220 West 72nd Street, in addition to maintaining a private consulting business. She loves working at City Veterinary Care. She explains that she has unwavering respect for the service's clinicians and the practice's ethos that puts outstanding care above all other considerations.
How did Nicole get involved with the veterinary service to begin with? Having gone through cancer herself, she places special emphasis on the quality of concern, care and responsiveness which "I've not always seen with clinicians who treat humans," says Nicole. "We know you are concerned about your pet so we make sure to keep that a priority and be as responsive and communicative as possible."
Additionally, the speed of problem solving is remarkable. A dog or cat can come in for an exam for some chronic condition and the Veterinarian will examine, get lab work, imaging and surgery all performed within 36 hours as compared to human medicine which takes much longer due to processes." The state of the art center also keeps up with new advances offering stem cell, ultrasound, endoscopy and orthopedic surgery in house "to make sure we are capable of offering the animals under our care top treatment," says Nicole.
An Upper West Sider, "I'm born, raised and have remained on the Upper West Side," she was spending some time in the Catskills when her dog, a beagle, found and "ate half a deer carcass." She knew something was off about how her pet was feeling, but when she took him to (an unnamed vet) she was told "nothing was wrong." Hours passed, and Nicole was feeling uneasy as her dog was not regaining his usual demeanor. She rushed him to the City Veterinary Care clinic. He was examined by Andrew Kaplan DVM, the Veterinary Center owner who had just opened the service the previous year.
Dr. Kaplan performed emergency lifesaving surgery to unblock the dog's colon. Nicole was so impressed she started volunteering her business skills to help support the Toby Project. Dr. Kaplan launched this ongoing nonprofit in 2009 to cover the cost of neutering and spaying pets belonging to owners who would not otherwise have been able to cover the approx. $300-$600 cost of neutering or spaying. The procedure basically avoids shelters from having to euthanize unadopted dogs and cats. The nonprofit has performed over 40,000 surgeries today across the five boroughs.
Nicole says the nonprofit is supported with grants and donations "Grassroots fundraising is not easy." She explains that the name of the nonprofit was inspired by a dog named Toby that Dr. Kaplan encountered at a shelter. Labeled "a bad dog who bites," Toby was scheduled to be euthanized the following day. However, Dr. Kaplan adopted him on the spot. And, Toby lived happily for 14 more years, "never biting a dog or human," says Nicole.
Several years after she had started volunteering, Dr. Kaplan asked Nicole if she would review the hospitals operations and soon after offered her the job she has today. The practice, which provides full service preventive care and veterinary treatment to cats and dogs has grown both in reputation and in the number of veterinarians, techs and support staff providing general medicine, dentistry, surgery and emergency care. Putting care and compassion above all else, Dr. Kaplan offers care to over 150 nonprofit Rescue Groups at cost.
Nicole says that Dr. Kaplan hires only the most skilled and caring Veterinarians. Just as Nicole was first impressed with the time and care Dr. Kaplan took while diagnosing and treating her dog, many of the pet owners who bring their pets to City Vet comment on the considerate care and attention given to their pets and to follow up communication with their owners.