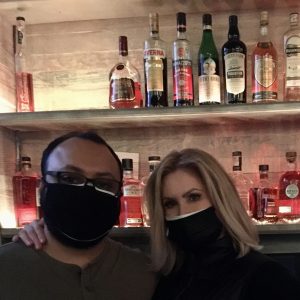 By Claudie Benjamin
When The Dakota Bar first opened in the early 2000s, it gave off an aura of posh. Now with service only outside due to Covid restrictions, you can still savor an expensive cab. Parminder Singh and his family opened The Dakota Bar in 2014 recently and made some changes to accommodate today's customers. Among them, you can grab an Amstel Light.
Alicia Bowling oversees The Dakota Bar. With long experience in many aspects of bar management, she has helped guide the most recent tone of The Dakota Bar, its bar list and menu.
"We had to update," Alicia says.
"People love their frozen drinks, we put frozen vodka lemonade on the menu. Our new chef makes wonderful flatbread with steak, prosciutto and rosemary." People are edgy and irritable in this Covid era and staff go beyond themselves to be friendly, helpful and understanding. It's a challenge. "We know everyone's name, say hello to their dogs and walk elderly people across the street."
Alicia, an Upper West Sider, has made a special effort to decorate the two outdoor seating spaces to convey different atmospheres, so customers have a choice. Leather bar stools and high tables mark the Columbus Avenue side of the bar. Table seating in a lighted shelter with heaters is available on the 72nd Street side. The Dakota Bar opens at 3pm on weekdays and the colored lighting in the evening is particularly appealing.
"Even with heaters, 30 degrees can feel like 20 degrees," Alicia says. Customers sometimes take their grumpiness out on servers. "We didn't do this to you, it's the State's requirements," Alicia reminds them. Outdoor seating is essential for survival in this restaurant's business, but it also comes with unanticipated challenges. The outdoor spaces attract homeless people looking for shelter from the cold. Also, many passersby take a seat, not to order a drink or food, but to smoke during hours when the restaurant is closed. Owners are looking for permissible ways to manage this ongoing problem.
Parminder not only owns The Dakota Bar, but also two other very different eateries on Columbus Avenue: their Columbus Gourmet Food and Angaar, a wonderfully homelike Indian restaurant. This restaurant is staffed by Parminder's father and mother Phuman and Ravinder, and his brother Johnny. A sister and another brother are visiting temporarily from out-of-state during the pandemic period.
Originally from the Punjab region of northern India, the Singhs believe in hard work and family life as the core of resilience. "We've invested in the Upper West Side. For all this roller coaster economy and the challenges of the pandemic, "we are committed to survive," he says.
Parminder is grateful to Alicia for encouraging the opening of outside seating. "We're happy during this Covid period to see people having a comfortable place to enjoy a drink along with something good to eat." Having an appealing space to go to and spend time out of the house is important. "Customers tell us how tired they are of being home all the time."