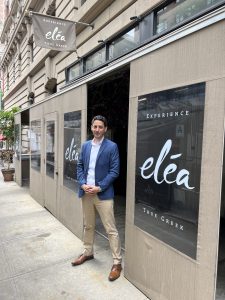 By Claudie Benjamin
It's not by chance that you feel comfortable at Elea no matter where you've settled yourself. The restaurant essentially offers three venues in one at their just off-Broadway West 85th address.
The menu is available throughout the restaurant. But the mood in each space is different. Outside, the large shelter is ornamented with pink flower decorations. Always attracting a crowd, the spirit is festive.
Inside the atmosphere is calm and collected with ample seating around the bar and a spacious dining area that has an industrial-inspired modernity with lots of white, gray and dark floors and effective use of subdued lighting. A stylish shelving construction made of white pipes hangs from the ceiling to display bottles over the bar.
And downstairs, just as the hostess promises, is a large subtly lit space, a tranquil, elegant spot for a delicious meal and a quiet conversation.
General Manager Andreas Davetas says along with serving wonderful traditional Greek style grilled sea bass and grilled shrimp, short ribs with orzo and other meat dishes are also on the menu. A strong emphasis is on providing welcoming service. This means for example, that the hostess may commiserate with you on the weather and assure you as you enter on a sweltering day, that the lower level is cool, calm, and restful. "It's true for the porter, the servers – everyone has to be on board with the approach."
Andreas doesn't consider for even a second when asked about his favorite meal. It would have to be octopus, the litmus test for Greek cuisine, and lamb chops. Many customers are happy to find that familiar favorites like tomatoes (the best in New York) and peppers stuffed with rice and Mousaka are also on the menu. "Having regulars all the time, we're always trying to have it fresh and new," says Andreas. The menu changes seasonally.
For those interested in a craft cocktail, the list features drinks that always share a hint of Greek identity. It is a pleasure both to read and to taste. Among the signature cocktail possibilities are Kymatini (Stoli cucumber vodka, mastiha liqueur and mint), or Fig Martini (Grey Goose vodka, fig and fresh lime). No question the restaurant's lower level is a transformed basement space in the Bretton Hall building that started life as a hotel. (The remnants of its one-time ballroom remain in the back of the Han Dynasty restaurant next door).
Prior to Elea's arrival in 2018, the space was occupied by a Kosher Steakhouse and earlier by a Mexican restaurant. Major restoration of the space was undertaken by Kyma Restaurants of which Elea is a part.
Andreas said the biggest challenge was removing a spiral staircase and installing a new stairway that allowed more light into the downstairs area.
Servers are both at ease, friendly and helpful if you want suggestions or recommendations. Andreas explains It's a little more neighborly than the invisible style of service that typifies many midtown restaurants where the goal is to serve and not be seen – not interfering at all with business discussions.
The nuances of service style may be linked to Andreas' immersion in the restaurant business from childhood. In the 1970s his father owned a Greek restaurant called the Acropolis located in New York's Hell's Kitchen and later owned another in Greece. Andreas was born in NYC, spent his high school years in Greece, and returned to New York to earn a degree at CUNY's Hunter College, majoring in Psychology. He was not set on a career in the restaurant industry and came into the profession reluctantly. Now he loves his occupation. He says carrying out his job regularly is informed by his interest and skills in psychology. Andreas mentions that he's just been on the phone with a customer who was adamant about having a reservation for a seat outside. "A lot has to do with attentiveness to people's idiosyncrasies." These have particularly come to the fore during Covid, for example, in terms of where exactly people wish to be seated.