Keeping the Past for the Future
Urban Historians
Using the Upper West Side as our case study, this program explores the development of the UWS from WWII through to present day, specifically exploring the shifts in population and demographics on the UWS and how this influences our urban landscape and what evidence we find of this today.
Using our neighbourhood, we learn how the changes we see in it today track with broader societal changes across the US, and contemplate what future changes will bring.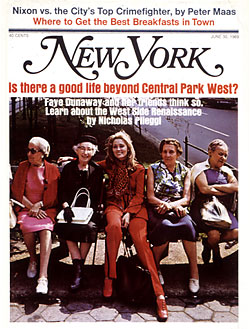 Late 1930s - Growing Shadow of War

1940s - War and a Changing City

Mid 20th Century and Urban Renewal

1950s-1970s - A Shifting Population

1980s - Economic Boom
In the lead up to World War II, the Upper West Side sees an influx of immigrants moving uptown.Tenements on the crowded Lower East Side continue to grow, prompting many families to begin moving north to newer neighborhoods. Throughout the lat 30s, the growing threat of the Nazi regime casts a shadow across Europe, threatening Jewish communities particularly. Many Jewish immigrants and refugees fleeing this danger arrive in the neighborhood at this time.



Session One Slides
How did the Upper West Side continue to change and evolve following World War II? Let's follow the neighborhood from the uncertainty of the wartime period to the yuppies of the 80s.
Primary sources, particularly historic photographs, help us visualize these changes throughout time, and are a good resource for personalizing the past.
Resources – Urban Historians
455 Central Park West/Former New York Cancer Hospital
Frederick Douglass Houses
Southern Baptist Church
West 105th Street & Manhattan Avenue
West 106th Street & Columbus Avenue
Acknowledgements
KPF is made possible by the contributions of Council Members Helen Rosenthal and Mark Levine, as well as the New York State Council of the Arts (NYSCA) and the Department of Cultural Affairs (DCLA). With their support, Landmark West's KPF program offers a suite of seven 3-part courses aligned with the NYC Core Curriculum in Upper West Side public schools for free every year.