Landmarks Applications
Certificate of Appropriateness
Join our C of A Committee
Does the thought of shaping changes in our neighborhood interest you? LW's C of A Committee members are key players in shaping the Upper West Side's future. We welcome architects, designers, historians, attorneys, real estate professionals and anyone interested in volunteering skills and expertise in the pursuit of stewardship of our neighborhood. The Committee meets to review all applications for changes to landmark sites within Community District 7 scheduled to be heard at the Landmarks Preservation Commission, Public Design Commission and other public forums. Email Sean Khorsandi seankhorsandi@landmarkwest.org, or call (212) 496-8110 for further details.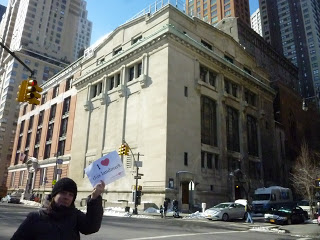 New York Society for Ethical Culture2 West 64th StreetThe New York Society for Ethical Culture buildings are some of my favorites along Central Park West. I can't help but love such a beautiful school building!Love,Debi GermannLandmark West! Director of EducationP.S....
read more
Holy Trinity Lutheran Church51-53 Central Park WestThe Holy Trinity Lutheran Church is a very good example of preservation and restoration in action. In my lifetime, I've seen it go from being absolutely filthy to being covered in scaffolding to emerging as this gem...
read more