Singer-Songwriter legend Carlos Santana wasn't necessarily singing about Playground 89, on West 89th Street between Columbus and Amsterdam when he wrote "Let the Children Play" in 1976, but the playground, adjacent famed architect C. B. J. Snyder's P.S. 166 was first redesigned by landscape architect M. Paul Friedberg in 1967 so it is a possibility…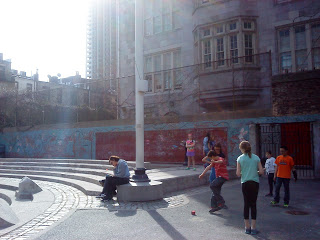 The repetitive lyrics of the song remind us to let children be- they need to have fun, explore and find themselves. The award-winning Friedberg knew this himself and incorporated as much fun into his designs as possible. Playground 89 was "sunk three feed below grade for a sense of containment, it held a number of geometrized granite-block landforms–a mountain and canyons or caves–and an imaginative variety of playlinks, including springboards, bridges, fireman's poles, cables, and ladders. The climbing mound concealed lavatories. Trees were planted throughout the play area, including on top of a mound. There were a tree house, a "spider's web" of cables suspended between posts, and an amphitheater with spray fountains" (Alison Dalton, M. Paul Friedberg's early Playground Designs in New York City). Seminal at the time, playgrounds such as this would later be grouped into a category recognized as "Adventure Playgrounds" with others by Friedberg, Pei and Dattner among the most recognizable.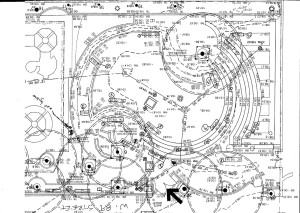 Playground 89 followed the fortunes of New York City. The bathrooms were eventually shuttered and partially buried. A revisit to the design in 1999 brought Friedberg a second act on the same site but with minimal funding it was more of a design simplification. More recently, the NYC Parks Department proposed making alterations and shared their design with Community Board 7.
After lengthy negotiations between us, the Parks Department, and the Friends of Playground 89, work has begun on the renovations. In an effort to modernize and make the playground more accessible, new ramps will be added, two sprinklers will be removed and the lowest step of the amphitheater will be filled, among other changes to the 1967 design. A look back at the entire process is well encapsulated in The New York Observer.