The world has many an unsung hero.

In 2011, the Upper West Side has eight more.
(click below to see the full event program)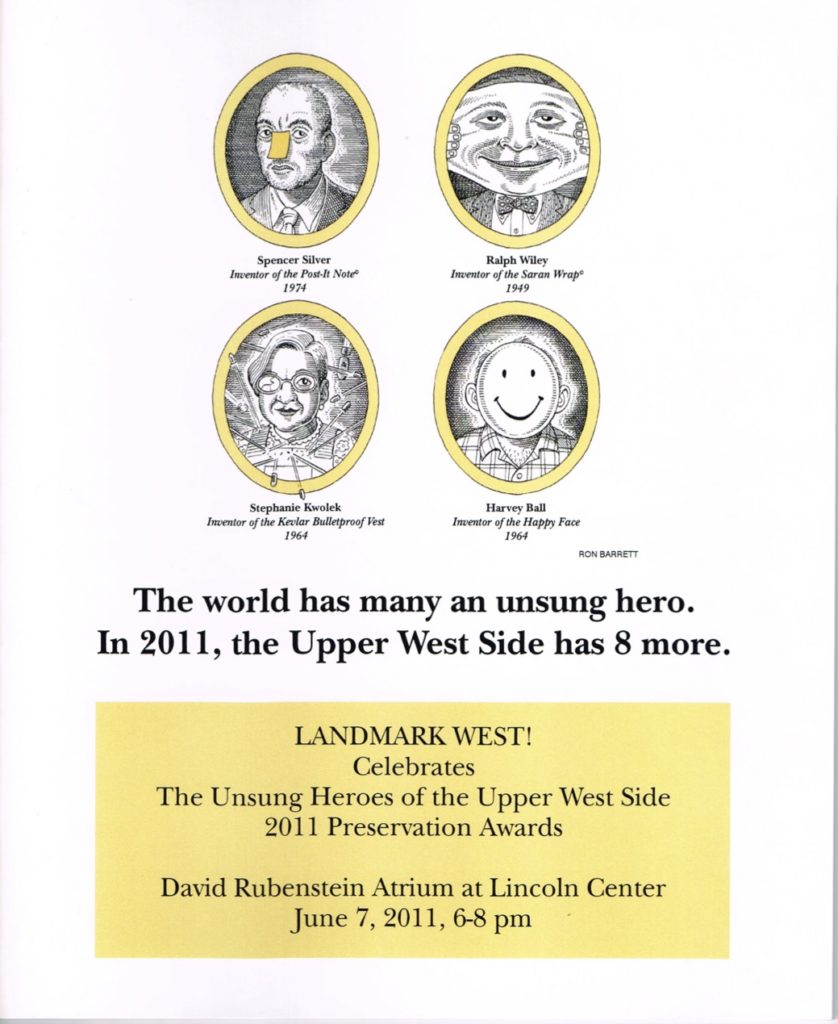 Artwork by Ron Barrett, illustrator of the world famous "Cloudy with a Chance of Meatballs".
Please join LANDMARK WEST! on Tuesday, June 7, 2011, from 6:00 to 8:00 PM, in the David Rubenstein Atrium at Lincoln Center (61 West 62nd Street, the extraordinary public space recently transformed by star architects, and our special guests for the evening, Tod Williams and Billie Tsien) as we celebrate the people and projects that—in some way, shape or form—lead the way in preserving our neighborhood's special character and sense of place.
And the 2011 awardees are…
Exterior Preservation
American Youth Hostel, 891 Amsterdam Avenue, and
Cutsogeorge, Tooman & Allen Architects, a model partnership to restore a West Side architectural gem

Community Steward
Margarita Curet, Amsterdam Houses tenant leader and all-around "Force to Be Reckoned With"
Future Generations
Samantha Deutsch, 5th-grade teacher and partner in preservation education at P.S.145, West 105th St.
Preservation by Design
Milton Glaser, graphic designer of "I [heart] NY," New York magazine, and LW! logo fame
Preservation Advocate
Roberta Brandes Gratz, former Landmarks Commissioner, award-winning journalist, urban critic, and author
Archival A-Team
Office for Metropolitan History: Christopher Gray & Suzanne Braley, curators and chroniclers of New York's architectural history