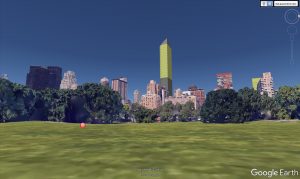 LANDMARK WEST! and neighbors have filed our Department of Buildings Zoning Challenge against the CENTRAL dARK Tower, a proposed 39-story, 775-foot tall tower which includes 215-feet (equivalent to 21 residential stories!) of void space planned for 36 West 66th Street, (aka 50 West 66th Street) originally filed as a 25-story structure.
As of September 9th, 2018 the Department of Buildings has 75 days to respond to our challenge.
There's a tough road ahead, and LW! will continue building a war chest to stay nimble, recruit expert assistance, and fight this project on all cylinders.
PLEASE ACT TODAY:/
EMAIL key officials to reinforce community concerns about over-sized development creeping into residential neighborhoods like the Upper West Side. Simply fill out the form below and hit send to contact NYC leaders today!
/
[contact-form-7 id="33893″ title="215′ of Nothing is NOT okay!"]
Recipients:
NYC Mayor Bill de Blasio
NYC Comptroller Scott Stringer
NYS Attorney General Barbara Underwood
NYC Deputy Mayor Anthony Shorris
NYC Deputy Mayor Alicia Glen
NYC Buildings Commissioner Rick Chandler
Manhattan Borough President Gale Brewer
NYC Council Speaker Corey Johnson
NYC Council Member Helen Rosenthal (District 6)
Manhattan Community Board 7
US Congressman Jerrold Nadler
NYS Senator Brad Hoylman
NYS Senator Liz Krueger
NYS Assemblymember Linda Rosenthal
NYS Assemblymember Richard Gottfried
NYC Council Government Operations Chair Ben Kallos
NYC Council Parks Chair Mark Levine