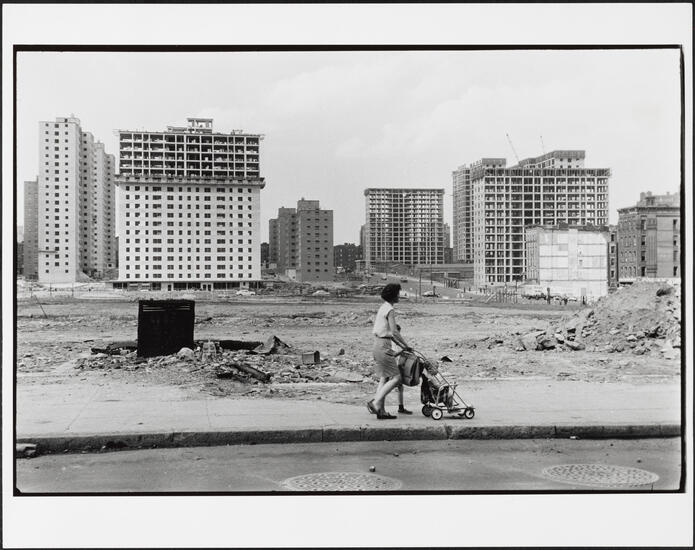 By Megan Fitzpatrick
Today we are bringing you a little known story about a community of Black artists that took place in the West 90s of the Upper West Side. The image on the left shows West Park Village which was built in the spot where previously sat six blocks of rowhouses. Deemed a 'slum' by City officials these buildings and the communities along with them were wiped out as part of one of the first urban renewal projects undertaken by Robert Moses – named the Manhattantown project. Two blocks in particular on West 98th and 99th Streets between Central Park West and Columbus Avenue have a fascinating history as a vibrant and tight-knit Black community, formed out of want to end residential segregation in New York.
Major Black realtor, Philip Payton Jr., attributed to opening up Harlem to Black tenants, began leasing properties in this mostly wealthy white neighborhood, starting with 57 and 59 West 99th Street, from 1905 to Black tenants. Prosperous Black residents in the city arranged a meeting to discuss why African Americans should not live in aristocratic sections of the city, if they could afford it, and thus sparked interest in leasing properties in the Upper 90s of this neighborhood. Black tenants paid the same rent as white tenants – around $25-40 a month and there was no shortage of people to take up tenancy. The community attended St. Jude's Chapel at 19 West 99th Street, or St. Luke's Baptist Church at 55 West 99th Street. Most of the children went to PS 179 at 174 West 102nd Street. The social vibrancy of the neighborhood was brought to an end with urban renewal in the 1950s.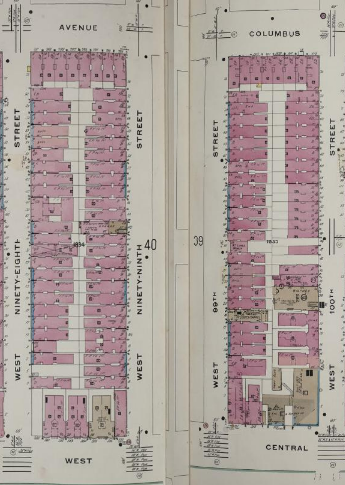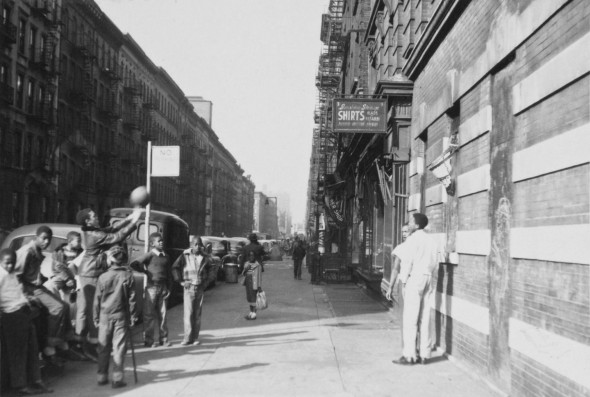 During the destruction of this neighborhood, some hardcore holdout tenants refused to be moved despite living in dire situations surrounded by rubble – "we had no heat, no hot water, we still stayed. Until it became an emergency…it was our home, I couldn't understand why they wanted to tear my home down, it was not a slum" one former resident said. Indeed, it is widely contested that this community was branded a 'slum' and in need of clearance. A study of the area's living conditions undertaken by the Women's City Club in the 1950s painted a very different story, one of a thriving community.
Significantly, an enclave of pioneering Black artists resided in this mini neighborhood, many of of whose careers were only starting in the early 20th century.
Billie Holiday
Nicknamed "Lady Day", Holiday's impact on the jazz world is immeasurable – with no classical training she had an instinctive sense of musical structure and a deep knowledge of jazz, she developed a singing style that was deeply moving and individual. Holiday lived at 9 West 99th Street while her mother had a restaurant at 71 W 99th Street.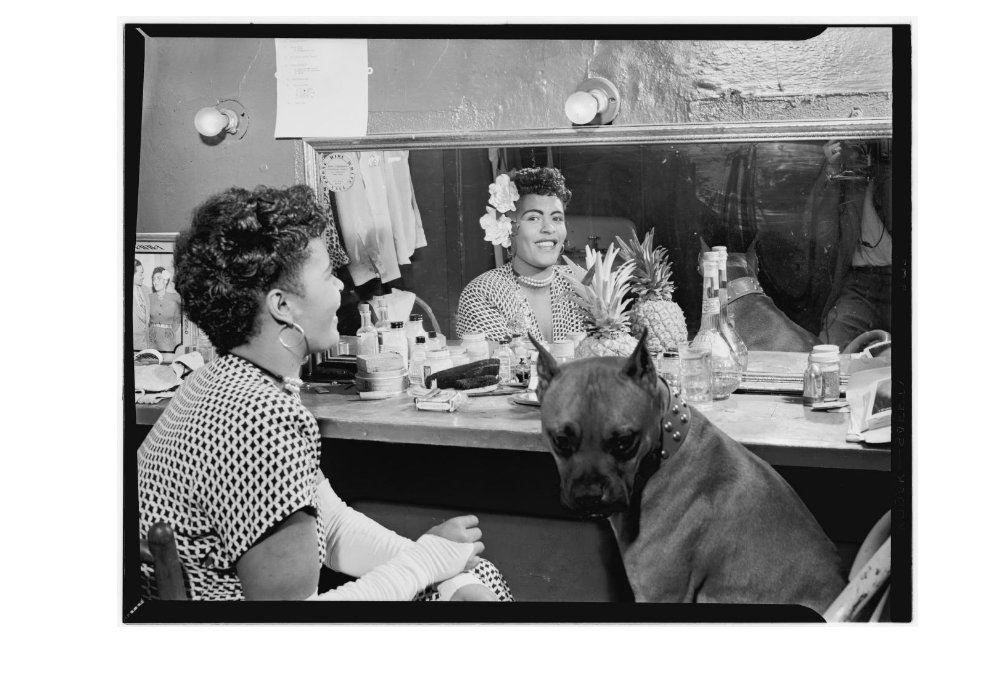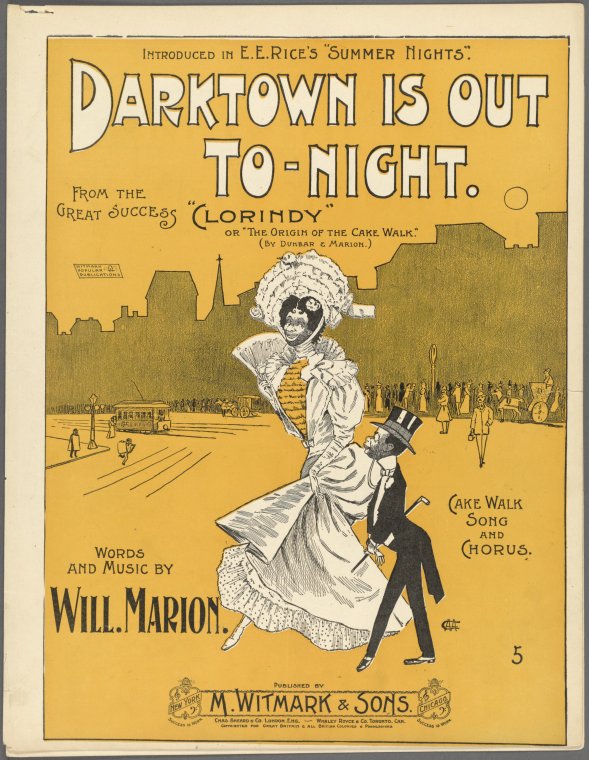 Will Marion Cook and Abbie Mitchell Cook
One of the most important figures in pre-jazz African-American music was the classically trained composer Will Marion Cook. Cook's biggest success was his collaboration with poet Paul L. Dunbar to write the musical comedy Clorindy, or the Origin of the Cakewalk in 1898. It was the first Broadway musical to feature an all black cast and ragtime music performed at the historic Casino Rooftop Garden – open to an all white audience only. It was opera singer Abbie Mitchell's first of many roles on stage, who married Cook shortly after appearing in his musical (at the age of 15). Mitchell originated the role of 'Clara' in George Gershwin's Porgy and Bess in 1935 and she was the first to record the song "Summertime" from the musical. Both lived in the neighborhood, with Cook recorded living at 10 ½ West 99th Street.
J. Rosamond Johnson and James Weldon Johnson
The Johnson brothers were composers who produced many musicals in the early 1900s. James was a civil right activist who wrote the poem "Lift Every Voice and Sing" in 1899, which his brother later set music to and it became informally known as the Black National Anthem. Both lived at 52 West 99th Street.
Bert Williams
Williams was one of the pre-eminent entertainers of the Vaudeville era, and one of the most popular comedians for all audiences of his time. He was influential in opening doors for Black entertainers on stage and screen.
Other significant people that lived in the neighborhood were actor Robert Earl Jones, artist Charles Alston who made the bust of Dr. Martin Luther King displayed in the White House, and historian and collector Arturo Schomberg.
There is an annual meeting for former 98th and 99th Street residents fondly nicknamed 'The Old Community' which keeps the memory of this neighborhood alive.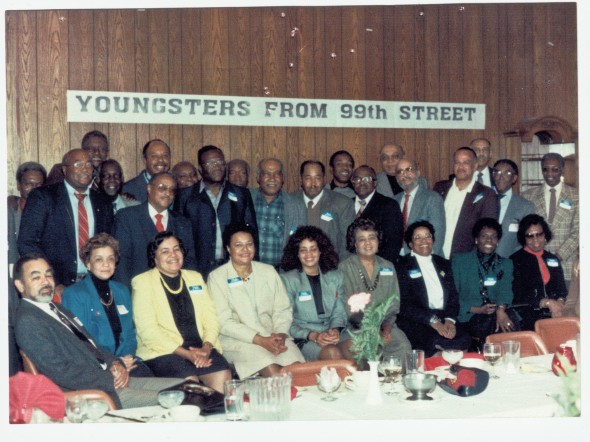 Throughout Black History Month, we're exploring significant places of Black History in our neighborhood – come back next week to see another site!
References:
Images:
1. Depicting the rubble and empty plots after the razing of six blocks: Frank Paulin, '97th Street and Columbus', Museum of the City of New York. Accension No. 93.80.18.
2. The two blocks between Central Park West and Columbus Avenues: Sanborn Map Company, 'Sanborn Fire Insurance Map', New York City Volume 7, South Half, 1951. https://www.loc.gov/resource/

3. View of 100th street in the old neighborhood photographed by Elinor Black of the Women's City Club: Black, Elinor G., 1953. Courtesy of the Jim Torrain Collection.
4. Billie Holiday: Gottlieb, William, P., 'Portrait of Billie Holiday', Library of Congress: Music Division, 1947.
5. Poster from Clorindy: 'Darktown is out tonight', New York Public Library, Music Division, 1898.
6. West 98th and 99th Street Reunion: Circa 1981. Courtesy of the John Cornwall Collection.
Caro, R. A., 'The Power Broker: Robert Moses and the Fall of New York', Vintage Books, 1975.

Mackin, Jim, 'Notable New Yorkers of Manhattan's Upper West Side', Fordham Univeristy Press, 2021.

Epstein, Jim, 'The Tragedy of Urban Renewal: The destruction and survival of a New York City neighborhood', Reason TV, 2011 <accessed 2/16/23>