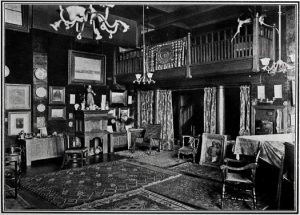 In "Revisiting the History of the West 67th Street Artists' Colony" journalist Abigail Gruskin reports on one of our recent events–a talk by Columbia Professor Andrew Scott Dolkart, who is also a board member of LANDMARK WEST! Yes, she covers the talk, its substance and even divulges some of the secrets of the presentation but she also goes deeper. In an interview with Andra Moss, LANDMARK WEST! Programs Director she delves into how programs and events have changed under our Covid restrictions and finds some optimism despite the current limitations.
Thanks to ZOOM, more people can attend the LANDMARK WEST! events, even those not even in the neighborhood or state! Further, recording events has allowed many of these presentations to have an afterlife (members can access our recordings library here).
The talk focused on the eight buildings which are now protected within the Upper West Side/Central Park West historic district, but specifically were encapsulated–thanks to Dolkart–in the National Register listing for the Colony designated five years prior. In Gruskin's words:
Dolkart described the architectural details of each building comprising the Artists' Colony at length, making special note of the north-facing windows and 18-foot-tall ceilings at Sixty-Seventh Street Studios (the first of the Artists' Colony buildings to be constructed), the "gothic" limestone details enmeshed with the brick façade of Central Park Studios, and the electric dumbwaiters in the Hotel des Artistes, among other eccentric design choices.
But he also offered evidence that some were initially unimpressed by the earlier architectural feats.
"My modern eyes have always found this building to be quite handsome," Dolkart said of Sixty-Seventh Street Studios, "in its simple, well-proportioned street front. So, imagine how surprised I was, recently, to find this description in the 1903 New York Times article: 'The front … is not a thing of beauty.'"
"The author goes on to describe the façade as 'depressing,' 'queer,' 'tall, bulky and sad,'" Dolkart later added.
This event will be complimented by a sister program this Thursday, specifically on the Hotel des Artistes.