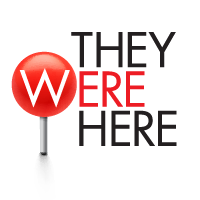 The Morphing 322-326 Columbus Ave.
by Tom Miller, for They Were Here, Landmark West's Cultural Immigrant Initiative
In 1971, the hulking five-story brick apartment at 322 to 326 Columbus Avenue had stood for 84 years. They were reconfigured and refaced by Robert Conrad Quinlan that year to make way for a modern apartment-and-store building designed by Yeshayahu Eshkar. A decade earlier the engineer-architect had made a statement on the Upper West Side with his boldly colored glazed brick apartment buildings—one blue, another translucent green, and a third deep brown. Not everyone approved, the authors of the AIA Guide to New York City calling 69 West 85th Street—the blue one— "an affront to all sensibilities."
For this project, Eshkar toned things down. The five stories of light beige brick above the storefronts were trimmed with courses of brown brick between each floor. The spartan façade, which is nearly as much plate glass as masonry, is capped by a blank parapet.
SThe completed structure holds 62 apartments and five stores. The shops reflected the eclectic and trendy personality of the neighborhood. Among the early commercial tenants were Reruns, an antiques store; J. L. Leach shoe store, and fragrance and body care store Crabtree & Evelyn.
The initial apartment residents included then-New York State Assemblyman Scott M. Stringer, who was still here in 2009 when he began his second term as Manhattan Borough President.
In the 1980's Ecco shoes leased a store, as did the boutique Ylang Ylang and the family-owned ladies fashion store Liana. Out-living trendy stores like Farrow & Ball, Liana is still here after two decades, sharing the string of stores with De Capo (an espresso shop which morphs to cocktail bar in the evenings), Siqin clothing shop, Couture Kids, the hair salon Malon NYC.
---
2021: Siqin and Couture Kids have closed.
---
Tom Miller is a social historian and blogger at daytoninmanhattan.blogspot.com
LEARN MORE ABOUT
322-326 Columbus Avenue
Be a part of history!
Shop local to support the businesses currently at 322-326 Columbus Avenue: