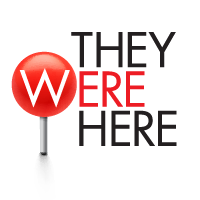 THEY WERE HERE
The rich history of the immigrants who lived and worked on Columbus Avenue with social historian Tom Miller!
Monday, June 29, 2020 (
This event has passed

)
11:00am-Noon FREE! Live Zoom
LANDMARK WEST! hosts a free Zoom program to celebrate the launch of THEY WERE HERE, a unique collection of architectural and social histories that tells the stories of the many immigrants who worked and lived along Columbus Avenue.
As the Upper West Side came into being from the late 1800's through early 1900's, Columbus Avenue was one of the community's main shopping thoroughfares. From the first Victorian apothecaries and "butter and egg" shops to beloved mom and pop shops Upper West Siders have known for decades, Columbus Avenue holds the history of our neighborhood.
The turn of the century brought more than just the elevated train to 9th Avenue. Immigrants, too, arrived with their skills, energy and dreams.
LW! crowd favorite Tom Miller (aka the "Daytonian in Manhattan" blogger) guides us on a virtual tour along Columbus Avenue beginning in the 1880's. Storefront by storefront you'll be amazed as we enter the streetscape of the earliest days of the Upper West Side: Politics, Vaudeville, Kings of Industry, New Arrivals and, of course, plenty of Scoundrels!
LANDMARK WEST! will be joined by officials:
City Council Member Ben Kallos
City Council Member Helen Rosenthal and
Columbus Avenue BID Executive Director Nicole Paynter
This project for the Cultural Immigrant Initiative is supported, in part, by public funds from the New York City Department of Cultural Affairs in partnership with the City Council. Special thanks to Council Member Ben Kallos and the NYC Municipal Archives.
Speaker Tom Miller, a historian and preservationist, is the voice of Daytonian in Manhattan, a hugely popular blog started eleven years ago, in which he has covered more than 3,000 Manhattan buildings, statues, fountains and "other points of interest that make Manhattan fascinating". He is the author of Seeking New York: The Stories Behind the Historic Architecture of Manhattan–One Building at a Time and a companion book, Seeking Chicago.