Never before have stone horses caused such an uproar. Ever since 1965, many Upper West Siders have long been familiar with the landscaped playground at Stephen Wise Towers, located between West 90th and 91st Streets and cheerfully dotted with modern concrete animals. Neighbors woke one day in March of 2021 to find these sculptures by Constantino Nivola had been unceremoniously cut away from the plaza in favor of construction work. Now, more than a year later, Nivola's statues may find their way back home.
Constantino Nivola was an Italian artist, sculptor, and ceramicist born in 1911. After being forced to flee his native country during World War II, he immigrated to New York in 1939 and quickly settled into a life of artistic production in Long Island. His work turned to mixing art, architecture, the environment and everyday life. He developed his simple but effective sculpting technique of sand-casting. He shaped wet sand molds, then poured plaster over it, and allowed the plaster to set.
This technique developed Nivola a reputation as a "sculptor for architects" and he soon began casting concrete, a material he considered modern, practical and architectural. Many of his works through the 1950s and 60s were designed to create a sense of community and were for places where art and architecture could come together, such as playgrounds and schools.
The horses at Wise Towers were a whimsical part of this tradition, and an important part of the neighborhood. In 2020, Landmark West! collaborated with NYC's City Council Cultural Immigrant Initiative, architect Richard G. Stein, and Mugi Pottery to create an artistic youth education program based on these sculptures for nearby schools.
This long legacy is perhaps what made the horses' removal so shocking. In March 2021, NYCHA planned critical repairs to a water main underneath the plaza, and the statues were literally sawed off at the knees to make way for the construction. Despite the sudden and unceremonious removal, NYCHA maintained that their intent was always to return the horses to their former home and that the remains of the sculptures were in an undisclosed storage location. The move angered many neighbors and stewards of Nivola's work, including the Nivola Foundation. It was covered by Curbed, The New York Times, Patch, the West Side Rag, and by Italian news through ANSA.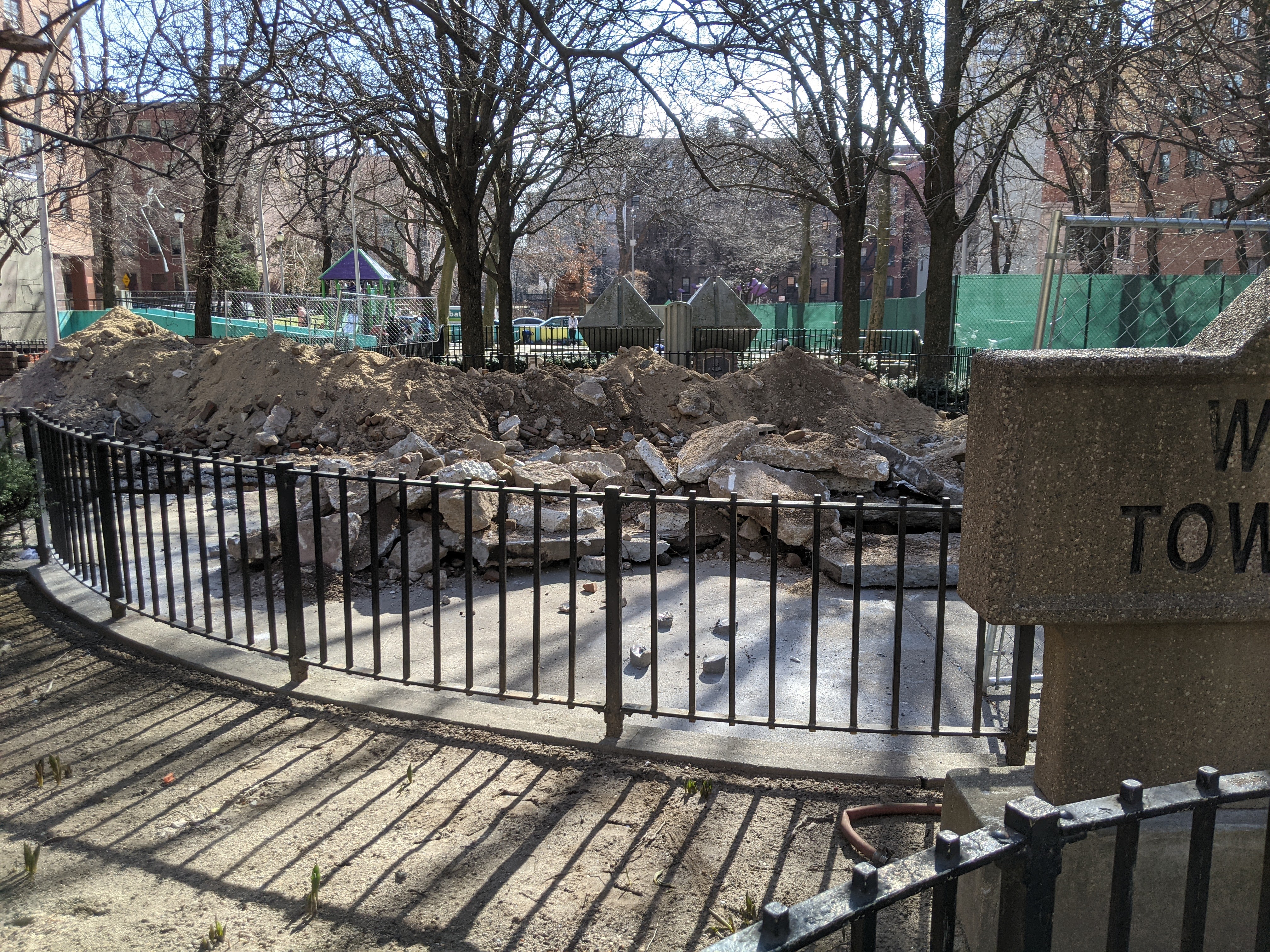 View of the truncated legs of Nivola's horses; 3/9/21.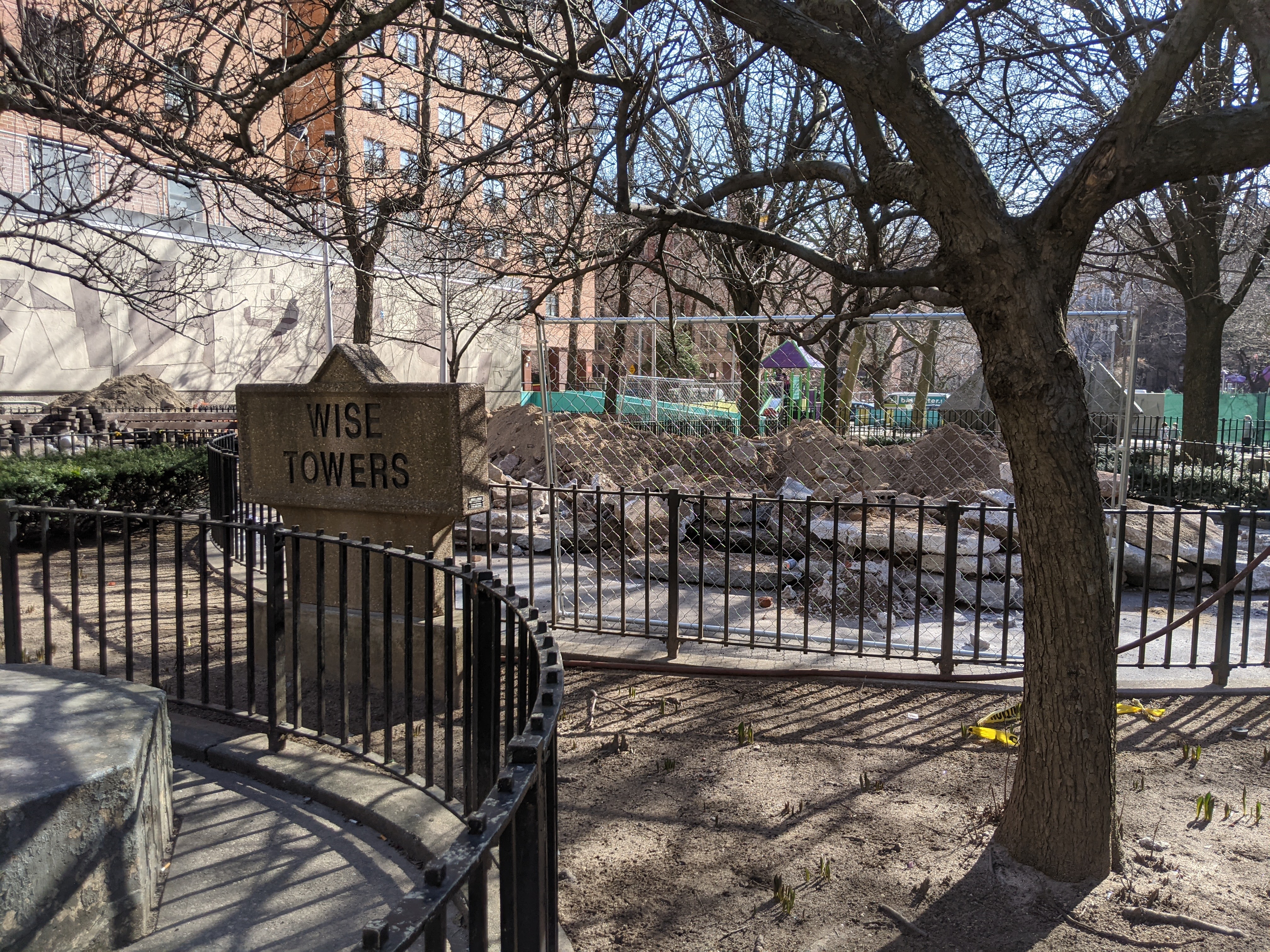 NYCHA's construction work removed the horses; 3/9/21.
It was many months before concerned parties discovered the fate of Nivola's horses, but they now have cause to celebrate. Curbed reports that after hearing of the widespread negative backlash, a developer working on the NYCHA renovation project hired Jablonski Building Construction, Inc. to repair and restore the concrete animals. As luck would have it, the firm was able to find several fiberglass versions of the horses at a school in Columbus, Indiana. Conservators made a silicon mold from these versions, which the team will use to repair the original concrete statues.
Time has not been kind to Nivola's horses; even before their removal, vandalism and acid rain had taken their toll on the original noses, colors, and materials of the modernist sculptures. But if all goes to plan, these horses will neigh once again when they are reinstalled in the plaza this fall. This famous display of public art was an integral and iconic part of the Stephen Wise Towers, and we eagerly await their return.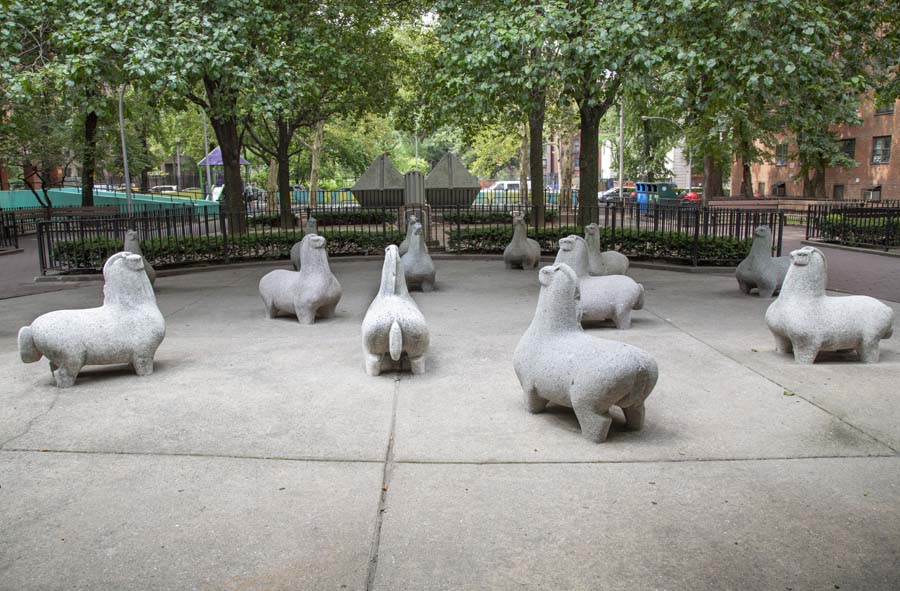 Nivola's horses in the Stephen Wise Towers playscape as the stood in June 2020.