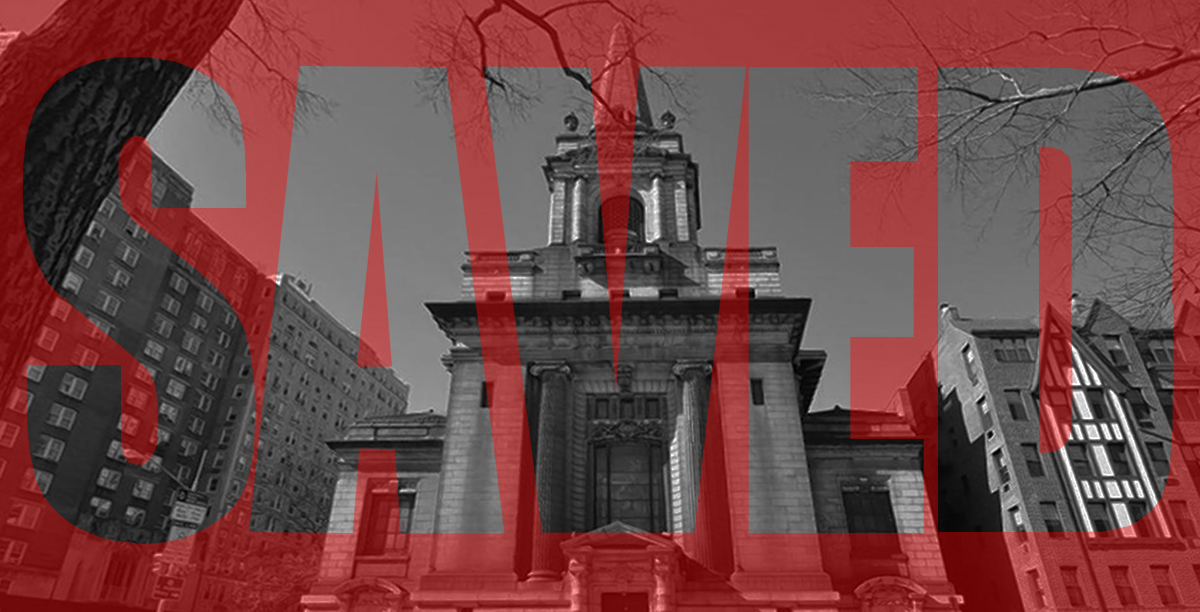 VICTORY!
Developers' Speculative Development Project DENIED;
New Hope for Landmark Church
Today, the NYC Board of Standards & Appeals (BSA) did the right thing and voted to DENY the application for zoning variances threatening the former
First Church of Christ, Scientist – the NYC Individual Landmark anchoring the corner of Central Park West & 96th Street since 1903.
Developers wanted to pack 34 luxury condos– the equivalent of a residential high-rise – into the interior of the Church, designed by renowned architects Carrère and Hastings, the same architects who gave us the New York Public Library main branch.
Hearing after hearing, since 2014, the developer's team presented misleading and inadequate arguments to city agencies, claiming "hardship" for a speculative development project that would have yielded a financial windfall. Neighbors organized, persisted, and – against steep odds – won a rare victory against deep pockets and politically connected lobbyists.
This was a fight we all had to win – not just for this Landmark, but for each and every place of importance to communities throughout New York City.
So, CONGRATULATIONS and THANK YOU to:
City Council Member Mark Levine
NYS Assembly Member Daniel O'Donnell
NYS Senator Tony Avella
Michael Hiller, attorney for the "organized opposition"
Susan Simon, David Murphy and members of the CPW Neighbors Association
Pastor Terry Starks and Fresh Start New Beginning Christian Church congregants
Charles Warren, author of Carrère and Hastings, Architects
Michael Henry Adams, author and architectural historian
The three Landmarks Preservation Commissioners who voted against this project

The Municipal Art Society of New York

Historic Districts Council

The Victorian Society New York

The Beaux Arts Alliance

West End Preservation Society

Defenders of the Historic Upper East Side

Friends of the Upper East Side Historic Districts

The Society for the Architecture of the City

New Yorkers for a Human Scale City

Small Business Congress

Tribeca Trust

711 West End Ave Tenants Group (Tag)

Citizens Defending Libraries

The Committee to Save NYPL
And so many others who swelled the ranks of the nearly 1,000 New Yorkers who signed the online petition saying "Enough!" to the kind of business as usual that diminishes the quality and character of our city.
At the community candlelight vigil on May 23, Gabrielle Everett, a lifelong Upper West Sider and member of the congregation that worshiped in the Church until it was sold to developers in 2014, said:
This building saved my life…This is not just bricks and mortar.
Today, the favor was returned. With the denial of this destructive proposal, there is new hope for the future of this NYC Landmark.