Guest post by Anthony W. Robins —
50 W. 67th Street, the "Musicians' Building", celebrated its 100th anniversary this year, and in honor of the occasion I took the opportunity to put together a history of the building, including its many interesting residents during the first half of the 20th century, and put it all on a web site.
The history includes the background story of the artist-studio block, but focuses on the "soundproof" building at No. 50 designed specifically for musicians:
MUSICAL FLATS — A syndicate of artists…will erect…an eight story apartment studio building to cost $1,000,000 and in which the partitioning will be so completely sound proof that a prima donna practicing arias with the full strength of her lungs will not disturb or be disturbed by an amateur trombonist, say, who may be stridently perfecting his art. (Front page of the New York Sun in 1915)
The building's developers – more or less the same group that put up the earlier buildings on the north side of the block – included two painters, two singers, a real-estate developer, a lawyer, and — wait for it — a dentist. Rather than using the architects who'd designed the early artsts' buildings, they chose a different firm, Shape & Bready – perhaps because Mrs. Bready was herself an opera singer.
The initial design was somewhat grander than what eventually was built: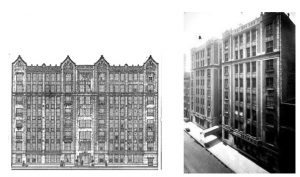 Almost immediately the building filled up with musicians: singers and voice coaches, pianists and piano teachers, violinists, and at least one orchestra conductor. But early residents also included painters and actors, writers and editors, a photographer, a theater director and an art dealer.
Most of these people were well known in their day, and many had interesting connections. Among the musicians, violinist Philip Mittel played music with Grieg and Brahms. Pianist Arpad Sandor was an accompanist for Jascha Heifetz, Lily Pons and Fritz Kreisler. Baritone Allen Hinckley sang at Bayreuth, where he played tennis with Siegfried Wagner (and in one game hit a ball which whacked Wagner on the ear, leading Hinckely to fear his career was finished – but all was forgiven).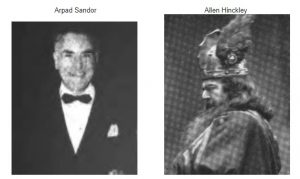 One of the first voice coaches in the building, Gennaro Mario Curci, was the "sole coach and private accompanist" of his sister-in-law, famed coloratura Amelita Galli-Curci, which means she must have spent time there.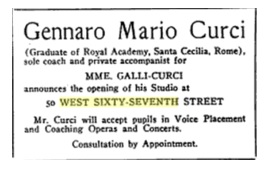 Among the non-musicians, actors included heart-throb Rudolph Valentino; Janet Beecher, the first "Gibson Girl" to appear on the stage; and Irene Fenwick, a comedienne in her own right, who later married Lionel Barrymore.


Painters included F. Graham Cootes, whose renowned portrait of President Wilson was adopted for the seven-cent postage stamp.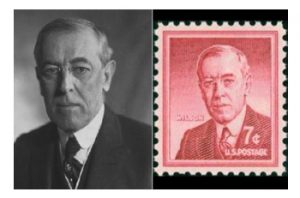 Art dealer Eugene Glaenzer rubbed shoulders with the legendary Bernard Berenson, and sold paintings to the Louvre, the Met, and Mrs. Isabella Stewart Gardner.
Perhaps most surprisingly, many musical recordings and movie clips featuring the early residents can be found today on YouTube. The web site includes a playlist with links to some of the most interesting. Some are quite old, including one of opera mezzo-soprano Eleanora de Cisneros on an Edison cylinder. Another is a clip featuring actor William Sheer appearing in a silent film about Babe Ruth also starring…Babe Ruth.
Walking the corridors of 50 West in the early decades must have been a remarkable experience. We can no longer do that, of course, but next best thing is reading about it, and listening to the recordings. -Anthony W. Robins (www.AnthonyWRobins.com)