Image Courtesy Ben Michel via Unsplash
LINCOLN CENTER FOR THE PERFORMING ARTS
LINCOLN CENTER PLAZA (aka JOSIE ROBERTSON PLAZA and HEARST PLAZA)
Date: 1962-1968
Architect: Philip Johnson
Primary Style: Modernist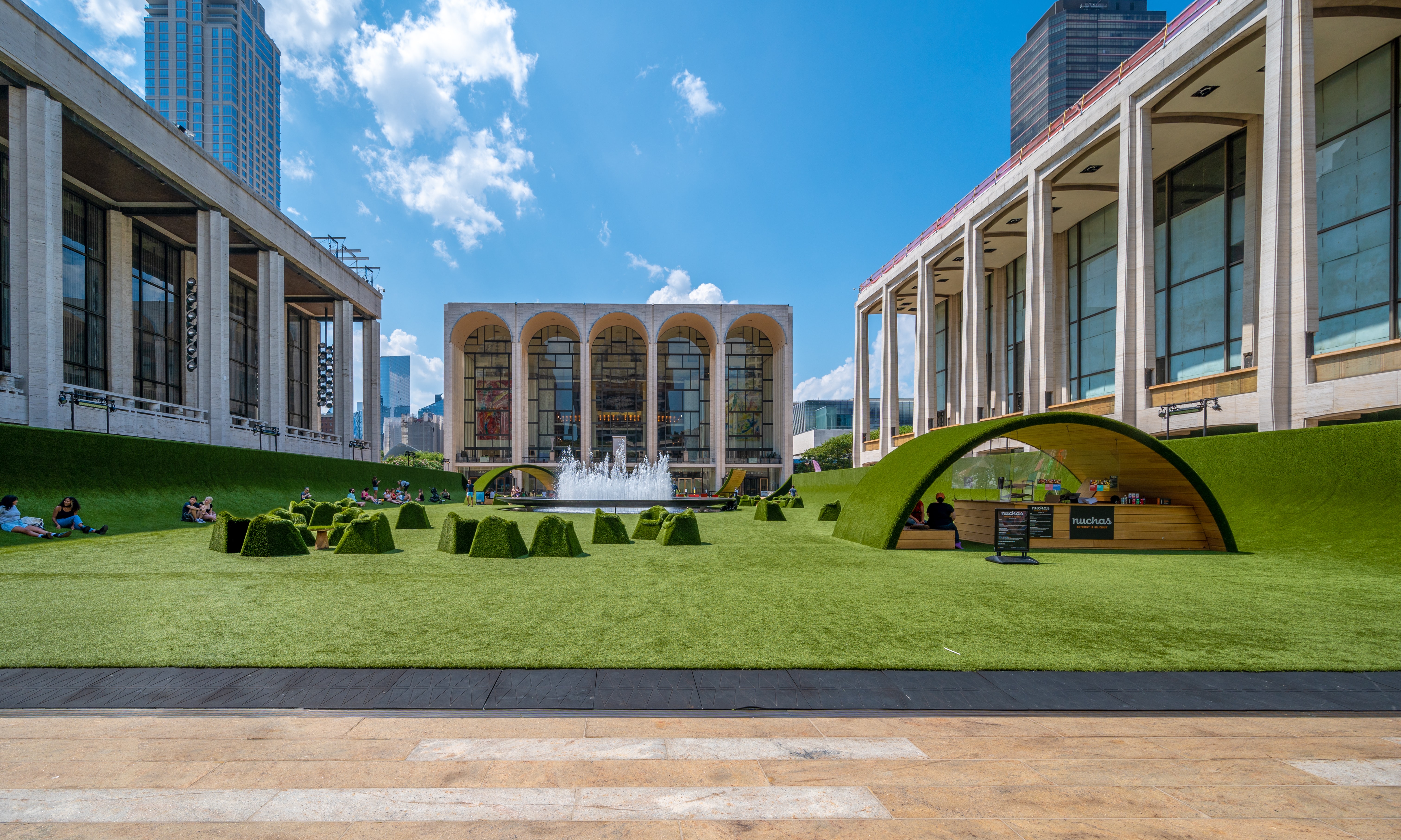 Lincoln Center Plaza
History –
Designed by Philip Johnson, Lincoln Center

Plaza

was completed in conjunction with the Metropolitan Opera House in 1966.
While an open central plaza featuring a large fountain is what resulted at Lincoln Center, multiple schemes involving a large "porte cochere", covering the open space connecting all the buildings in the performing arts complex, had been proposed in the years leading to its completion.
After the plaza's completion in the mid-1960s, the New York City Planning Commission proposed an additional design, connecting the built Lincoln Center

Plaza

to Central Park via a landscaped mall from Broadway to Central Park West between Sixty-third Street and Sixty-fourth Street. This plan had the support of many public officials and members of the Lincoln Center design team, including Wallace Harrison. However, it was ultimately unrealized due to the difficulty of acquiring so much private property through the process of eminent domain and the existence of three architecturally significant buildings in its path, the Ethical Culture Society School, the Ethical Culture Society Hall, and the West Side Branch of the YMCA.
Additionally, just after the City Planning Commission's mall proposal was released, the industrial design firm of Raymond Lowell/Williams Snaith, Inc. proposed a privatized version of the mall plan to Mayor John Lindsay. This plan encompassed a more commercial parkway. Green plazas would be surrounded by widely spaced high-rise buildings, providing clean sightlines between Lincoln Center and Central Park, while creating a modern space for the space of local businesses in the process. Like its predecessor, this plan was disregarded and the aspiration of connecting Lincoln Center and Central Park was forever shelved. These schemes were denounced by contemporary critics as farfetched attempts at harnessing the idealized Beaux-Arts planning practices of the nineteenth century.
In 2009, the architectural firm of Diller Scofidio + Renfro (DS+R), in conjunction with FX Fowle and Beyer Blinder Belle, completed a renovation of all public spaces at Lincoln Center.
Original Design –
Philip Johnson's Lincoln Center Plaza radiated outward from the focal point of Revson Fountain. Set in dark aggregate concrete, concentric rings of travertine marble radiated from the fountain, encompassing twelve inlaid travertine spokes. At the center, the fountain itself was a simplistically elegant thirty-eight-foot diameter circle of polished black granite. Illuminated by a series of nearly one hundred lights, the fountain's 577 jets could spray a six-foot-wide column of water over thirty feet into the air. The fountain was able to perform computerized performances, which were programmed from the balcony of the New York State Theater. Johnson had hoped to have famous artists, such as George Balanchine, Leonard Bernstein, and Pablo Picasso, choreograph the fountain's performances, however, this was never realized. While many schemes for Lincoln Center Plaza were unrealized, what resulted was a simplistic and useful public space. Applauded for its evocation of the arts even to the non-performance-going public, Lincoln Center Plaza was seen as a success by critics and the public upon its completion and remains well-received today.
Past Renovations –
In 2003, the architectural firms of DS+R, FX Fowle, and Beyer Blinder Belle were commissioned to perform a comprehensive renovation of Lincoln Center's public spaces. Completed in 2009, this renovation aimed to retain Lincoln Center's status as a well-designed, successful, and useable public space for New York City, while further updating these public spaces to meet contemporary accessibility standards and further activate existing disused spaces within the Lincoln Center campus. Redesigned spaces include the Central Plaza (now Josie Roberts Plaza), the North

Plaza

, Damrosch Park, the campus' Columbus Avenue frontage, and, most notably, the incorporation of a new central spine along Sixty-fifth Street, what was once a service corridor. Additionally, the basin of Revson Fountain was slightly altered by the firm toward a more contemporary interpretation of this focal point. The system of pumps and its necessary choreography was also upgraded.
Further Reading –
Stern, Robert A. M., et al. New York 1960: Architecture and Urbanism between the Second World War and the Bicentennial. Taschen, 1997.
"Lincoln Center Public Spaces and Infoscape." DS+R, https://dsrny.com/project/lincoln-center-public-spaces.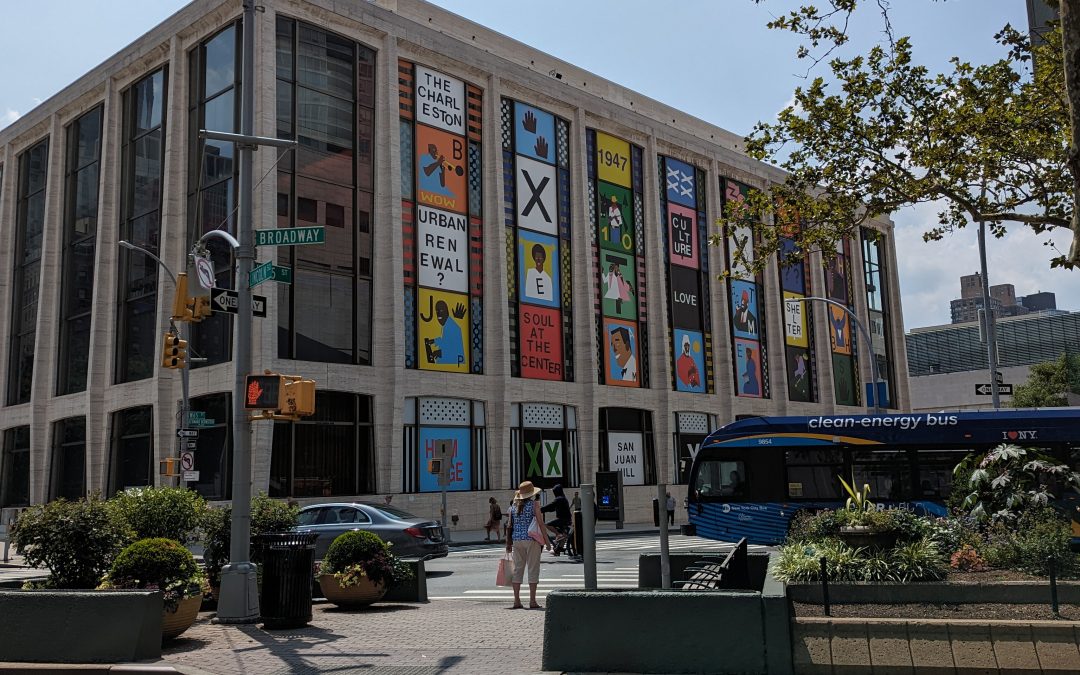 by Sarah McCully It's hard to miss the bright colors dotting David Geffen Hall's typically neutral facade. Since early October of last year, the newly renovated concert hall's northern windows have played host to a temporary art installation called "San Juan Heal" by...