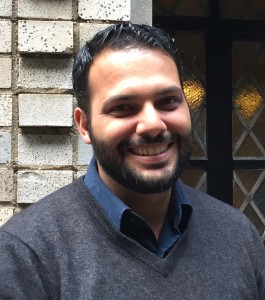 Sean Khorsandi
Executive Director
Email:  seankhorsandi@landmarkwest.org
Sean became Executive Director in August 2017.  He joined LW! in 2015 as Advocacy Director after a decade of applying his Bachelor's (Cooper Union) and Master's (Yale University) of Architecture degrees in NYC design firms.  He brings his knowledge of Building Code, Zoning and Materials to the field for each LW! scrimmage.  If not at a City Agency hearing, he can be found searching the Upper West Side for the perfect bagel, or teaching architecture history and theory at the New York Institute of Technology.
Sean's favorite neighborhood landmark building is Clarence True's Flemish Revival Oyster Market at 426 Columbus Avenue – now a Patagonia location.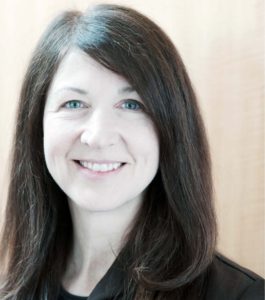 Andra Moss
Programs Director
Email: andramoss@landmarkwest.org
Andra joined the LW! team in September 2016 after nearly ten years with an international NGO as Director of Operations and Pro Bono Recruitment. She holds a bachelor's degree in international studies from Miami University (Ohio) and a Masters in Public Service Administration from Spertus College (Chicago).  Andra's first job was with Habitat for Humanity, and is an ardent fan of architecture, DIY, and the power of volunteers.  She is a self-admitted history junkie and believes historic landmarks and landscapes contribute invaluably to the culture and character of our communities.
Andra's favorite UWS building-this week-is the former Automat at The Horn & Hardardt Building at 2710 Broadway, designed in 1930 by F. P. Platt & Bro.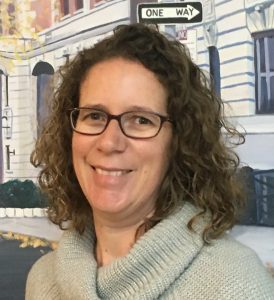 Shannon Hill
Education Director & Grants
Email: education@landmarkwest.org
Following a year volunteering with LW!, Shannon permanently joined out team in September 2018 to manage our youth education and grants programs. Shannon holds a Bachelor's and Postgraduate Diploma in Planning and Design (University of Melbourne (Australia)), a Master's in International Urban and Environmental Management (RMIT (Australia)) and recently gained her certification with the American Planning Association (AICP).
With over 20 years professional experience in city planning, she brings a new perspective on 'seeing' the city and how buildings, people and places interact. You will find her exploring the streets of New York City taking 'people and places' photos for her Instagram account, buying as many New York City planning books as her apartment can hold, and taking walks in Central Park with her family, bagel in hand.
One of her favorite Upper West Side places is Central Park West – the row of formidable, majestic buildings remind us of how key planning principles of scale, bulk, and access to light and air come together to create a defined space and edge to one of America's most revered parks.
Robert Duarte
Education Director & Grants
Email: education@landmarkwest.org
Robert joined LW! in September 2019. He holds a bachelor's degree in English and a master's degree in Urban Planning from the University of California, Irvine. Robert brings years of experience teaching in a variety of settings and, as manager of our Youth Education and Grants Programs, he is eager to bring his enthusiasm for the built environment to the classroom. When not prepping for the next lesson or activity, you might find him checking out a local guitar shop or adding something new to his sketchbook.
One of Robert's favorite neighborhood sites is Walter M. Ahlschlager's Beacon Theater with its exceptional acoustics, rich history, and idyllic, landmarked interior.
Arlene Simon, Founder – Read More
Board of Directors

Page Ayres Cowley, Chair
Carlo Lamagna, Vice Chair
Susan Nial, Vice Chair
Ron Senio, Treasurer
VACANT, Secretary
Mosette Broderick
Andrew Scott Dolkart
Trace Harris
Sarah Bradford Landau emerita
Wendy Moonan
Jack Pontes
Kevin Poulin
Peter Samton
Ernest von Simson
Elizabeth Starkey (1935-2017)