Gerrymandered Lot Leads to Tallest Building North of 59th Street in All of Manhattan
200 Amsterdam Avenue is a unique development scenario. Developers SJP Properties and Mitsui Fudosan America are proposing a 52-story residential development of 668 feet–the equivalent of a 66-story midtown office tower–at the intersection of Amsterdam Avenue and 69th Street. The site was formerly home to the Lincoln Square Synagogue, which relocated further south in a land swap. Availing themselves of the mid-century urban renewal superblock site, the developers have gerrymandered a zoning lot across several tax lots to assemble enough FAR to create what would be not only the tallest building in the neighborhood, but also the tallest building north of 59th street on the island of Manhattan. Despite a Zoning Challenge and an appeal to the Board of Standards and Appeals (BSA), construction work continues.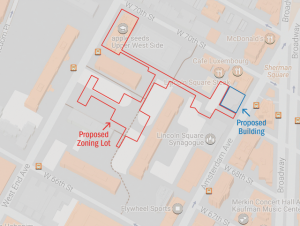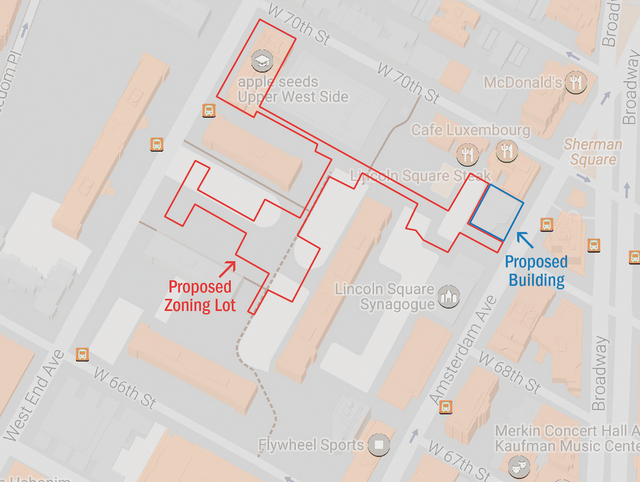 Since initially granting this building a permit, the Department of Buildings (DOB) has revised their protocol, issuing a statement that this lot and building height should have not been allowed. (See graphic at left showing the red-outline of the gerrymandered lot, cobbled together from portions of tax lots, that supposedly supports the small blue building lot). The DOB has also prepared a bulletin to clarify zoning intent so that this never happens again.
All of this notwithstanding, the DOB does not want to revoke the building permit, leaving the community on the hook for this monstrously tall building. The BSA has the authority to overturn this decision and instruct the DOB to revoke the permit.  A follow-up hearing of the BSA is scheduled for Tuesday, June 5, 2018.
Read through our blog updates below for more history on this critical zoning matter.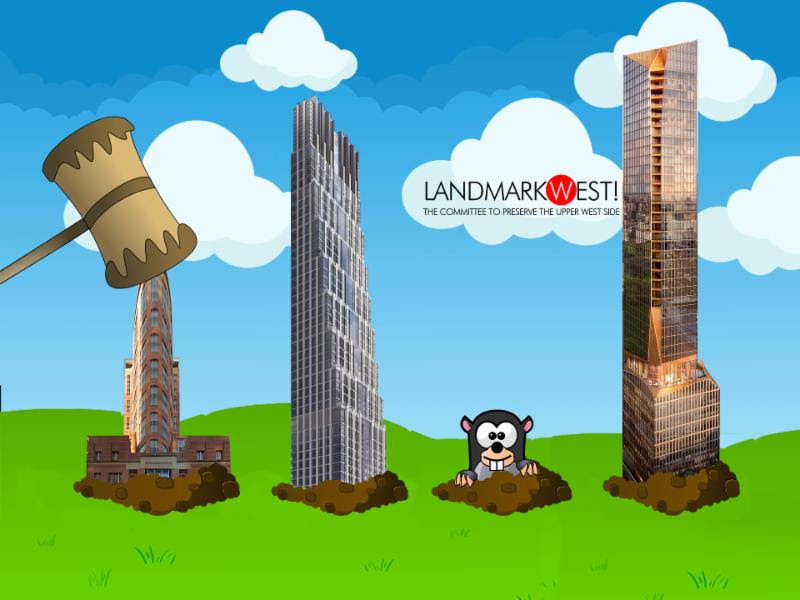 Three new webpages to stay on top of your issues! A series of developments continue to loom on the Upper West Side--so many that it's getting difficult to keep track! To streamline information, please note 3 newly dedicated LW! pages--click below the banner of each to...
read more
Contact Information
Sean Khorsandi
Executive Director
LANDMARK WEST!
LandmarkWest@LandmarkWest.org
45 West 67th Street New York, NY 10023
212-496-8110
Be a Part of the Fight...