Orpheus and Apollo named one of Preservation League of NY State's Seven to Save! Read Press Release
Date: 1959-1962
Architect: Max Abramovitz
Primary Style: Modernist
Façade (primary material): Travertine Marble
Stories: 5
(Philharmonic Hall was the first building to be completed at Lincoln Center for the Performing Arts.)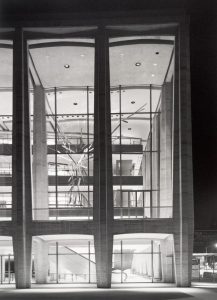 Richard Lippold's 'Orpheus and Apollo,' dismantled and removed, may never be returned to its setting inside David Geffen Hall
"This important installation engages the Philharmonic in conversation about the performing arts through a visual arts dialog across the plaza with the Ballet and the Opera. Without it, the Philharmonic stands mute."  -Page Cowley, Chair, LANDMARK WEST!
"This is what I think sculpture should do. It should respect the architecture and it should enhance it. It should – when it is good – continue the architecture toward the spectator. Sculpture should serve as a kind of liaison to the abstract grandeur of a building"  – Richard Lippold
The hall's architect, Max Abramovitz, commissioned Lippold to "create sculpture that would float in space and relate in a contemporary manner to the interior of the foyer just as the magnificent crystal chandeliers of a former day took command of their space."
Current Status: "Orpheus and Apollo" was moved to storage in New Jersey in 2014.  The piece was 3-D scanned, deconstructed, and each of its Muntz bars individually packaged and wrapped. It awaits restoration.
"Orpheus and Apollo"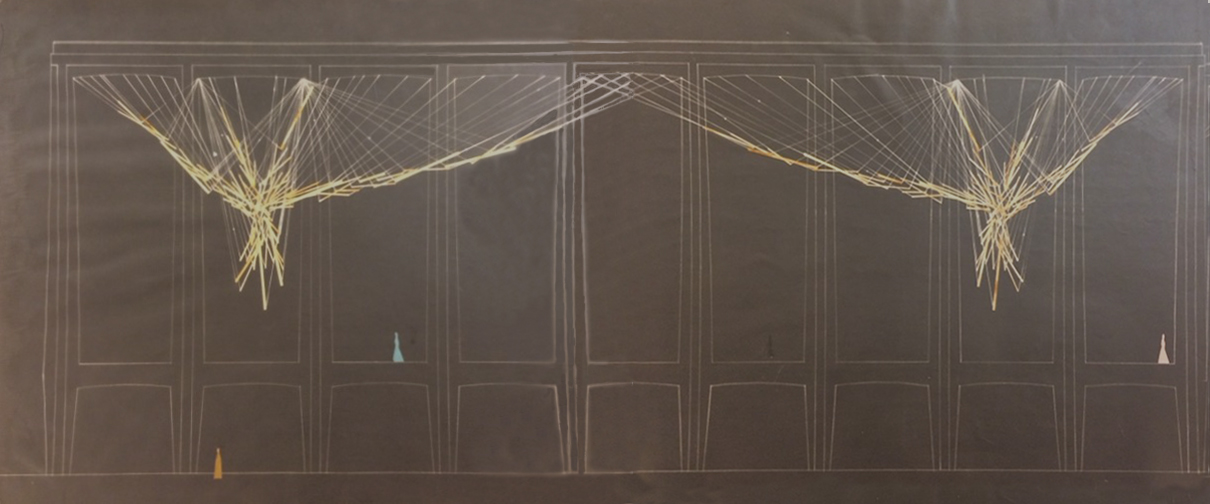 From its conception, The Lincoln Center for the Performing Arts prioritized the inclusion of visual art.  Along with the acceptance of donated art, funding was set aside for the acquisition of and commissioning of public art.  The first major commissioned piece for Lincoln Center was for the home of the New York Philharmonic Orchestra, gifted by the Ittleson Family Foundation.  The architect of David Geffen Hall, originally Philharmonic Hall, Max Abramovitz, recommended Richard Lippold be commissioned to design public art that would accommodate his large foyer, or as he referred to it, Grand Promenade.  The architect and artist made a fantastic pair, designing space and sculpture that seamlessly complimented each other.  Lippold's "Orpheus and Apollo" beautifully answered Abramovitz's design criteria.  The architect, designing an austere and minimalist space, still longed for a sense of tradition in his Brutalist building.  To accomplish this, Abramovitz tasked Lippold to create sculpture that evoked the classically important element of chandeliers in the entryway.  The artist's modern interpretation, through his pair of near-symmetrical hanging sculptures, was a success.  The aptly chosen theme of the sculpture represents Apollo, Greek god of the arts, giving his half-human son, Orpheus, the gift of music.  Made up of 190 individually hanging plates of highly polished Muntz, a copper alloy, the two large bodies seemed to reach toward each other in an embrace.  The large format of the work stretched the entire length of the space.  Drawing the eye upward with its massive scale, the piece emphasized the monumentality of the space and its symbiotic relationship with the art itself.  While Max Abramovitz's Brutalist music hall was completed in September of 1962, Richard Lippold's "Orpheus and Apollo" was not fully installed until December of the same year, completing the space and animating the home of the New York Philharmonic Orchestra.
About Richard Lippold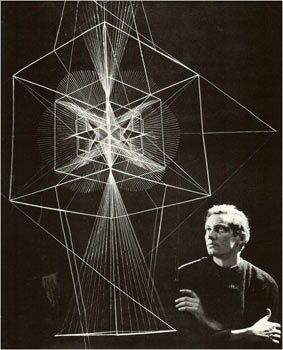 Richard Lippold, born in Milwaukee, Wisconsin in 1915, was an American sculptor, active from the early 1940's through the late 1960's.  Studying industrial design, piano, and dance with the Art Institute of Chicago and the University of Chicago, Lippold graduated in 1937 and began his career as an industrial designer.  Shortly tiring from this work, in 1941, he shifted focus and became an art teacher at the University of Michigan.  Inspired by his colleagues, who were other Constructivists, Lippold began sculpting with metal wire constructions.  This fascination led to a life-long affair with sculpture.  In 1944, Lippold and his family moved to New York, eventually settling in Lattingtown on Long Island.  He would live and work here for nearly the rest of his life.  From 1945 to 1947, Lippold taught at Goddard College in Vermont, but he returned to live on Long Island to begin teaching at Hunter College in Manhattan in 1952.  He would teach there until 1967.  Lippold's work was often defined by its relationship to architecture, and therefore, his career was often defined by his relationship with architects.  Working closely with notable architects, such as Walter Gropius, and designing for famed public buildings and spaces, such as the National Air and Space Museum in Washington DC, Harvard University's campus, and Philharmonic Hall at Lincoln Center for the Performing Arts, Lippold's monumental, geometric, and dynamic sculptures compliment, and often complete, architectural spaces.  Lippold's first solo show took place in 1947 at New York's Willard Gallery.  However, he would continue to show his work throughout his career, notably in the 1952 "Fifteen Americans" exhibition at New York's Museum of Modern Art (MoMA), and a retrospective on his career at Marquette University's Haggerty Museum of Art in Milwaukee.  Lippold was happily married to Louise Greule, a dancer who passed away in 2004.  They had two daughters and a son together.  Richard Lippold died in Roslyn, New York in 2002 at the age of 87.
Removal of the Sculpture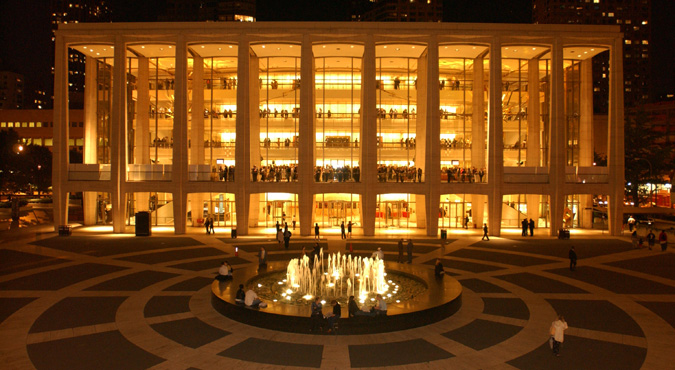 Image Courtesy of Julie Skarratt
According to a New York Times article published in November of 2015, "Orpheus and Apollo" was removed for restoration in late 2014.  However, with the approaching restoration of Philharmonic Hall, Lincoln Center made the decision to postpone the piece's return to its original home.  The renovation was scheduled to commence in 2019, but work has not begun.  Lincoln Center is also postponing the restoration of "Orpheus and Apollo", claiming that they hope to restore it closer to the date of is reinstallation.  Currently the piece has been properly stored in New Jersey.  While it is hopeful to believe that the plans expressed by Lincoln Center will come to pass, the cultural center has also expressed an uncertainty of "Orpheus and Apollo" finding a place in the renovated Philharmonic Hall.  The fate of this historically important piece of public art, currently, hangs in the balance, and not in Philharmonic Hall.
Further Reading
Riley II, Charles A. Art at Lincoln Center: The Public Art and List Print and Poster Collections. Hoboken: John Wiley & Sons, Inc., 2009.
Sullivan, Marin R. "Synergizing Space: Sculpture, Architecture, and Richard Lippold at Lincoln Center," American Art 33, no. 2 (Summer 2019): 38-61. 
Young, Edgar B. Lincoln Center: The Building of an Institution. New York: New York University Press, 1980.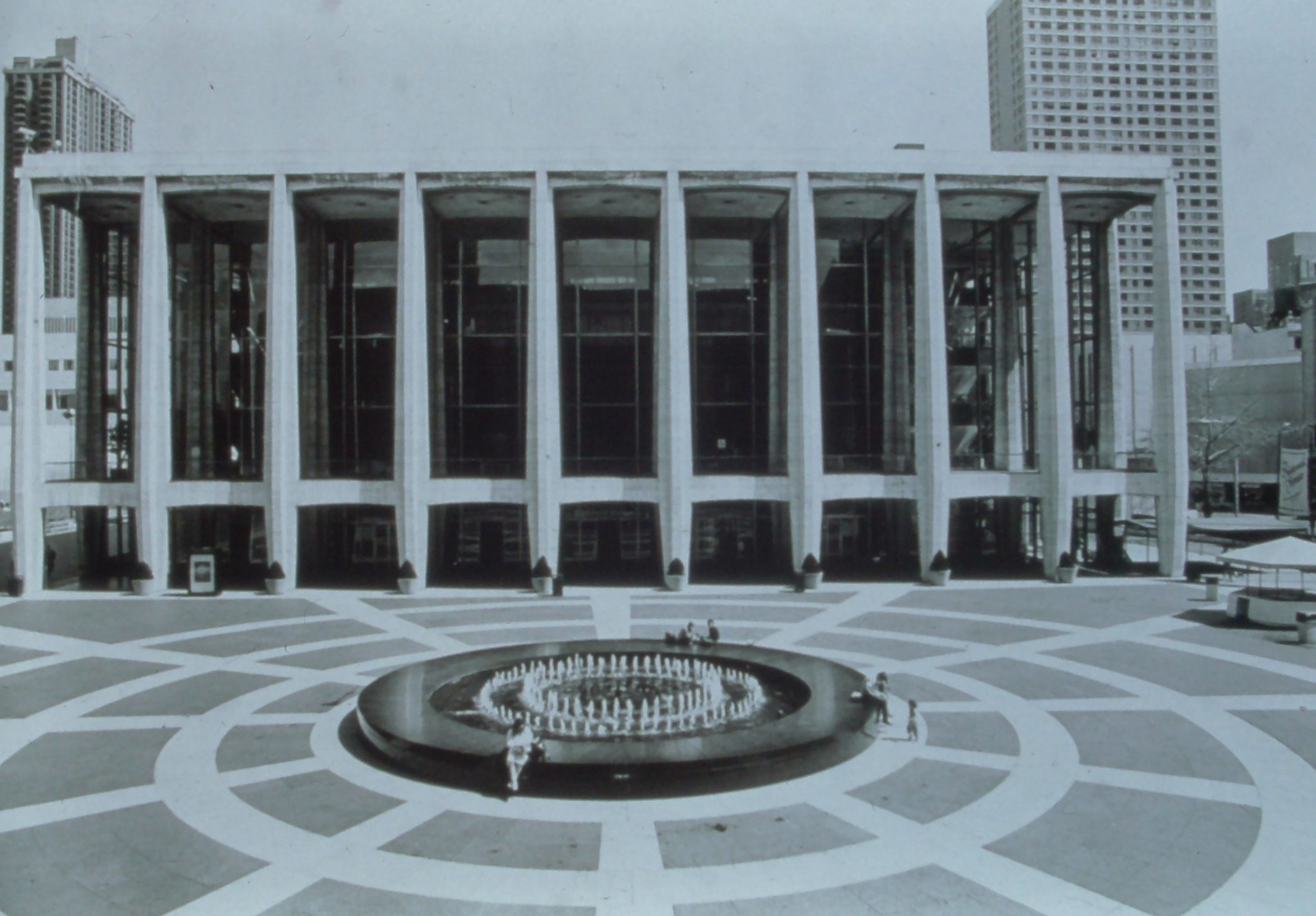 New York Philharmonic Hall
PROPOSED RENOVATION OF PHILHARMONIC HALL

Rendering Courtesy of Diamond Schmitt Architects
The newly renamed David Geffen Hall, housing the performing space for New York Philharmonic at Lincoln Center for the Performing Arts, is undergoing intensive renovations that will improve the acoustics of the music hall and better connect the building to the urban fabric of greater New York City.  Landmark West! understands that the music hall, as an active work and performance space, may need to evolve to better perform, but Lincoln Center is a landmarks-eligible complex that is representative of a mid-century American cultural movement and an unprecedented collaboration of the nation's modernist greats.  We hope that the architects renovating David Geffen Hall keep this historicism in mind when executing their designs and respect the heritage embodied in the buildings at Lincoln Center.  Follow this link to
"Working in Concert"
, a webpage for the project developed by Lincoln Center and New York Philharmonic, for more information.
Public art installations seem to be on attack, not just at Lincoln Center, but also, throughout the rest of New York City.  The Museum of Modern Art (MoMA) has, for a long time, acted as a steward of Isamu Noguchi's sculpture and other artwork.  However, across the...