Keeping the Past for the Future
Since 1995, LANDMARK WEST! has brought architecture, neighborhood history, and historic preservation to life through our youth education program, KEEPING THE PAST FOR THE FUTURE.
Free of charge to NYC public schools (and a nominal fee for other schools), using lessons, walking tours, and hands-on design and building projects KPF focuses on teaching about New York City and Upper West Side history, buildings, and architecture. Our programs help build strong connections with the city and its neighborhoods, encourage family and classroom conversations, and foster creativity.
Email education@landmarkwest.org to set up an online session for your virtual classroom, or explore on your own from home!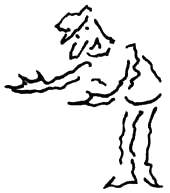 Acknowledgements
KPF is made possible by the contributions of Council Members Helen Rosenthal and Mark Levine, as well as the New York State Council of the Arts (NYSCA) and the Department of Cultural Affairs (DCLA). With their support, Landmark West's KPF program offers a suite of seven 3-part courses aligned with the NYC Core Curriculum in Upper West Side public schools for free every year.