June 6, 2017 Church of the Blessed Sacrament 152 W. 71st Street
Thank you to Dayle Vander Sande for his work as our wonderful photographer for the evening!
Each year Landmark West! celebrates the people, places, and projects that give our community its wonderful character, spirit, and quality of life. The four very special honorees for 2017: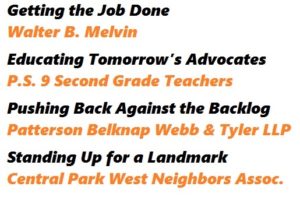 AM&G Waterproofing LLC
Sally Bloostein
Anthony J. Costantini & Paula Braunstein
Nicholas & Page Cowley
Andrew Dolkart
Amy Knoblauch Dubin
Alfred Gallicchio
Gail Gregg
Patrycia K. Harbison
Trace & Jon Harris
Hiller, PC
Mary Anne Hunting
JLC Environmental Consultants
Peter Kelly & Alan Wanzenberg
Sarah & Victor Kovner
Mary & Edward Kresky
Carlo & Kathryn Lamagna
Carol & Michael Laub
Diane & Walt Looney
Jeanne & David Martowski
Diana Mattson
Barbara & Arthur Michaels
David J. Murphy & Mervin R. Dilts
Amy Newman & Bud Shulman
Susan Nial
Ron Senio & Judy Braun
Elizabeth & Richard Starkey
Cephas & Anita Swamidoss
Jack Taylor
George W. Vanderploeg
Ernie von Simson & Naomi Seligman
Ginger & Keith Wallach
Kate Wood & David Sprouls
Ethel Wood
Judith & Stanley Zabar
Lori Zabar & Mark Mariscal
MASTER OF CEREMONIES
Frank Bruni, Upper West Sider, New York Times Op-Ed columnist, former chief restaurant critic for the Times from 2004-2009; and author of several books, including "A Meatloaf in Every Oven" was our fantastic host for the evening.
Click to see previous years' Unsung Heroes of the Upper West Side!