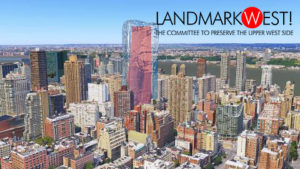 UPDATE: The Department of Buildings (DOB) has issued an official "notice of objections" and an "intent to revoke" in response to the community Zoning Challenge.
Specifically in question is the developer's calculation of open space and whether the unprecedented gerrymandered zoning lot (see below) was properly formed. Clearly, much is at stake since the bigger the zoning lot, the more allowable floor area, the taller the building, the better the views (…for those buyers), the more profit for the developer. For the DOB to go back and scrutinize the very basis of this "supertall" tower is a major win (though one has to ask why the DOB did not flag these issues from the outset).
We know that the applicant will try to convince the DOB that their building is actually legal, or they will file new plans. We call on the DOB to disclose all zoning questions in zoning resolution determinations on the public record, so that the decision-making process, including dialogue between the DOB and the developer, is transparent!
Please help us underscore this message by continuing to:
EMAIL key officials to reinforce community concerns about over-sized development creeping into residential neighborhoods like the Upper West Side. Use this simple, automated email template to contact NYC leaders today!
USE SOCIAL MEDIA to post #VotersAgainstSupertalls @NYCMayor (this lets the Mayor know that you expect our city's top leader to protect the rights of everyday citizens against neighborhood overdevelopment) – click here to learn more about this growing movement.
SUPPORT this effort with a tax-deductible contribution to help LW! build a fund to fight this project. You can earmark your donation by giving online here or writing "LW! Fund to Fight 200 Amsterdam" in the memo of your check made payable to LANDMARK WEST! (we are a 501c3 nonprofit) and mailed to 45 West 67th Street, NYC 10023.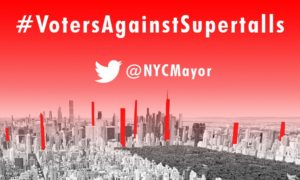 Read further details at NY1, Gothamist, and the West Side Rag.
The developer won't give up, and neither can we!
THANK YOU FOR YOUR SUPPORT!