254 & 256 West 88th Street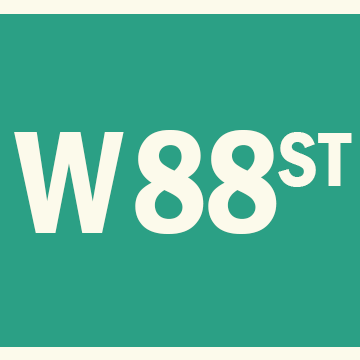 254 & 256 West 88th Street
by Tom Miller
In 1884 developer Thomas Butler completed a row of seven houses on the rapidly-developing block of West 88th Street between Broadway and West End Avenue. Designed by Nelson M. Whipple, they were a happy concoction of styles–Renaissance Revival, Romanesque Revival, and Queen Anne. At 18 feet wide, they were about two feet narrower than the standard upscale home; but were nevertheless intended for well-to-do owners. The symmetry of the A-B-C-D-C-B-A pattern was emphasized by the pairs of homes on each end. Their slate-tiled peaked roofs and gables provided a bookend-like effect to the three flat-roofed houses between. Furthermore, the end homes, 254 and 266, were fully clad in rough-cut brownstone while the stone of the four others was planar above the parlor level.
No. 254 was purchased by society photographer George G. Rookwood. He paid more than $725,000 in today's money for the house; but became disenchanted by the end of 1890. His eagerness to sell was evidenced in his advertisement in The New York Tribune on January 14, 1891:
The splendid castellated, swell front, decorated House 254 West 88th St., is worth $27,000; it can be bought now for $23,500 on a payment of $3,000; it is the finest bargain in the restricted district.
The mention of "the restricted district" referred to the fact that commerce (stores, dressmaker shops, etc.) was prohibited in the immediate area. At least for now. When that ad did not produce results, he added a sketch of the property in his advertisement eight months later. Rookwood's discounted price would equal about $681,000 today. Nevertheless, he seems to have had no buyers. His buyer's regret seems to have been induced by the flurry of construction in the area which upset his domestic serenity. Having given up on selling, on April 28, 1895, Rookwood offered the house for lease for a year:
$1,000 for $1,500 House in the west end — Owing to building operations same block, causing a slight annoyance for next month, I will rent splendid modern house, 254 West 88th St., for one year.
He found a tenant in attorney Chauncy C. Starkweather, who was also learned in classic literature. Possibly while living here he worked on the "special introduction" to the 1903 World's Great Classics.
The mention of "the restricted district" referred to the fact that commerce (stores, dressmaker shops, etc.) was prohibited in the immediate area. At least for now.

In the meantime, bachelors Delan M. Dwey and Tom Karl lived next door at No. 256. Despite being born in Dublin, Ireland in 1846, Karl had been a well-known Italian opera tenor until his acclaim as Ralph Rackstraw in HMS Pinafore in 1879. He abandoned Grand Opera and turned to operettas and some years later organized the Famous Bostonians, widely considered the greatest light opera company of the time.
Weekly Sunday evening receptions in the house were "notable in artistic society," said The World. On April 15, 1895, the newspaper reported "An unusually brilliant reception was held last evening at the home of Mr. Tom Karl and Mr. Delan M. Dewey, No. 256 West Eighty-eighth Street. The spirit of the Easter season was manifested in numerous potted plants and cut flowers, with which the drawing rooms were decorated, and in the character of the musical features."
Ten months later, in February 1896, No. 256 was sold to William J. and Kate Casey. Following Kate's death in 1903 William remained in the house only briefly and it was soon being operated as a high-end boarding house run by Harriette Little. An advertisement on July 1, 1905, offered "Superior Accommodations and high-class table for gentlemen or couples in home of the refined party."
On January 5, 1911, the Shatz Auction Rooms held a sale of the "high-grade furnishings" of No. 256, including an "elegant parlor, bedroom, dining room and library suite." It presaged the changes to the neighborhood, which was no longer "restricted,' and to the once-proud home. A month later it was sold and architect C. Jackson was hired to remodel the structure for commercial purposes. The stoop was removed, as were the basement and parlor floor facades. A new four-foot extension housed a ground-floor store and second-floor office.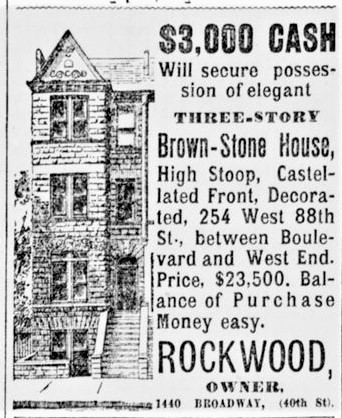 Image credit The New-York Tribune, September 20, 1891 (copyright expired)
In 1925 the Demand Dress manufacturer operated from the address. That summer it advertised "Dresses–$10.75, big stock on hand, prints and flat crepes; catering to jobbers." Around the same time, Max Weiss ran his fur business here. Weiss and his wife, Rose, lived at No. 609 West 189th Street with their two daughters. Rose had originally helped in the business, but following the birth of their daughters, she stayed at home. She would later say "That was, I suppose, my mistake."
In August 1929 Weiss left the house and told Rose he was going to Long Island to see a customer. He never came home. In their search for the missing man, police looked for evidence in the West 88th Street shop. Surprisingly, the vault where well-to-do women stored their furs during the warm months was empty. "In his desk were pawn tickets," said The Daily News on September 6.
The newspaper wrote, "The women who stored their sables and minks, their seals and silver foxes, with Max Weiss, furrier, of 256 West 88th St., are in for a tour of the pawnshops." An attorney told reporters that "more than $50,000 worth of fur coats and neckpieces" had been pawned. It was a significant $745,000 in today's dollars.
In the meantime, 32-year-old Rose and her daughters were in serious trouble. "I've been evicted," she told reporters. "My husband left me no money; my furniture has been moved out." She had ignored the gossip of her unfaithful husband. "He's probably with another woman; I've been told that."
Rose had originally helped in the business, but following the birth of their daughters, she stayed at home. She would later say "That was, I suppose, my mistake."

The former Rookwood house too underwent a severe alteration in 1934. That year it was converted to a store on the ground floor and three apartments in the upper portion. The store was leased to the Adelphi Superior Laundry for ten years with a starting rent of $2,500 per year (about $4,000 per month today). The landlord's blatant racism was evidenced in the lease which read "The lessee may not sell this lease nor sublet to Negroes, Chinese or Japanese, nor employ Chinese or Japanese help on the premises." The dry cleaner was still in the space well past mid-century.
At the beginning of the 1970s, 256 was home to The Film Forum, described by New York Magazine on September 11, 1972, as "a non-profit cinema which presents the work of independent young filmmakers."
While the lower two floors of both properties could best be described as eyesores; their upper portions remind the passerby of a time when these houses were home to a society portrait photographer and a well-known operatic tenor.
---
Tom Miller is a social historian and blogger at daytoninmanhattan.blogspot.com