Say No to this Speculative Condo Development Threatening Our Neighborhood & Our City
We, the undersigned, oppose the project to destroy the landmarked First Church of Christ, Scientist, 361 Central Park West, and we say "Enough!" to the kind of business as usual that diminishes the quality and character of our city.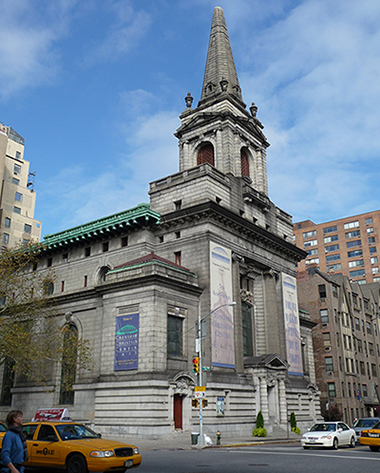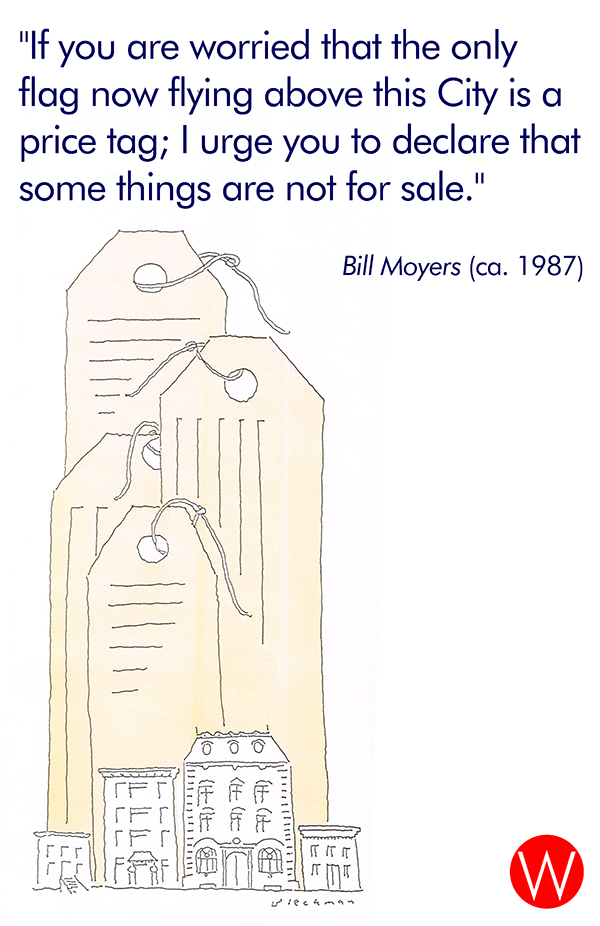 We have all read the extensive news coverage of developers and real estate lobbyists who use campaign contributions to try to gain the ear and favor of decision makers. Unfortunately, this kind of quid pro quo politics seems to be "business as usual." And it is the single biggest threat to New York's neighborhoods and quality of life, making it nearly impossible for communities to safeguard themselves against power and greed. We are deeply concerned about a developer's current attempt—aided by top lobbyist and political donor, Capalino + Company—to secure city approvals to circumvent zoning protections and convert the former First Church of Christ, Scientist, 361 Central Park West—designed by renowned architects Carrère & Hastings, completed in 1903 and designated a NYC Individual Landmark in 1974—into condominiums.  A grassroots community effort is challenging this project.  We are especially vigilant against the possibility of improper influence, given the series of improprieties reported in the press involving what appear to have been political contributions by members of the real estate industry in exchange for city approvals. When seeking to build but not follow zoning laws, a developer must seek variances from the Board of Standards and Appeals (BSA, a city body comprised of mayoral appointees) and prove "hardship". In this case, the developer has not met any of the tests for "hardship". BSA's approval of this speculative project would:
Destroy significant architectural features, including original stained-glass windows
Subvert the zoning variance process with a false "hardship" claim based on misleading financial analysis and other flawed rationales
Create large new windows in the façade, plus terraces and mechanicals on the roof, that would severely impact neighbors who have every right to expect protection under the existing zoning
For background on this and related issues, visit the LW! Watch-Blog.
The BSA itself has called this project "a complicated and difficult application, made even more complicated and difficult by the error-filled application presented to the Board." Yet, the application remains under consideration (a fifth public hearing is scheduled for June 2, 2016).
This petition and list of signers will be submitted to:
Mayor Bill de Blasio
Hon. Susan Hinkson, Vice Chair, Board of Standards & Appeals [and BSA commissioners Chanda, Montanez, Ottley-Brown]
Hon. Meenakshi Srinivasan, Chair, NYC Landmarks Preservation Commission [and LPC commissioners Bland, Chapin, Chen, Devonshire, Goldblum, Vauss, Shamir-Baron, Gustafsson]
Manhattan Borough President Gale Brewer
City Council Member Mark Levine
State Senator Bill Perkins
State Assemblyman Daniel J. O'Donnell
Community Board 7 Manhattan Chair, Elizabeth Caputo
Community Board 7 Preservation Co-Chairs Jay Adolf and Gabrielle Palitz
Community Board 7 Land Use Co-Chairs Richard Asche and Page Cowley
Join groups and organizations that have already signed on, including: 711 West End Ave Tenants Action Group (Tag); Citizens Defending Libraries; The Committee to Save NYPL; CPW Neighbors Association; Historic Districts Council; LANDMARK WEST!; New Yorkers for a Human Scale City; Small Business Congress; Tribeca Trust (list in formation)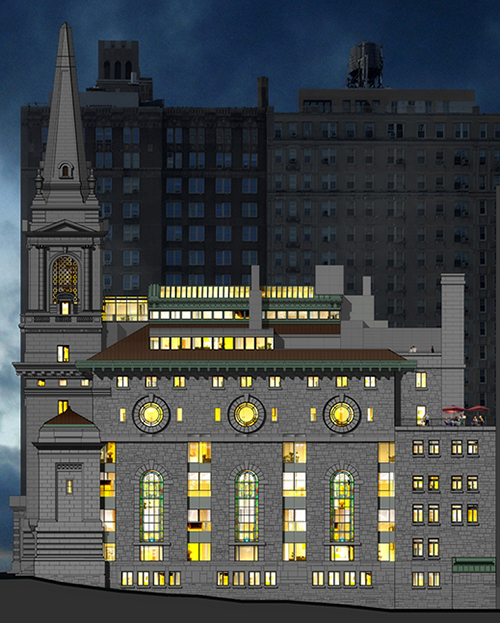 An artist's depiction of the north facade with proposed alterations including bands of curtain wall windows, which will face neighbor's existing windows--in some instances, less than ten feet away.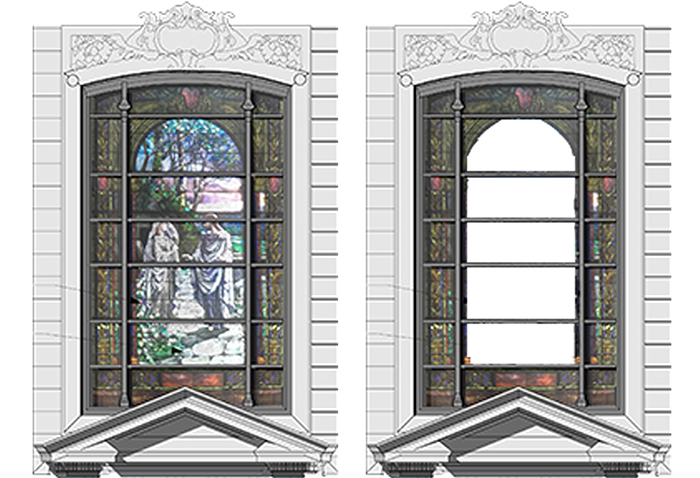 Original stained glass window attributed to important American art glass designers (left); artist's rendering of the window with religious iconography removed (right)