The former First Church of Christ, Scientist is again in the news. We excitedly noted that the Children's Museum of Manhattan (CMOM) had purchased the Carrere and Hastings individual landmark from a developer. Now see the proposed changes they will submit to the Landmarks Preservation Commission in a presentation to Preservation Committee of Community Board 7 Dec. 12th.
Architects FX Collaborative will present proposed design changes THURSDAY December 12, 2019 6:30pm.
READ BELOW the Presentation Materials to be presented on Dec. 12th and the
Outline of the Proposed Scope of Work (i.e. changes to the building)
CMOM – CB7 Presentation_06Dec2019

CMOM – Outline of Proposed Scope of Work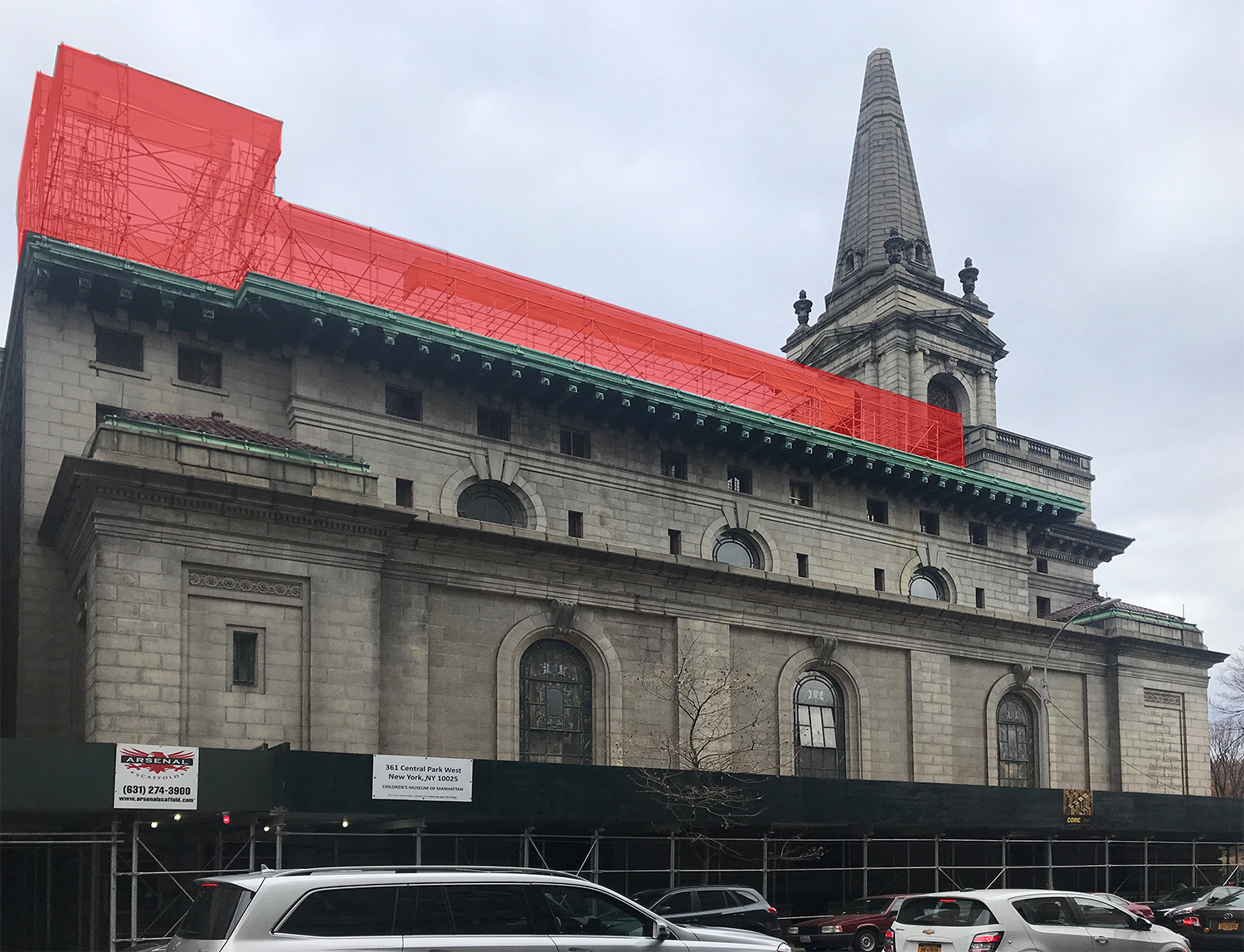 LANDMARK WEST! and the community including the
Central Park West Neighbors Association
fought back against a developer who sought zoning variances and hardship claims as he tried to shoehorn luxury dwellings into spaces that did not meet basic light and air requirements. After
WE WON
at the Board of Standards and Appeals, the building was flipped to the Children's Museum of Manhattan (CMOM), with the promise of returning it to public use.
The
interior is already lost
, and we expect changes to the 120-year old landmark are necessary to accommodate a new 21st Century use.
Are they appropriate?
CMOM is applying for a Certificate of Appropriateness from the Landmarks Preservation Commission (LPC) for these proposed changes. And while the previous developer sought to increase the number of windows, and remove some iconography from the art glass, CMOM's design team has proposed the following equation:
– removing all the original exterior wood doors
– removing the original granite steps
– removing all of the stained glass, not just glass with iconography
+ adding a roof deck
+ adding approximately two stories of mechanical equipment and changing the volume of the roof.
= SIGNIFICANT CHANGES
Thursday December 12th
CB7 Office, 250 West 87th Street
Beginning at 6:30pm
NOTE, this is a public meeting.
You will be allowed to speak on the record prior to CB7 Preservation Committee vote.

You will be allowed to speak on the record at the CB7 Full Board Meeting in January 2020.
You will be allowed to speak on the record at the Landmarks Preservation Commission for a hearing later in 2020.