The Association for the Relief of Respectable Aged Indigent Females
by Tom Miller
In 1886 developer William H. McCormack hired architect C. P. H. Gilbert to design three upscale homes at 216 through 220 West 72nd Street. Each took two years and the equivalent of $795,000 to construct. Like the houses on either side, 218 West 72nd Street was four stories tall above a high English basement. Gilbert drew from the Romanesque Revival style in his use of chunky, undressed stone blocks around the second-floor windows, the medieval influenced single sill and eyebrow of the third-floor openings and the elaborate covering of the cornice. A massive dormer nearly blocked out the slate shingled mansard of the top floor.
The house was purchased by Emma Gardner Reid, whose husband, Aaron Bertrand Reid, had died in 1880. Moving in with her were her teenaged daughters, Ida Chester and Estelle, and her married daughter Bertha and her husband Edward Wells, Jr.
In October 1891 The Press reported, "Among the debutantes of the coming winter will be Miss Ida Reed [sic], a daughter of Mrs. Aaron Bertrand Reed [sic], and a sister of Mrs. Edward Wells, Jr." Although the article was presumably about Ida's introduction to society, it focused more on her sister. "Mrs. Wells was formerly Miss Bertha Reed [sic], and was considered one of the most beautiful young women in town."
Society women published their "at homes" in the newspapers so they could keep their winter season schedules synchronized. On February 7, 1892, The Press announced that among those receiving on Fridays that month were "Mrs. Aaron Bertrand Reid, Miss Ida Chester Reid, and Mrs. Edward Wells, Jr."
Society women published their "at homes" in the newspapers so they could keep their winter season schedules synchronized.
The family spent the summer months at Wavecrest, Emma's estate on Long Island. Bertha and Edward spent a portion of the 1892 season at Peekskill-on-the-Hudson, "where Mr. Wells' parents have a handsome country house," according to The Press on July 10. At the end of the season that year, The Evening Telegram informed society, "Mrs. Aaron Bertrand Reid and daughters have returned to their home at No. 218 West Seventy-second street."
It was the last time the Reids and Wells would come home to West 72nd Street at the close of the season. That year Emma sold the house to Pheba C. Rapelya, a real estate operator. She leased it for several years to the R. Clarence Dorsett family.
By 1898 218 West 72nd Street had become home to John C. McCarthy, and his son Thomas M. and daughter-in-law the former Augusta Herron. John, who was 70 years old in 1898, was retired. Thomas M. McCarthy was a wholesale grocer with the firm of Austin Nichols & Co.
Augusta's stepfather was Civil War General Francis Jay Herron. Her mother, Adelaide Wilbray, died in 1901 and her father continued to live alone in his home at 244 West 99th Street. On January 8, 1902, The New York Times reported that "Gen. Francis Jay Herron, one of Grant's famous commanders," had died there two days earlier. "His body was taken to the home of his step-daughter, Mrs. Thomas M. McCarthy, at 218 West Seventy-second Street." The general's casket sat in the drawing room until the funeral there on January 10, followed by a mass at the Church of the Blessed Sacrament at Broadway and 71st Street.
Two years later the family was at Long Branch, New Jersey when John C. McCarthy died on September 26, 1904. The body of the 76-year-old was brought back to 218 West 72nd Street for the funeral, which was followed by a mass in St. Joseph's Church in Greenwich Village.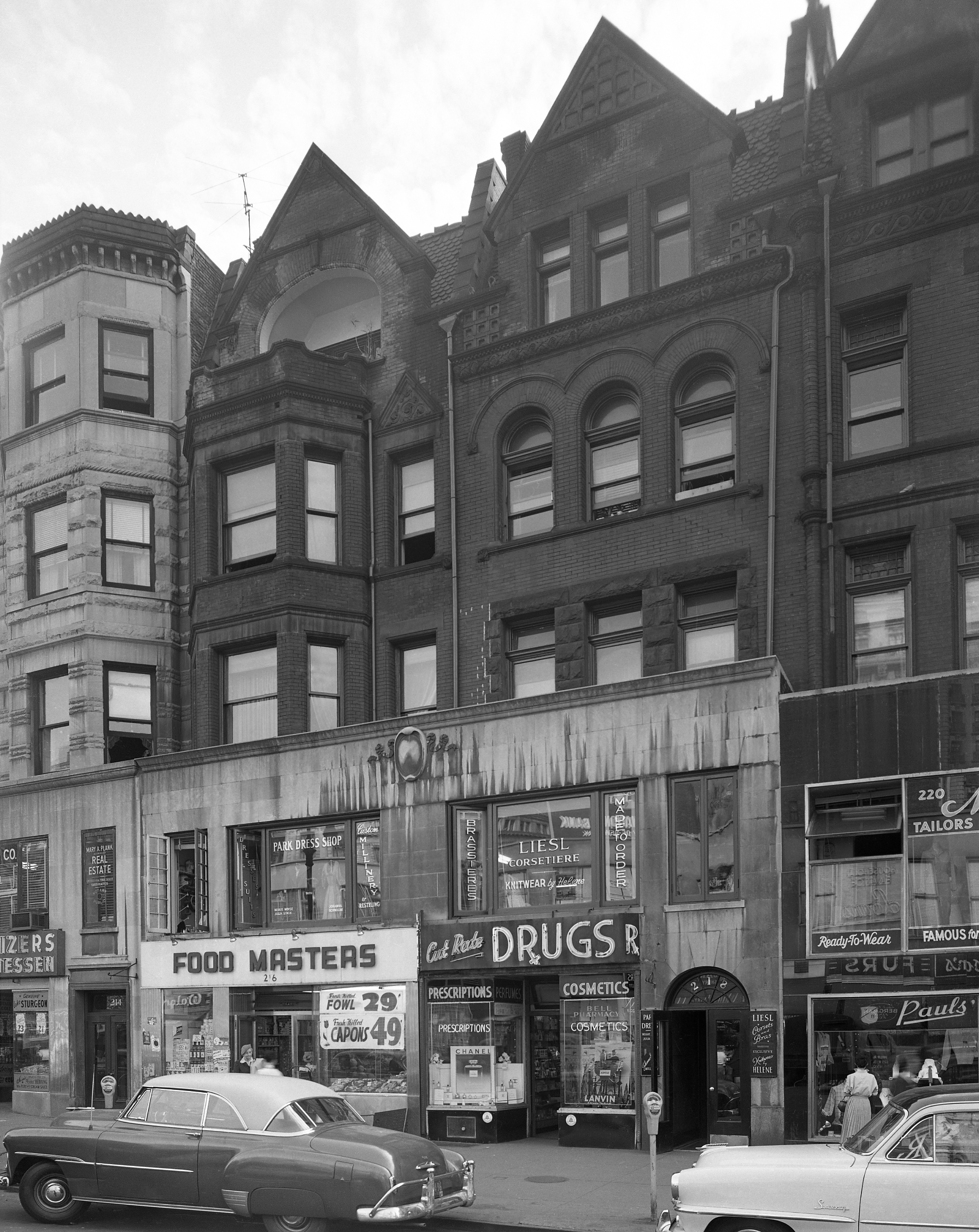 Thomas McCarthy almost immediately sold the house to Helen M. Warner. Like Phebe C. Rapelye, she leased it. From 1904 to 1915 it was home to the Association for the Relief of Respectable Aged Indigent Females—a sort of retirement home for impoverished widows.
Jeanette Rose Dunn was next to lease 218 West 72nd Street, operating it as a boarding house. Among her initial boarders was Elizabeth Johnson, described by The Evening World as a "show girl." On the night of July 20, 1915 Detective McCoy noticed that she was in an altercation with "a well-dressed man of middle age" at the corner of Broadway and 49th Street. As he approached, he saw the man strike Elizabeth with his hand or fist. The Evening World reported, "When he came to the spot the show girl demanded her companion's arrest."
In the Men's Night Court Elizabeth "did not tell the cause of the quarrel" and her pugilistic date "made a mystery of his identity…He said he was John Doe, no house, and declined to change that statement." He was held on $500 bail awaiting a hearing.
Mario Salvini lived here in 1917. He advertised himself as a "voice specialist" and "worldwide known singer, unsurpassed teacher." His advertisements promised that he gave "examinations gratuitously."
Five years later John Paul Jones, an actor, was a boarder. A year earlier, he had played with the Provincetown Players and also filled the role of Edwin Booth in the Broadway play Abraham Lincoln. But, on October 10, 1922 his name appeared newsprint for far graver reasons. A day earlier the 36-year-old had pleaded guilty of possession of heroin and morphine. The Morning Telegraph reported that in court Probation Officer James Russell testified "that Jones was believed to have furnished narcotics to girls living in Greenwich Village." Jones denied he had ever sold drugs. He was sentenced to serve six months to three years in the penitentiary.
In reporting the case, the journalist for the Daily News focused as much on the Lilly's physical features as the dispute. He described her as "200 pounds of Amazon that measured six foot two."
In January 1927, Joseph S. Ward purchased 218 West 72nd Street and the house next door at 216. He removed the stoops and installed a two-story commercial space that visually unified the two structures. The upper floors were renovated to non-housekeeping apartments, meaning there were no kitchens.
Harry Walker was one of the initial tenants. In August 1928, a woman named Lilly Johnson invited him to her apartment at 346 West 72st Street for drinks. The evening did not end well, and they faced off in the West Side Court on September 7, 1928, arguing over stolen possessions. In reporting the case, the journalist for the Daily News focused as much on the Lilly's physical features as the dispute. He described her as "200 pounds of Amazon that measured six foot two."
Lilly accused him of stealing "all her negligees," adding, "He also took my graphophone, pajamas, canes and cash. I guess I was rash. I shouldn't have invited him into my home at all. To think I gave him several drinks—I never saw such gall!"
Walker denied it, and instead insisted that Lilly had stolen his topcoat. "Why sure I've got his topcoat," she told the judge, "And I intend to keep it 'till my own stuff is returned."
Frustrated, the magistrate declared, "The summons is dismissed. I call this case a draw."
For years, from the mid-1960's to about 1980 the Bell Pharmacy was in the store space. It was later home to Kopper's Chocolate Shop, where the Kopper family sold their homemade candies. The original Kopper's shop was founded in 1937. A delicatessen, West Side Café and Pizza, operated here recently, replaced by Shinbashi 72 in 2020.
---
Tom Miller is a social historian and blogger at daytoninmanhattan.blogspot.com
LEARN MORE ABOUT
218 West 72nd Street
Be a part of history!
Shop local to support the business currently at 218 West 72nd Street: