More Than Just Slush and Cold: Keeping Cozy with

Landmark Love

!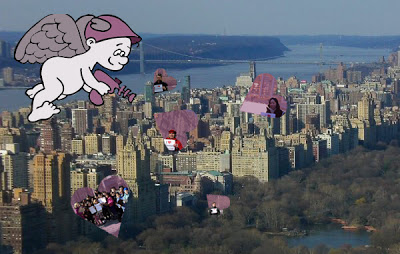 (Cupid comes from supercoloring.com; UWS from multifamilyinvestor.com)

Well my darlings, another February has come and gone, and we here at LANDMARK WEST! are so excited about the outpouring of love we saw for all of your favorite Upper West Side places and spaces (and those beyond!)!
Your submissions ranged from some of New York's most iconic buildings to the local haunts that have become an inextricable part of our neighborhood's landscape, showing off not only the richness of the area's architectural character but also a deep appreciation for all the places that make the Upper West Side so unique. We've said it before and we'll say it again: There's a lot to love here!

This month has been a swoon-worthy tour of some of the most loved places in our little corner of the borough, with submissions from sweethearts cuddling in Central Park to precocious New Jersey natives getting creative to groups of friends showing their favorite neighborhood cafe some love. The age-old New York-Chicago rivalry was reignited in the name of landmark love, with a little friendly competition (thanks to the good folks at the Chicago Architecture Foundation, and their enviable Twitter following [@chiarchitecture]), bringing submissions to celebrate the best of both cities. We, the LW! staff, couldn't help but get in on the action ourselves, showing our love for local favorites like the Ansonia, IRT Powerhouse, and Broadway Fashion Building, among others.
Of course, the love doesn't end now that February is over. We would argue that New York in the spring is perhaps even more lovable than New York in the winter, so why not take some time to see the city with fresh eyes? Take a stroll, have a picnic, go to a museum, get involved– you might see something you never noticed before, and you just might find yourself falling in love all over again.
It's been beautiful to see all your favorite spaces! Thanks for submitting, and let's make sure to keep our community wonderful for years to come!
Love,
Mary N. (intern, graduate student) and all the folks at LANDMARK WEST!