The Board of Standards and Appeals (BSA) ruled yesterday that in fact no, there will not be a sliver building rising at 330 West 86th Street anytime soon. As reported in the West Side Independent, the BSA stops a 17-story building from being erected on a 20 foot-wide lot, tightly squeezed between two existing–and equally tall–apartment buildings.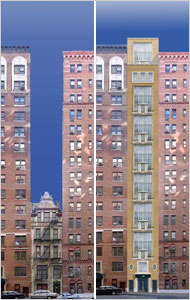 The Landmarks Preservation Commission (LPC) is actively considering the boundaries for a

proposed Historic District centering on West End Avenue.

Until this critical BSA ruling, the rowhouse residence at 330 West 86th Street (between Riverside Drive and West End Avenue) has been a hot-button site, threatened by demolition that would have opened the door for an inappropriate "sliver building" to rise in its wake. The possibility of such destruction is symptomatic of the shocking lack of protection for this landmark-worthy neighborhood.

This is one for the "win" column, but the ultimate goal historic district designation for West End Avenue remains. To find out more about how you can become involved, call LANDMARK WEST! at (212) 496-8110 or email landmarkwest@landmarkwest.org. Or visit the West End Preservation Society online.

PHOTO: Left, the existing rowhouse at 330 West 86th Street. Right, the proposed "sliver building." Photo by West Side Independent.