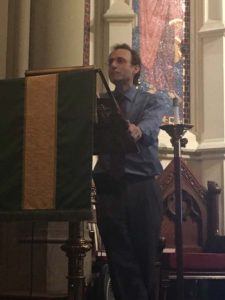 At Thursday, June 22nd's Save New York Summit, #VotersAgainstSupertalls rallied to support appropriately scaled development and protect our skyline for a myriad of reasons. Among the speakers was Attorney and Community Defender Michael Hiller.
Below is an excerpt of his presentation, including the much-lauded top-ten list of changes he would like to see take place to protect the character of our City.
"There are legal theories that activists can hire lawyers to employ, but the bottom line is that ad hoc litigation to stop the present level of development activity is like trying to empty the Atlantic Ocean with a teaspoon. It's theoretically possible, but not time- or cost-effective. That doesn't mean that there's no hope; it just means that we need to approach the problem more efficiently.
So, again, what do we do? The answer is to make changes in leadership. I'm not up here to endorse candidates for public office; I'm here to encourage you to ask the hard questions of your existing public officials and those candidates who seek to replace them. Tell them that you're unsatisfied with what's happening throughout NYC today. And demand changes. Here are a few to consider:
1.) Any building in excess of 10 stories should require an environmental assessment, with emphasis on shadow impacts, urban planning, public greenspace, traffic and transportation, construction impacts, and air quality.
2.) All voids and mechanical spaces must be considered part of a building's floor-area ratio (FAR) calculation.
3.) Any and all submissions to the LPC (Landmarks Preservation Commission) and BSA (Board of Standards and Appeals) must be made under oath.
4.) All communications between the BSA or LPC on the one hand, and representatives of developers on the other, including and especially lobbyists, must be fully disclosed–every call, every letter.
5.) Any time a developer makes a material misrepresentation to the LPC or BSA, such much result in denial of the developer's application. Right now, a developer who lies to the LPC or BSA can be subjected to a civil proceeding, resulting in a modest fine. But to developers, these fines pale in comparison to the amount of money the can make form the sale of luxury condominiums. So, if anything, the $15-25,000 fines serve only to encourage developers to like, since, after all, the fines are minimal.
6.) A majority of the LPC, including and especially its chair, must be comprised of persons associated with the preservation community, rather than the development community.
7.) Imposition of a moratorium on air-rights transfers and zoning lot mergers.
8.) And lastly, during that moratorium, the mayor's office should establish a commission, comprised of urban planners, preservationists, neighborhood associations, community groups, zoning experts, and activists for the purpose of revisiting the Zoning Resolution to take into consideration changes in technology and the manner in which advances in structural engineering seem to have rendered parts of the Zoning Resolution obsolete.
9.) Deem every floor-to-floor height a maximum of 10 feet, even if the plans design the spacing with taller heights. So, for example, the FAR of a building with 10 floors with floor heights of 17 feet each would not be calculated as a 10-story building, but rather be computed based upon an FAR of a 17-story building.
10.) A permanent moratorium upon residential construction inside public parks."
Read more about the event HERE.