DOWNLOAD the new printable CENTRAL dARK flyer HERE
Will Central Park Become CENTRAL dARK?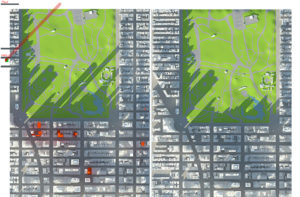 A supertall tower could rise on West 66th Street casting shadows on residential blocks, landmark designated buildings, and Central Park.
Leading this assault on our public assets is a developer in partnership including Extell, aided by the kind of laissez-faire pro-real estate policies that sanction the supertall towers transforming NYC's midtown skyline.
Yet, developer plans filed with the Department of Buildings show only a 25-story building. Does this seem shady to you?
…the skyline of New York is a physical reminder of
how wealth and power get their way without regard
for the impact on the lives and neighborhoods of everyday people.
The Status Quo:
Towers of unprecedented height have largely been built as-of-right without any public review or analysis of impacts on neighbors, historic resources, infrastructure (transportation, sanitation, emergency services, storm resilience), and quality of public space.
Mayor de Blasio's Department of City Planning

defends

these towers, under heavy pressure from real-estate developers and their lobbyists.
Current regulations allow adjacent sites to be assembled and provide floor area bonuses to facilitate construction of new buildings that far exceed heights of existing buildings.
These regulations fail to acknowledge new construction technology that enable super-tall buildings on relatively small lots, casting significantly longer shadows than ever anticipated by the NYC Zoning Resolution.
The Zoning Resolution that allows these towers and their shadows has not been comprehensively updated in over 50 years.
Tax loopholes and other policies

incentivize investment in tower construction

— for example, LLC and 421-a tax exemptions.
There is no publicly accessible source for tracking the transfer of development rights from one site to another, resulting in a

lack of transparency and predictability

.
LANDMARK WEST! is part of a growing citywide movement* calling on the Mayor, City Council Members, and other decision makers to:
Update the Zoning Resolution to stem the tide of super-tall towers invading our neighborhoods
Strengthen the public review process to ensure transparency and accountability
Curb the inappropriate influence of real-estate developers an their lobbyists on the land-use policy
Implement a temporary moratorium on tower development while the City reviews its policies
* We're all in it together. LW! works with colleague groups throughout the city to amplify our voice. Several points above are adapted from a May 2015 report by the Central Park Sunshine Task Force of Community Board 5, with the inspiration form the "Accidental Skyline" by the Municipal Art Society of New York and New Yorkers for a Human Scale City.
DOWNLOAD the new printable CENTRAL dARK flyer HERE