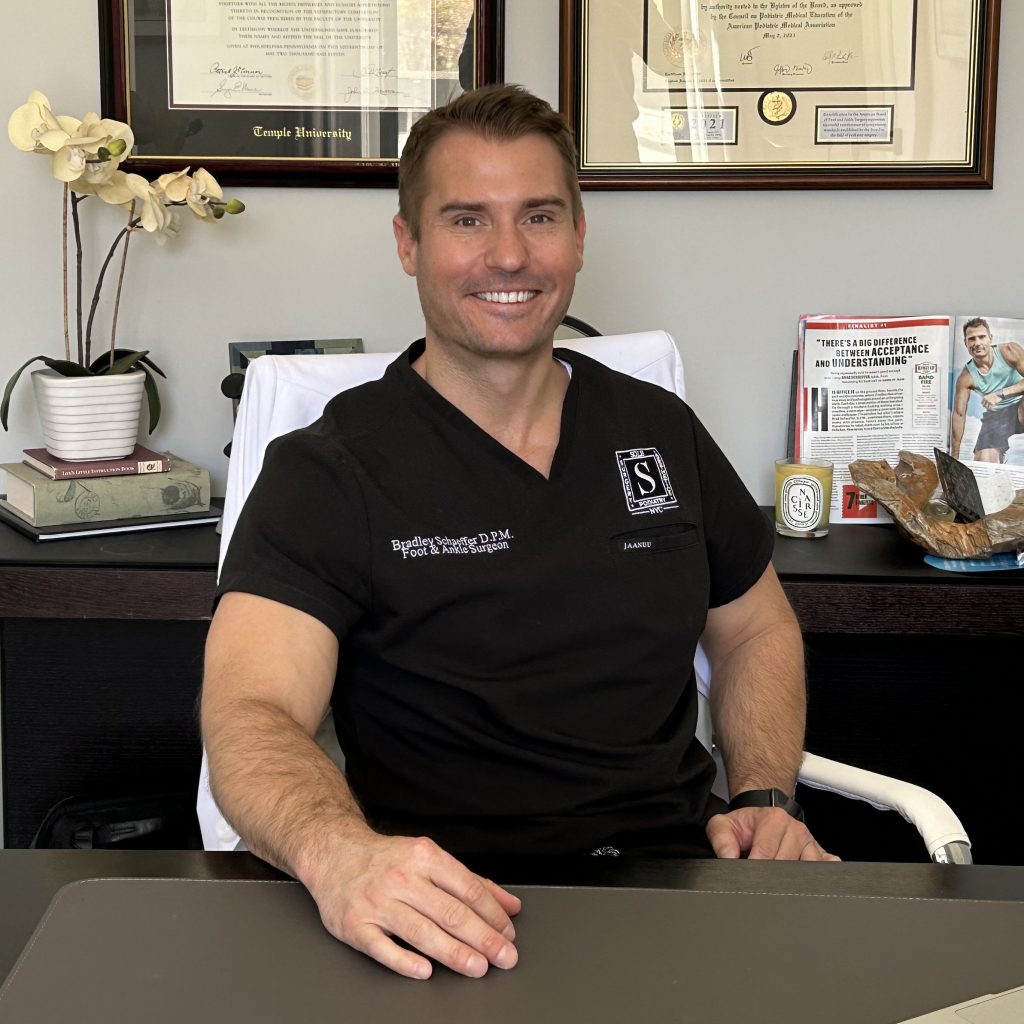 Dr. Brad Schaeffer, DPM, opened Central Park Sole in June of 2021—a risky proposition given the uncertain economy and ongoing pandemic, but he wasn't fazed. Things seem to have a way of working out in this podiatrist's favor, and his enthusiasm for not only his profession but the very concept of "potential" is somewhat infectious. Even the physical office feels optimistic.
Climbing the limestone steps to the 85th Street entrance of 251 Central Park West, a visitor is enveloped in the high marble interior wall paneling of this 1906 Beaux-Arts landmark. The building staff direct visitors past ornate figural stained-glass windows over preciously maintained 117-year-old hand-in-laid mosaic floors and onto one of the unassuming uniform black doors which front the upper lobby. Grab the handle and suddenly enter a pristine, ultra-current, fresh environment. Blue camo wallpaper is complemented by a neon blue "imagine" sign—arguably the loudest way of quietly nodding to the Lennon residency a few blocks south. White couches, white millwork and trim, and white plaster sculptures of feet (it is a podiatry office, after all…) are offset by cool gray walls, live plants, and the true showstopper: views of Central Park from nearly every room. This calming atmosphere gives off a spa-like vibe and clearly isn't your grandparents' doctor's office, so don't expect a pile of dusty National Geographics here.
Taking over from friend and partner Dr. Edwin Wolf, Central Park Sole (a next-generation and much punnier version of the former Podiatric Surgical Associates) is just as serious and has made strides to make the mundane and necessary not only bearable but hip. Knowing that most who walk through his door are in physical pain, Dr. Schaeffer empathizes that they are there in need of help and may have avoided their condition for too long. That avoidance may be due to surgical restraints during Covid (although anatomically speaking, his profession was better suited to maintain safer distances than, say, dentists or ophthalmologists), or maybe because it is simply too easy to cover over an issue with socks and footwear and keep the problem to oneself. These are just some reasons why he believes "feet are too often disregarded." In an analogy to architecture, Dr. Schaeffer likens feet to a human's foundation and stresses their care and integrity for overall stability, balance, and health. He notes that flat feet are one of the most ignored conditions—and one that can readily be improved by using inserts, ultimately relieving the patient of future ankle, hip, and knee pain. This is but one solution Dr. Schaeffer seeks to impart. He offers regenerative medicine techniques like cutting-edge laser therapy for pain relief, injections like Platlet-Rich Plasma (PRP) and stem cells to heal and improve painful joints and tendons, and state-of-the-art laser therapy for toenail fungus, all in the comfort of his full surgical suite on Central Park West at 85th Street.
Speaking with Dr. Schaeffer is reassuring—he genuinely wants to help meet a patient's goals, whether medical or aesthetic. Botox for your feet? Certainly—but not as one might think. This treatment is not mere vanity for "voluptuous" or "sultry" feet as it often is with lips, but to curb excessive sweating. Bunions are likely the most common ailment he treats, but his innovative remedy is anything but common. Dr. Schaeffer has been specifically trained in the Lapiplasty® Procedure, a 3D bunion surgery that rotates the entire deviated bone back into its normal anatomical position, naturally straightening the toe and removing the "bump" and pain associated with the bunion.
While he sees a high volume of patients with bunions, they are hardly the extent of what "bring(s) the textbooks to life." The hour-long TLC edu-tainment series My Feet Are Killing Me features three doctors addressing podiatric issues: Dr. Ebonie (Vincent) in LA, Dr. Sarah (Haller) in NJ, and Dr. Brad (Schaeffer) in NJ, and now NYC. While the east coasters sometimes work together, the show usually features three different issues per episode and may show the doctors addressing pincer toenails, offering medical pedicures, eliminating extraneous toes, combating fungus, removing tumors, or even physically reshaping and setting bones. This list alone readily dispels the common rumor that podiatrists have a foot fetish—with pus, corns, smells of infection, and creatin, how could anyone? Dr. Schaeffer's involvement in the show has not only encouraged more patients to address what ails them but has inspired more extreme cases to find his practice. All are met with the same can-do spirit.
Given that New Yorkers love to walk when being ribbed about a hypothetical cross-country trek on foot, Dr. Schaeffer perks up and quickly suggests obtaining custom orthotic inserts and footwear (he recommends HOKA or GDEFY—Gravity Defyer shoes with a spring in the heel). He stresses preparation, training, rest days, breaks, and stretches while repeating a common mantra: "Anything is doable," and insists that if that is what a patient wants, he will help them through. One-part podiatrist, one-part life coach, Dr. Schaeffer wants to help patients "blow past it all," noting that one should never set limits on personal potential. These may sound like blithe affirmations at first, but he has the track record to prove it.
The pep talks are likely ingrained from his years on the field. Growing up playing soccer, basketball, and baseball, he was no stranger to the roles of both leadership and teamwork, but also the reassurance of a trusted coach. In fact, it was all this activity that brought him to the profession. Rolling his ankle required frequent pre-game tape-ups and introduced him to the local podiatrist in his hometown of Gilbertsville, PA. After an attempt at the big leagues following his stint with collegiate baseball, Dr. Schaeffer considered pharmacy school but saw the need in podiatry.
Admittedly, the path was not quite direct. Dr. Schaeffer still loves baseball (and the Phillies). A key personal item in his office is a framed triptych of himself, his father, and his grandfather, each in their baseball uniforms. He also loves fitness—as proven in his first reality television appearance on Dwayne "The Rock" Johnson's The Titan Games, where he was a finalist. While My Feet Are Killing Me is his second show, Dr. Schaeffer insists television is not his primary focus—that remains his practice and patients at Central Park Sole. He is grateful the show brings attention to foot and health issues and motivates patients to have their pains addressed, but the interactions and solutions are why he keeps at it. He has seen a lot on the show, from unfortunate genetic conditions, damage from too many years of wearing the wrong footwear, and even the handiwork of "the bathroom surgeons of the world" firsthand, but he is smart enough to know he has yet to see it all.
This may be evidenced in the ever more extreme cases on the show and in his office. Is it hard to do surgery with a production crew filming over your shoulder? Admittedly, yes, but Dr. Schaeffer shares that it has gotten easier. In earlier episodes, "the crew would stop me, ask questions, and seek explanations viewers would want to know, just as I was thinking through or performing the procedure." Over time, they've each grown to better understand one another and now know when it is an appropriate time to interrupt. Cast away any doubt-theories about the "realness" of reality TV—or at least My Feet Are Killing Me—Dr. Schaeffer is blunt: "there is no way to fake surgery."
Does the show's "Dr. Brad" have any hopes for the future of the series? He would love to see a crossover event "like when the CW had the Angel/Buffy the Vampire Slayer episodes"—in this version, the My Feet Are Killing Me doctors join with Dr. Sandra Lee of Dr. Pimple Popper for a procedure. Which begs the question, does the TLC-verse stay in touch? "I'm on some text chains," but sadly, no baptisms or backyard barbecues with Dr. Now (Dr. Younan Nowzaradan of My 600-lb Life) or Darcy & Stacey (Darcy Silva and Stacey Silva of Darcy and Stacey)…at least for now, because "we just don't have the space…hopefully when we move!"
When not at his practice, you might find Dr. Schaeffer across the street doing some High Intensity Interval Training (HIIT) in the park, or nearby at Prohibition at 503 Columbus, or Fred's at 476 Amsterdam. At home, when not preaching the gospel of orthotic inserts, he posts live on Instagram [doctor.bradley] while watching new episodes of the show with his family.
If you seek someone to remind you there are "no excuses," if you simply need help with foot pain, or want a consult, find him in The Rossleigh Court on Central Park West at 85th Street or online: https://www.centralparksole.com/