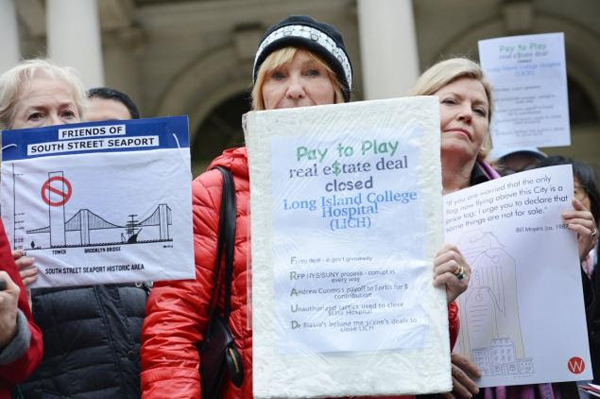 Mayor de Blasio, Our City Is Not For Sale!
"Business as usual" is transforming New York City as we know it. Every neighborhood, every block has its own story of political quid pro quos that have resulted in out-of-scale, out-of-character development from which a few profit richly while many suffer greatly.
Brown-bag your lunch and please join us tomorrow, Wednesday, May 4, 2016, at 1:00pm, for a press conference in front of City Hall!
Community groups and individuals from across the city are uniting to demand an end to the "pay to play" relationships between real estate developers, lobbyists and City and State government.
Community groups (list in formation): 711 WEA Tenants' Action Group (TAG), Brooklyn Bridge Park Defense Fund, Citizens Defending Libraries, Citizens Emergency Committee to Preserve Preservation, Coalition to Protect Chinatown and the Lower East Side, Committee for Environmentally Sound Development, CROWDED, Crown Heights South Association, Friends of P.S. 163, Inc., Task Force for a Safe School, LANDMARK WEST!, LES Dwellers, New Yorkers for a Human-Scale City, NYU Faculty Against the Sexton Plan, Save Cobble Hill, Save Gansevoort, Save Harlem Now!, Save Our Seaport, Save the View Now, TakeBackNYC, Tribeca Trust
Please contact us to add your group to this growing list!