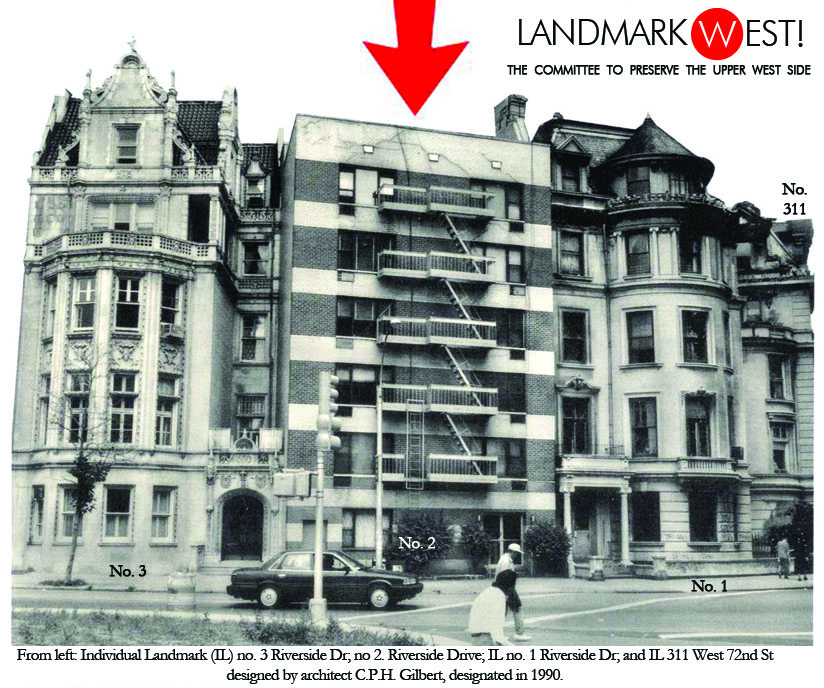 A picture is worth a thousand words.
Question:
How could this out-of-context building get built?
Sign this petition to LPC Chair Tierney and ask for the designation NOW of these Historic District (HD) extensions. Please sign soon–sign now–then send on to a friend to sign. The LPC deserves to hear from you.
Approximately
194 new landmarks
were added to the 2700 existing landmarked buildings when the Riverside/West End HD Extension I was designated on June 26, 2012. Take a moment to join us in relishing the pure pleasure of a job well done. Jacqueline Kennedy Onassis wrote
her own letter
to the LPC, dated April 30, 1987 in support of designating the Riverside/West End HD. Mrs. Onassis wrote, "Your designation of [the Riverside-West End HD] will provide future generations of New Yorkers the opportunity to enjoy the beauty of this remarkably intact piece of our past, just as we enjoy it today."
Please sign the petition
and if you wish, write your own letter and email a copy to LANDMARK WEST!
Designation is just the first step. Help us be the vigilant stewards our neighborhood still needs and deserves. Big or small, your contribution matters. Give online or call LW! at 212-496-8110 to make a financial pledge.

Photo above from LW!'s, My Preservation Journal, part of Keeping the Past for the Future Youth Education Program taught by Director of Education Debi Germann, M.S. Ed from the Bank Street College of Education and certified classroom teacher.