Recently, I went looking for the space I remembered as a long gone UWS Chinese restaurant. Actually, my memory was more about a large colorful

mural

featuring a red-sailed junk in Hong Kong Harbor that was displayed on the wall. Walking up on the east side of Broadway, I found an empty storefront at 2512 Broadway, near 94th Street. The wall to the left clearly could have held the mural and there were steps that in the 1950's and '60's led up to what would have been a long, narrow dining room. Armed with this information I returned home and googled variations on "Chinese restaurant at 2512 Broadway, 1950's." BINGO.
A postcard, postmarked 1955, revealed a segment of the mural, along with glimpse of a bar and table seating.
With more Internet searching, I learned that the original mural from Lingnan restaurant had been permanently installed in 2001 at Brooklyn Central Public Library. I also learned that the muralist, Dong Kingman (1911-2000), had had a long, very successful career in New York and California. His work is in many museums and private collections.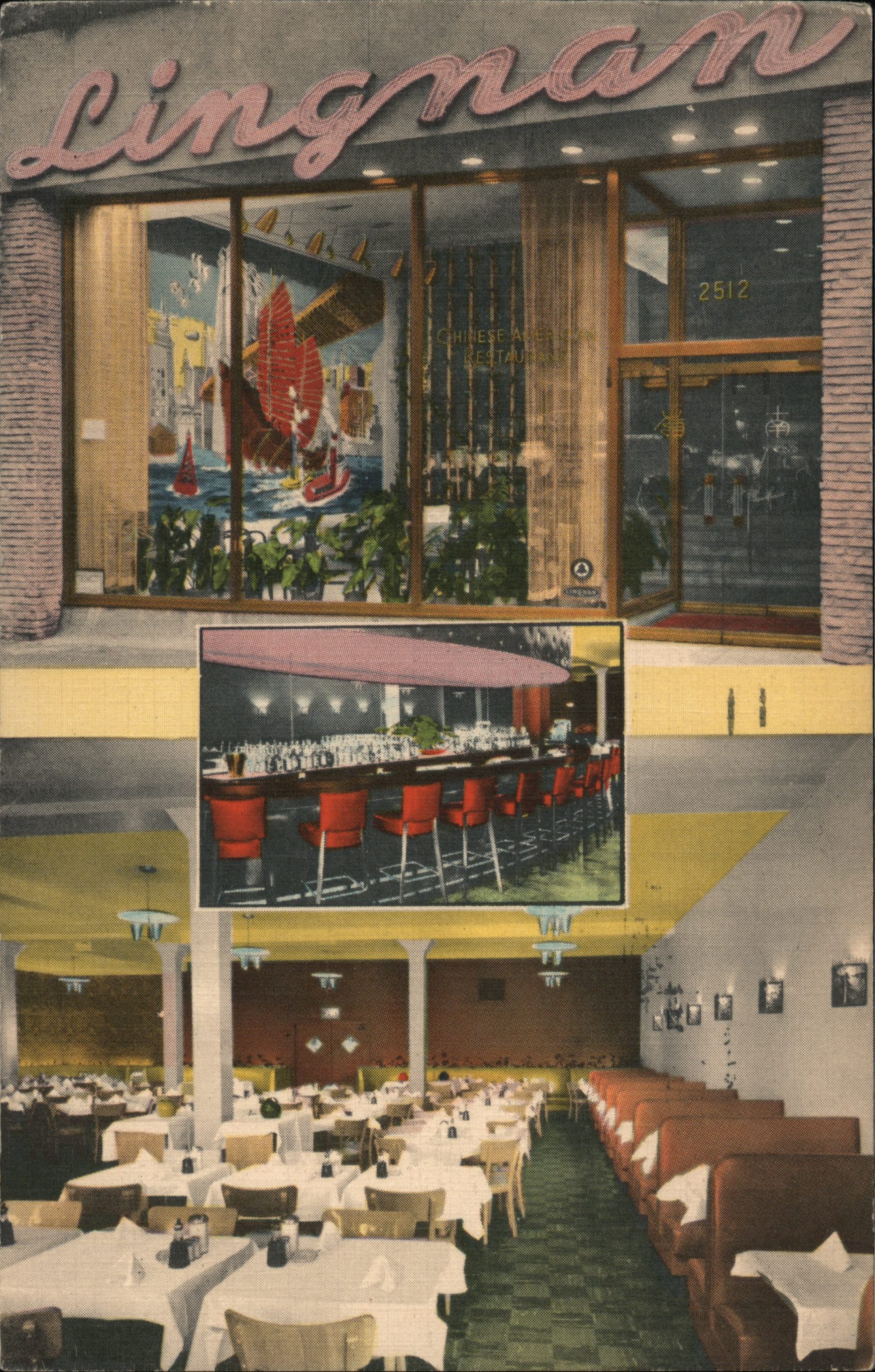 Kingman knew the owners of Lingnan and the friends made an arrangement that the painting would be paid for in exchange for $1000 in credit for meals at Lingnan. Accordingly, this Life Magazine article from May 14, 1951 shows the artist and his first wife, Janice, enjoying a meal in front of the painting.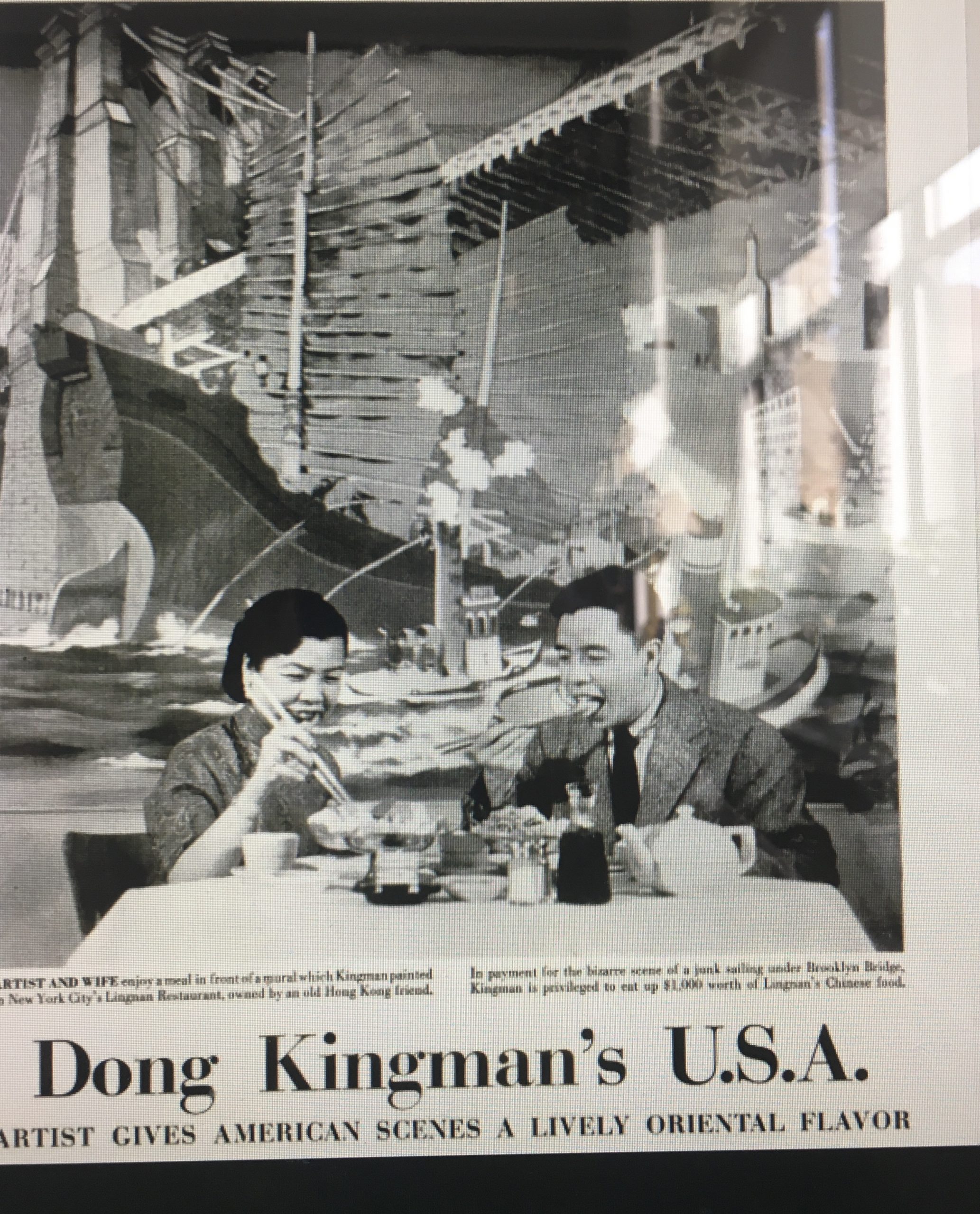 But, how did the mural get to the Brooklyn Central Public Library? Sometime, probably in the 1960's, Upper West Siders Eugene Gamiel, then a conductor of the West End Symphony, dedicated to providing concerts to children who might not otherwise have the opportunity to enjoy cultural events, and his wife Roslyn, co-founder of the Symphony and a painter herself, became aware that the restaurant was going out of business. Dong Kingman had been Mrs. Gamiel's painting teacher at CUNY Hunter. The Gamiels acquired the Kingman work, had it restored, and donated it to the library where it was installed in what was then The Multi-Lingual Center. More recently, the space is being used by the U.S. Passport Department and will soon transition to house the library's collection of audio visual materials.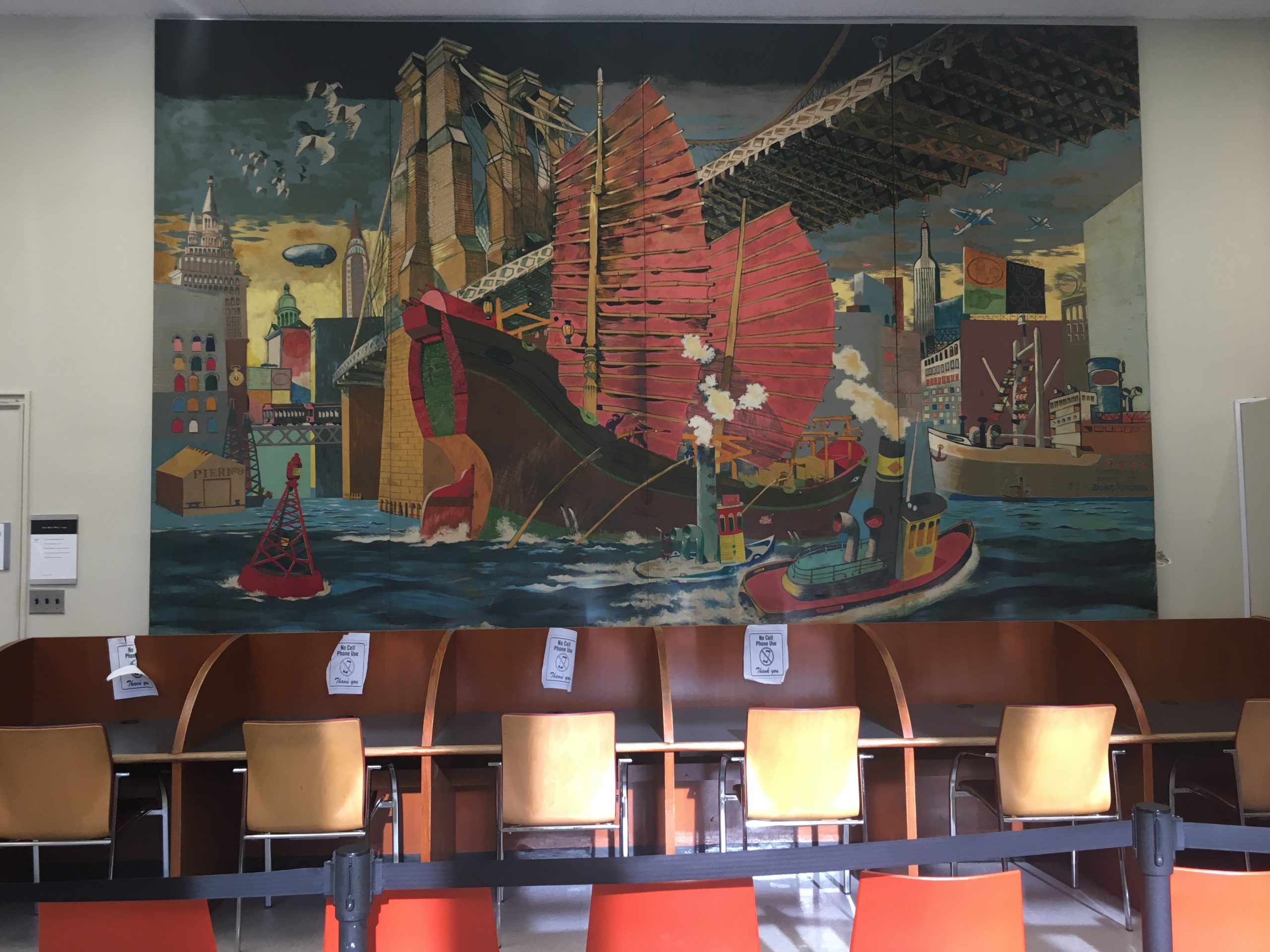 The mural is more complex than the harbor scene I remembered. Titled East Meets West, the work combines images of both Hong Kong and Brooklyn. Dong Kingman, Jr., one of the artist's sons and still an Upper West Sider, says that the

mural

dedication ceremony held in Brooklyn coincided with a show of many Kingman paintings that were part of a traveling exhibition sponsored by the Starr Foundation. For more: DongKingman.com
This blog post was written by longtime Upper West Sider, Claudie Benjamin. Thank you, Claudie!