Upcoming Programs and Events
Organized by:
Boss Tweed and 19 Months that Changed Central Park
May 24, 2022 @ 6:00 pm

-

7:00 pm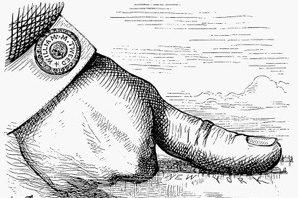 LW! is doing a little time traveling to explore the darker side of the development of Central Park. It is somewhat miraculous that the park even exists, as back in the 1850s real estate developers and politicians were just as cozy as today. Add in the nefarious reign of William Marcy "Boss" Tweed, notorious leader of New York City's Democratic political machine, and the park—and Olmsted—was in for a bumpy ride.
We'll hear the tale from one of LW's favorite guides to all things Central Park: Ron Korcak. Ron, a tremendously popular guide-of-guides and fount of park knowledge, takes us through 19 months that shook the young park. The short period of time that the Tweed Ring oversaw Central Park, April 1870 to November 1871, was filled with graft and destruction.
Come explore the most critical battles and outcomes of one of the park's greatest power grabs, some of which were irreversible and impacted the park we have today.
Related Events