Organized by:
Interior Design: The Essential Profession
October 7, 2016 @ 9:00 am

-

5:00 pm
Event Navigation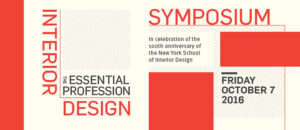 Fast-paced, interactive, and exciting: this one-day symposium will look at the work of interior designers today and in the future, making the case that interior design is unarguably essential to organizational and human health, wellness, and happiness.
Tickets: $200 general public; $150 NYSID faculty and alumni; $25 Non-NYSID students. Attendees will earn .7 CEU's (IDCEC) and 7 LU's (AIA). Purchase tickets here.
Schedule
9am // Welcome
Dr. Ellen Fisher, vice president for academic affairs and dean, New York School of Interior Design
9:15–10am // Keynote
Aaron Betsky: Why Insides Matter: Beyond Sensual, Sensitive, Sexy, and Safe
Although architecture is the first thing we notice about a building, the interiors are the spaces in which we actually live. In this thought-provoking talk, educator and curator Aaron Betsky, who was trained as an architect, will speak about why interiors matter, and how the relationship between interior and exterior is critical to the success of any design project.
10–11am
Living Better: Wellness By Design
Verena Haller, John Zeisel, Patrick Burke; moderated by Randy Fiser
Interior design can't cure disease, but it can certainly reap considerable benefits in achieving good health, maintaining it, and minimizing the ill effects of injury. Randy Fiser, CEO of American Society of Interior Designers (ASID), will lead a discussion by three experts who know how it all comes together in spaces designed for travelers, the aged, and failing or wounded veterans.
11:15am–12:15pm
Todd Heiser in Conversation with John Czarnecki
What do interior design and gamification have to do with the next-generation workplace? John Czarnecki and Contract Designer of the Year, Todd Heiser, principal at Gensler, talk about how new ways of working—and new workers—require environments that support interactivity and collaboration.
12:15 – 1:15pm
Networking Lunch
1:15–2:15pm // Afternoon Keynote
Dan Ariely: Design, Behavior, and the Bottom Line
Obesity is a national scourge, affecting the cost of healthcare and even, learning–can the design of our homes and supermarkets contribute to a solution? What do we need to know about the way human behavior affects the national economy? Can interior designers change it for the better-or worse? Dan Ariely, a celebrated behavioral economist and author, will give us a glimpse into the impact of design on the national and international economies.
2:15–3:45pm
Hot Topics: 21st Century Issues, Places, and Passions
Rosalyn Cama, Susan Nagle, Edna Wells Handy, Jack Travis, Kate Wood, Scott Baytosh, Susan DiMotta, Andrew Dent, Darris James; moderated by Susan Szenasy
Specialists from design to politics talk about their passions in and outside of design, hitting "hot button" issues for interior designers today: biophilia, preservation and interiors, space-age materials, education, and culture and context. They'll highlight new directions in hospitality, global design, healthcare, workplace strategy, learning environments, and designing for improved community/police relations.
3:45–4:45pm //
Denise Guerin: The Interior Designer of the Future: Well-Being and the Value of Interior Design
Evidence shows that interior designers change people's lives by designing for their comfort, reduced stress, satisfaction, improved performance, and financial success, in other words, for well-being. Dr. Denise Guerin, PhD, FIDEC, FASID, F-IFI, IIDA, co-author of the seminal Interior Design Body of Knowledge studies, will summarize the day's conversations, and show how clients and the public will look at the role and responsibilities of the interior designers of the future: to define and document how interior design changes lives, improve the human condition, and add economic value to society.