Organized by:
Sparkling Snowflakes Return to 72nd Street
November 15, 2016 @ 8:00 am

-

5:00 pm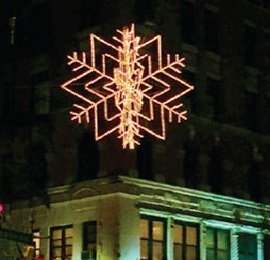 On November 15th, 72nd Street will come alive for the holidays when the switch is flipped on several eight-foot shimmering snowflakes floating above 72nd Street.
LANDMARK WEST! is proud to continue the tradition started over 15 years ago to celebrate the completion of the first phase of the West 72nd Street Retail Assistance Program (RAP). Before RAP, the street and its businesses suffered from rundown sidewalks, garish signage and other visual clutter that made it unfriendly for pedestrian shoppers. RAP focused on the street's assets–its historic buildings and small retail scale–to revitalize and restore a key piece of our community.  Improvements included repaved sidewalks, tree planting, and design support for business owners seeking to make changes to their storefronts and signage.
As a more welcoming retail district emerged, the first holiday snowflakes twinkled from new turn-of-the-century style "Bishop's Crook" lights on both sides of the street.
So this holiday season, as you walk and shop in our vibrant neighborhood brightened by these festive lights, pause just a moment to consider how very real the magic of preservation can be.
***
LW! is pleased to collaborate on the holiday light display with the Columbus Avenue Business Improvement District, which has extended the snowflakes along the Landmark District of Columbus Avenue from W. 67th to W. 82nd Streets. 
Related Events