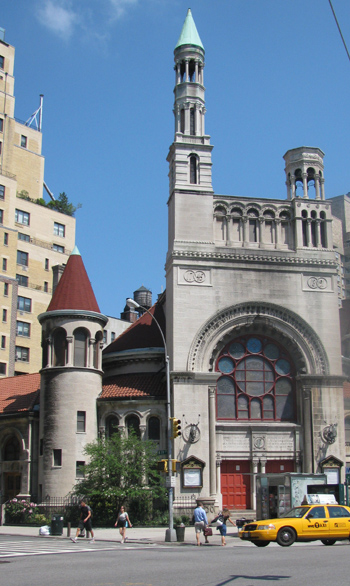 I went out on a journey to find a landmark on the Upper West Side that sparked my interest. I came upon the First Baptist Church. I was captivated by the architecture of this building. Its central window especially captured my eye. I couldn't get over the complexity of the arches, with Corinthian-like capitals and the geometrical innovation of having both cylindrical and prismatic towers (which surprisingly worked well together).
I really enjoyed the mathematical aspects of this church. There was a variety of unique circular window designs. This is one of the best examples of Romanesque-style architecture that I've ever seen. In the heart of the Upper West Side, at the corner of West 79th Street and Broadway, this gem is just another one of the neighborhood's simple pleasures.
Fun Fact: You'll notice that the building was built on a 45-degree axis; its intention was to expand, as much as possible, the church's auditorium space.