This past weekend brought the annual Columbus Avenue Festival to the Upper West Side. Events like this are right up LW's alley — it gives us the opportunity to escape the four walls of our office and mix and mingle (out on beautiful Columbus Avenue, no less) with folks who value and love the neighborhood as much as we do.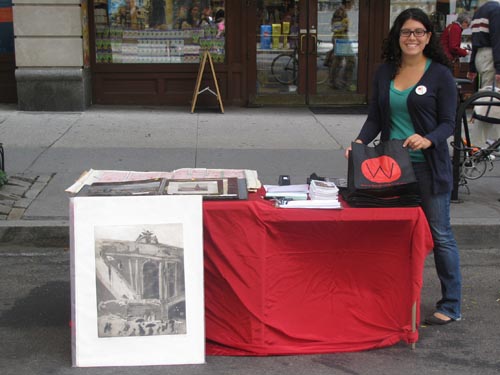 LW's Sarah Sher has the table set, tote in hand … she's ready to talk about landmarks!
And for the first time in a long time, we had stuff to sell! For a modest donation ($3, $20 and many denominations in between!), visitors to the LW! table walked away with a historic map of a Manhattan neighborhood, or a "vintage" copy of a Harper's Weekly article, or an artistic representation of Grand Central Terminal, or one of many other odds and ends. The map and photo sale was a big hit and we heard lots of encouragement (both at the fair later via Twitter) from folks as to planning other opportunities to sell these pieces of the past.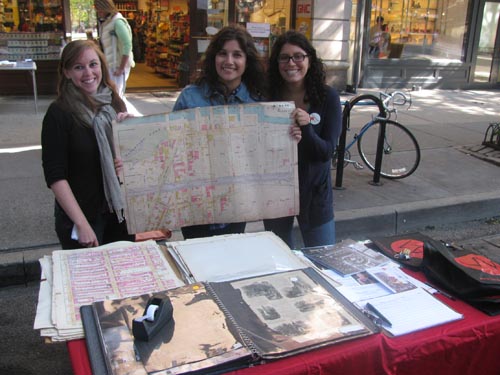 Kate, Cristiana and Sarah with a sample of one of the hundreds (literally!) of maps
available at Sunday's street fair.
But it wasn't all work on Sunday. Kate G. made sure to peruse the other stalls and visit our friends at Soutine Bakery (Kate's a regular). The tasty treats they had out for the festival has us dreaming of what Soutine Bakery and owner Madge Rosenberg have planned for Landmark Feast (coming this Sunday!). Excited to see (and taste!) for ourselves.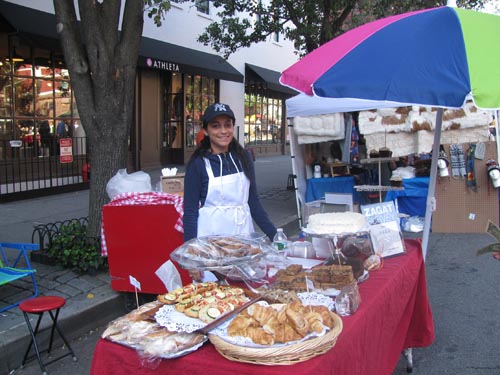 Soutine Bakery tempts passersby on Sunday.