LANDMARK WEST's First Roosevelt Island Visit: FDR Four Freedoms Memorial Park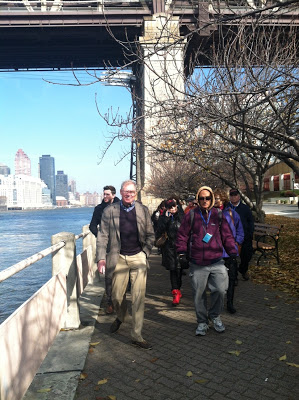 Kyle Johnson leading LW! and friends beneath the
Queensboro Bridge, en route to the Memorial
You read correctly…on Nov. 14th, 2012 LANDMARK WEST! left the Upper West Side for a sunny afternoon with friends to explore the new FDR Memorial on Roosevelt Island. Kyle Johnson, Co-Chair of the AIA NY Chapter's Architecture Tour Committee & Vice President of DOCOMOMO US-New York/Tri-State led LW! and friends via the Tram from Manhattan to
Louis Kahn's only work in NYC
.
In 1973 Mayor John Lindsay announced that a memorial park at the southern tip of Roosevelt Island for Franklin D. Roosevelt. Louis Kahn was selected as the architect and plans were completed. However, Kahn's sudden death in 1974 followed by NYC's fiscal crises of the 1970s diminished the priority of Four Freedoms Park. On October 24, 2012, the FDR Four Freedoms Park opened to the public; a project which began forty years ago.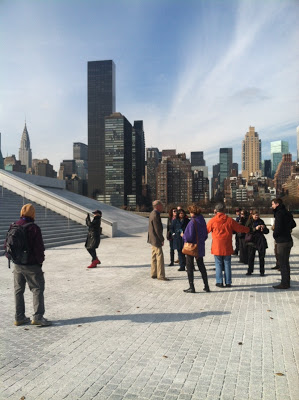 LW! upon arrival to the FDR Memorial
"Surely, in the light of history, it is more intelligent to hope rather than to fear, to try rather than not to try. For one thing we know beyond all doubt. Nothing has ever been achieved by the person who says, 'It can't be done.'" – Eleanor Roosevelt, 1960
The Upper West Side Roosevelt connection is the
Eleanor Roosevelt Memorial
. The First Lady's statue rests adjacent to the Hudson Riverand 72nd Street. Eleanor was a founder of the United Nations, served as head of the United Nations Human Rights Commission and helped to draft the UN's Universal Declaration of Human Rights. FDR's Four Freedoms speech, etched in Mount Airy Granite, faces the United Nations across the East River.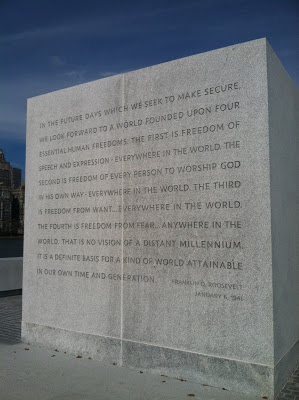 Franklin D. Roosevelt's Four Freedoms Speech, January 6, 1941