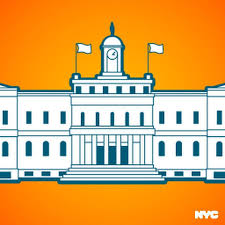 The Mayor's Press office have issued the following press release about the appointment of Sarah Carroll as the new Chair of the Landmarks Preservation Commission.  Read the full release HERE, or copied below:
Mayor de Blasio Appoints Sarah Carroll as New Chair of the Landmarks Preservation Commission
September 26, 2018
NEW YORK—Mayor Bill de Blasio today announced the appointment of Sarah Carroll as the Chair of the Landmarks Preservation Commission. As Chair, Carroll will lead the Commission as it continues to preserve and protect New York City's architecturally, historically, and culturally significant buildings and sites.
"Sarah is a dedicated public servant and preservationist with more than two decades of experience," said Mayor de Blasio. "Her intimate knowledge of the Commission's work and her commitment to preservation make her an invaluable asset in the effort to protect the historic buildings and sites that make New York City so unique."
"Having dedicated my career to protecting the heritage of the city I love, it is a dream realized and an incredible honor to be appointed by the Mayor and entrusted by the Council to lead the Commission," said LPC Chair Sarah Carroll. "I look forward to continuing to work with the Commissioners and staff to preserve and celebrate sites that reflect the diversity and rich history of our city and to partnering with property owners, elected officials, preservationists and communities to ensure these sites remain relevant for generations to come."
Carroll, a preservationist by training and profession, has dedicated her career to public service at LPC. She has deep institutional knowledge about the agency's work and its operational strengths. Over the past 24 years, she has served in various capacities at LPC, including Landmarks Preservationist, Deputy Director of Preservation, and Director of Preservation. In 2014, she became Executive Director.
During her tenure as Executive Director, Carroll oversaw the successful designation of more than 4,000 buildings and sites in the city, the implementation of numerous transparency and efficiency measures, including new website features that provide information and access to the agency's work, and the development of a new internal permit tracking database that increased efficiency and staff accountability in the application process.
"Balancing a deep respect for New York City's unique architectural heritage and iconic structures, with an understanding of the needs of a growing city, Sarah has earned her excellent reputation as an independent, effective leader and preservationist, " said Deputy Mayor for Housing and Economic Development Alicia Glen.
"The Landmarks Preservation Commission is responsible with preserving the architectural and cultural heritage that New Yorkers value so deeply," said Speaker Corey Johnson. "With decades of preservation expertise, Sarah Carroll has shown a lifelong dedication to public service. As a career preservationist, Sarah is an excellent choice to lead this vital office and I look forward to working with her in this new role."
"Sarah Carroll is a true preservationist and a true professional, and I am thrilled by her appointment," said Manhattan Borough President Gale A. Brewer. "The Landmarks Preservation Commission safeguards our heritage and preserves history, culture, and architecture that we can't afford to lose. This is one of the most important offices in city government, and I could not be more confident than with Sarah Carroll at the helm."
"I congratulate Sarah Carroll on her appointment as the Chair of the Landmarks Preservation Commission," said Council Member Karen Koslowitz, Chair of the Committee on Rules, Privileges, and Elections. "The Committee received many letters in support of her nomination from all over the City and I very much look forward to working with her."
"The next head of the Landmarks Preservation Commission should be someone who truly understands and value of preservation and I believe that we have that in Sarah Carroll," said Council Member Adrienne Adams, Chair of the Subcommittee on Landmarks, Public Siting and Maritime Uses. "I look forward to working with Ms. Carroll and believe that she will help us to preserve the character and the special history of New York."
"Sarah Carroll is the right person for the job," said Council Member Ben Kallos. "As a staffer at LPC, Ms. Carroll earned a stellar reputation among those in her field. She is known to be one of the most dedicated experts with an intimate knowledge of New York City's historic buildings. I have no doubt that as Chair she will use that expertise to protect landmarks, educate the public and fulfill the true mission of the commission. Congratulations to soon to be Chair Carroll and thank you to Mayor de Blasio for choosing a true preservationist for this very important role."
"One of the wonderful things about living in this city is the enduring relationship we have with our historic buildings," said Council Member Stephen Levin. "In order to preserve our city's most significant buildings for generations to come, we need to take an approach that demonstrates both thoughtfulness and a passion for history. Sarah Carroll has been instrumental in successfully guiding numerous preservation initiatives in my district, and I'm looking forward to the great work she will do as chair of the Landmarks Preservation Commission."
"I am glad to support Sarah Carroll as Chair of the Landmarks Preservation Commission," said Council Member Keith Powers. "Sarah's credentials as a career preservationist and native New Yorker make her a natural fit to lead the LPC in its protection of New York's most timeless, treasured buildings. I thank the Mayor's office for identifying such a passionate and qualified chair for the agency."
"Sarah Carroll is a superb choice to chair the LPC," said former LPC Chair Robert B. Tierney. "She has the requisite skill, temperament and experience to lead the agency; in fact, she is uniquely qualified to do so, based on her extensive experience in every aspect of the Commission's operations over the last 2 decades. She will lead New York City's preservation efforts in a way that will broaden and deepen support for the City's critical mission to preserve and protect the best of its architectural, cultural and historical heritage."
"I had the good fortune to work with Sarah Carroll very early in her career, and her talent and passion for preserving New York's unique architectural landscape were evident even then," said Jennifer J. Raab, former LPC Chair and President of Hunter College. "She is a tireless advocate for historic preservation with a balanced approach that respects diverse perspectives to ensure that our city remains vibrant for generations to come."
"MAS is delighted by the appointment of Sarah Carroll as Chair of the Landmarks Preservation Commission. The growing density pressure facing New York makes the LPC's stewardship of our historic and cultural heritage more important than ever," said Elizabeth Goldstein, President of the Municipal Arts Society. "We look forward to our continued work with the LPC, an agency that we fought hard to create, and Ms. Carroll in particular. We are confident that she is up to the task."
"Ms. Carroll has devoted herself to ensuring that the Landmarks Preservation Commission and its mission remains a vital part of New York City," said Simeon Bankoff, Executive Director of the Historic Districts Council. "Her professionalism, thoughtfulness and dedication to historic preservation make her a great choice to lead the agency. We look forward to continuing to work with her in her new role as Chair."
"Over her many years of service at the Landmarks Preservation Commission, Sarah has built a strong reputation in the architectural, development and preservation communities for her thoughtful and considerate approach to the issues that come before the Commission every day," said New York Landmarks Preservation Foundation Chair Basil Walter. "Her deep understanding of the unique issues that face New York City in building its future while preserving its past, combined with her decades of experience shepherding proposed projects through the landmarks process make Sarah the perfect choice to lead the Commission in the years ahead."
"The American Institute of Architects New York Chapter (AIANY) supports the confirmation of Sarah Carroll as Chair of the Landmarks Preservation Commission," said Gerard F. X. Geier II, FAIA, FIIDA, LEED AP, 2018 AIA New York Board President. "We believe Ms. Carroll is incredibly qualified to lead the agency. Her educational background and experience with the Commission and more broadly in preservation, give her a strong basis of knowledge in the field.  As architects, we appreciate her understanding of the need to incorporate sustainable design and social value in the preservation and reuse of certain historic buildings.  Finally, we believe that she will enhance the Commission's recent emphasis on equity in the preservation practices of the City."
"The DUMBO Neighborhood Alliance is inspired by the appointment of Sarah Carroll as the next Landmark Preservation Commission Chair," said Doreen Gallo, Director of the DUMBO Neighborhood Alliance. "Our alliance has had a long and successful working relationship with Ms. Carroll as she continues to help preserve our neighborhoods.  We look forward to her leadership as the consummate professional.  DNA remains confident that she will further the elevation of the commission's core values and purpose."
"Sarah Carroll possesses all of the characteristics that LANDMARK WEST! believes are required of the Chair of this essential city agency: expertise, enthusiasm, intelligence (in all senses of that word), and objectivity," said Sean Khorsandi, Executive Director of LANDMARK WEST!.
About Sarah Carroll
Sarah Carroll is a life-long preservationist and native New Yorker with more than 20 years of professional experience protecting historic resources in New York City. She started her career at LPC, where she has served in various capacities over the past 24 years.
Since 2014, she has served as Executive Director of LPC managing the agency's operations and working closely with the Chair to develop policy and strategic planning agency-wide. Prior to that, as Director of Preservation, she led the creation of the agency's first comprehensive instructional manual on how to file permit applications; created the FasTrack permit process to expedite applications for certain work types; and developed historic district master plans and rules to allow applicants to more easily navigate LPC's regulatory process. In 2012, she received the Sloan Public Service Award for her outstanding work at the Commission.
Ms. Carroll has a Bachelor's Degree in Art History from Bates College, and a Masters of Fine Arts Degree in Historic Preservation from the Savannah College of Art & Design.
pressoffice@cityhall.nyc.gov(212) 788-2958