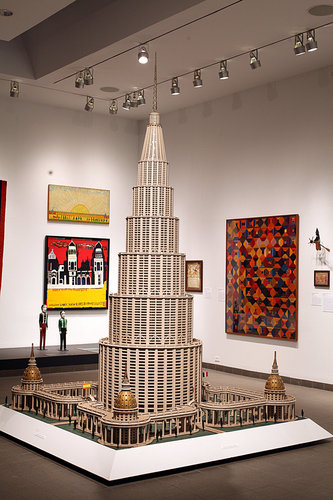 Marino Auriti's "Encyclopedic Place of the World", via NYT
Explore
"Jubilation | Rumination"
with Senior Curator
Reserve today!
Only 15 places available
$35, Pre-Sale for LW! Members Only*

LANDMARK WEST! celebrates the relocation of the American Folk Art Museum, founded in 1961, to its new permanent home on the Upper West Side (2 Lincoln Square, Columbus Ave. at West 66th St.).

In the January 26, 2012 Arts section of The New York Times, Ken Johnson described "Jubilation | Rumination" as "a wonderful exhibition of works from the permanent collection" that "samples all varieties of artistic expression under the institution's purview, from traditional genres like portraits and quilts; sculptures made of bottle caps and similarly curious materials; and otherworldly fantasies drawn and painted by so-called Outsiders."

*LANDMARK WEST! members will get preference to purchase tickets until Monday, February 20, 2012 at close of business. Tickets will then become available to the general public.
Email us (landmarkwest@landmarkwest.org) or call us (212-496-8110) to reserve your place on the tour, check on your membership status, or to become a member today!

ABOUT STACY C. HOLLANDER
Stacy C. Hollander is Senior Curator and Director of Exhibitions at the American Folk Art Museum. She was most recently project coordinator for "Infinite Variety: Three Hundred Years of Red and White Quilts" presented by the American Folk Art Museum at the Park Avenue Armory (2011). Hollander lectures and publishes widely and is a frequent contributor to scholarly magazines in the field. She was a presenter in the international conference "Folk Art and the Art Museum" organized by Tate Britain, Claverton Manor (Bath) and Compton Verney (2010). Hollander received her B.A. from Barnard College, Columbia University, and her M.A. in American folk art studies from New York University.